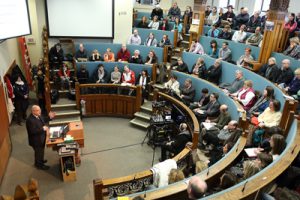 Provost calls government-imposed budget cuts "an unprecedented attack"
By Neale McDevitt
Provost Anthony C. Masi didn't mince words during any of the four Town Halls on government funding cuts that he hosted over the past two days.
"It's an assault on higher education," he told some 150 people who filled the first-floor amphitheatre of the Bronfman Building on Monday morning. "It is an unprecedented attack."
The attack comes in the form of severe budget cuts imposed upon Quebec universities as announced this past December by Pierre Duchesne, Minister of Higher Education, Research, Science and Technology. The government ordered the province's universities to cut 5.2 per cent from their respective operating budgets for the current fiscal year – and next year as well.
This, combined with the Parti Québécois government's rollback of the Liberals' promised tuition increase, has left McGill to redo its budget yet again – ordered to cut almost $40 million from the operating budget over the next two years, including $19.1 million by the end of the 2014 fiscal year.
To compound the situation, the government has threatened to withhold the final installment of its conditional grant to any university that is unable to meet at least 50 per cent of the cuts by the end of fiscal year 2014. That represents more than $30 million to McGill. "This is not a crisis," Masi told the packed house gathered in the McIntyre Medical Building's Meakins Ampitheatre earlier Tuesday, "it's a disaster."
No matter how implausible the imposed cuts may sound, however, the Provost stressed that this new reality "is not something that will go away."
But meeting these exigencies will have huge repercussions across the University. "We are not going to be able to finesse our way out of this. Unfortunately, some of this is going to have to be bulldozed," he said. "I can't sugarcoat this. This is going to hurt."
Employees could bear the brunt
In each of the well-attended sessions, which drew several hundred people in total, audience members offered numerous suggestions to cut expenditures and increase revenue. These ranged from shortening semesters, re-examining tenured faculty positions and eliminating upper administrative positions, to issuing bonds, increasing enrolment and even eliminating the cookies and tea served at Senate.
To every suggestion, the Provost repeated his mantra for the past two days; "Everything is on the table. There are no sacred cows."
At the Macdonald Campus event, one participant asked how McGill fares in terms of administrative costs compared to other North American universities. "We have a benchmark with our U15 colleagues [other Canadian universities] and we are right in the middle. So about 44 per cent of our expenses are related to administrative apparatus and that's about where the average is for the U15. We benchmark against our competitors inside and outside of the province."
But with 75 per cent of McGill's operating budget going toward salaries and pensions, the math all but dictates that inevitably employees will be hit. "Knowledge requires people and three-quarters of what we spend is on people. It's you and me, we make up McGill," said Masi.
Another participant suggested that McGill could win the public-relations war by making "high-visibility" cuts, suggesting the closing the Faculty of Medicine as a purely hypothetical example of one such move. In response, the Provost said whatever decisions must be taken, it is important to always remember "we're dealing with people's lives."
With the possibility of layoffs looming, a number of participants put forth suggestions specifically targeting salaries, including four-day work weeks, unpaid furloughs and salaries freezes. Masi acknowledged that all options have to be explored, but that each one comes with its own potential consequences. Four-day weeks and furloughs could have an impact on productivity and any kind of salary freezes would require entering into negotiations with various unions.
When pressed for a timeline, the Provost said the Deans and VPs will be submitting their suggestions by the end of the week and he will table a revised budget by mid-March.
Government targeting jobs?
With most Quebec universities dedicating a similar percentage of their budget to salaries and pensions, Masi was asked if he thought the Quebec government was targeting jobs with the imposed cuts. "That certainly is one way to interpret it," he said. "It seems hard to avoid the fact that even if you did an across-the-board [series of cuts] you wouldn't be touching jobs in some way… because three-quarters of the cuts that would have to come from the entire [Quebec university] system would [have an impact on] people and their salaries."
The Provost also maintained that the government's "really bad public policy" may, in fact, be shrewd politicking. "If we find the $19.1 million in cuts, then the [government] will say we had excess in our budgets and aren't underfunded," he said. "If we don't find those cuts [the government] will say we're simply unable to manage universities appropriately. Whatever the outcome, the government will appear to be the winners, but they're really threatening the entire university system.
"We want to get through this crisis… disaster… and recover from it without causing irreparable damage to our mission or to our people down the road."
For more information, read a message from the Provost here.
To watch video recordings of the first two Town Halls, go here.
– With files from Jim Hynes.