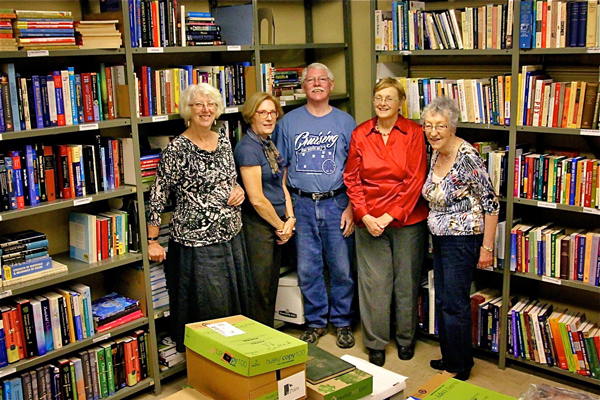 By McGill Reporter Staff
It's baaaack. Following a one-year hiatus due to construction on the Redpath Terrace, McGill's beloved Book Fair is primed and ready to go. From Oct. 21-23, Redpath Hall will once again be the scene of bookish bedlam as hundreds of people peruse tens of thousands of used books, French and English, in categories ranging from architecture to zoology. In addition to volumes old and new, the Book Fair also offers CDs, LPs, DVDs, and sheet music.
"We've been at it since March, collecting books and sorting them," says Sally Cooper, one of the Fair's organizers. "And, since there's only about 20 volunteers in all, it's a very long process."
The primary mission of the Book Fair is to raise money for University scholarships. Since it's founding in 1971, through the hard work of thousands of volunteers, McGill Book Fair has raised over $1.6 million for scholarships and bursaries.
As well as providing scholarships, the Book Fair is, and has been for decades, a friend of the environment, contributing to sustainability in several important ways. First, books that might otherwise end up in landfills are reused in their original form. Every year, hundreds of thousands of volumes are kept in the material cycle, thus preventing the need to create more prints of books and reducing the demand on raw materials. In addition to books, the Book Fair reuses large numbers of boxes and even plastic bags.
"Some people have complained because, in the past, we have had to reject some books that have been heavily underlined or highlighted and put them in the recycling bins," says Cooper. "But this year we negotiated a contract with Renaissance [a non-profit organization that, as part of its work integration program, sells used items in its stores]. As soon as the sale ends, they will take every item that is left to sell in their stores.
This feeds into the Book Fair's socio-economic function. People sometimes forget that sustainability is not just about the environment but also about economics and social equity. By making books readily available at low cost and by donating leftovers to charitable organizations, the Book Fair contributes to the larger community by providing information and literature to families and students with limited incomes.
Of course, that isn't to say that there won't be any number of gems lurking on the tables and in the boxes. Cooper notes that any number of book dealers from the U.S. and Ontario will be in attendance, scouring the hall for valuable items. "They come because they know there's money in them thar books," says Cooper with a laugh. "They all have their smartphones so they can check what each book is worth – it really has become a big industry.
"I'm astonished at the books we get. Professors come in and donate things like Gospels in Middle English," continues Cooper.
Most importantly, the Book Fair is a colourful and beloved feature of campus and city life. A few years ago, the Gazette printed a list of the ten best things about living in Montreal and prominent on the list was the McGill Book Fair. "It's an event that is unique to McGill and Montreal," says Cooper.
The dates are: Oct. 21 from 1 p.m. to 9 p.m.; Oct. 22 from 9 a.m. to 9 p.m.; and Oct. 23 from 9 a.m. to 7 p.m.
Further information on the Book Fair can be found here.