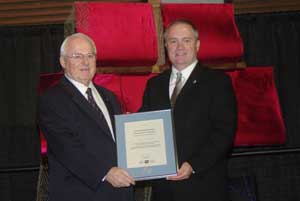 By McGill Reporter Staff
The Canadian Council for the Advancement of Education has presented philanthropist Marcel Desautels with its Friend of Education Award, in recognition of his extraordinary contributions to post-secondary education in Canada.
Through the foundation he established, Mr. Desautels has given more than $110 million to CCAE member institutions in Manitoba, Ontario and Quebec.  These contributions include $33 million to McGill's Desautels Faculty of Management, as well as major donations to the University of Toronto's Rotman School of Management and to the University of Manitoba's Marcel A. Desautels Faculty of Music.
The award was presented at a gala banquet Monday evening during the CCAE National Conference in Hamilton, Ont.
The CCAE's Friend of Education Award honours outstanding service or commitment to post-secondary or independent school education by a volunteer, organization, foundation, corporation or publication. The recipient will have made a significant contribution in a leadership role to the cause of institutional Advancement or education in Canada. Mr. Desautels joins an illustrious list of past winners that includes McGill Chancellor Richard Pound.
The former president and CEO of Creditel of Canada Ltd., Mr. Desautels used the proceeds from the sale of Creditel in 1996 to launch the non-profit Canadian Credit Management Foundation (CCMF).
The CCMF made major contributions to several Canadian universities before its landmark $22-million gift to McGill's Faculty of Management in 2005 – at the time, the largest donation ever made to a Canadian business school. This influx of resources funded endowed chairs, scholars' awards, an annual symposium, a visiting scholars program, leading-edge facilities and new scholarships, fellowships and research, and the Faculty was renamed in honour of Mr. Desautels' extraordinary generosity.
In 2008, he provided a further $10 million to create the Marcel Desautels Institute for Integrated Management, which aims to introduce interdisciplinary "big-picture" thinking into a global business world that must increasingly operate with both social and financial balance sheets in mind.
The Canadian Council for the Advancement of Education (CCAE) is a volunteer-led organization that promotes excellence in educational advancement.  Its members represent universities, colleges, institutes and independent schools from across the country.