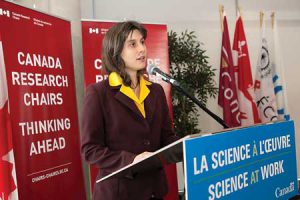 Cerruti, new CRC, working on better way for implants to integrate with people's bodies
By McGill Reporter Staff
It's a common problem. When people get a hip replaced, or a tooth implanted, some will be fine. But for others there is discomfort, along with infections, and the implants need to be replaced.
"That's because within a few minutes of an operation, proteins start to adhere to the surface of the implant," explained Marta Cerruti, newly named Canada Research Chair (CRC) in Bio-Synthetic Interfaces. "If the right proteins adhere, then all is well. But if the wrong proteins adhere to the implant, the body forms a fibrous capsule around the implant to isolate it and a new implant needs to be inserted."
Cerruti is among the 24 recipients of Canada Research Chairs awarded to McGill on Oct. 12 at an event held at Concordia University. Representatives from all Montreal universities joined Senator Larry Smith and Chad Gaffield, President of the Social Sciences and Humanities Research Council and Chair of the Canada Research Chairs Steering Committee.
McGill earned 16 new CRCs in this latest round and eight others were renewed. Researchers in fields as diverse as French-language literature and mathematics to prevention of dementia and genomics are among the new recipients.
Cerruti was among the speakers, representing both McGill and new CRC holders. Her research is focused on finding a better way for implants – whether for bone or soft tissues – to integrate within people's bodies. The answer, she believes, lies in building biodegradable scaffolds that combine both organic and inorganic materials.
"My graduate students and I are trying to modify the surface of materials used for implants with biological molecules," she explained at the event. "We want to teach these materials to 'speak the language' of the body, and tell the cells to start making new bone, or skin, or whatever we need. Today's implants can't do this."
"That way, you're not just hoping that the body will do what you want it to. Instead, you're directing it to do what you want, thanks to the molecules that you put on the surface," Cerruti added. "For example – if you want to regenerate bones, you need cells in the scaffold that will encourage the formation of hydroxyapatite (the mineral component of bones) in the body.  But if you want to have a scaffold that helps cartilage regeneration, you won't use the same molecules on the surface. Once the desired reaction has occurred, the synthetic material should disappear so that you're left with your own body and nothing else."