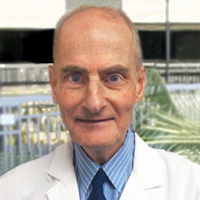 $50,000 research award to promote active health goes to Dr. David J.A. Jenkins – inventor of the glycemic index and inspiration behind low-cholesterol diets
By McGill Reporter Staff
McGill, in association with Lawrence and Frances Bloomberg and Manulife, announced that David J.A. Jenkins, University Professor and Canada Research Chair in Nutrition and Metabolism at the University of Toronto, Department of Nutritional Sciences, Director of the Risk Factor Modification Centre and Scientist at the Li Ka Shing Knowledge Institute, St. Michael's Hospital, is the winner of the 2014 Bloomberg Manulife Prize for the Promotion of Active Health.
Dr. Jenkins, the first Canadian to win the prize, has dedicated his career to understanding the nutritional value of foods and to helping people make healthy eating choices that can lower cholesterol and blood glucose, prevent chronic disease and provide long-term health benefits. His groundbreaking research led to the development of the glycemic index, a revolutionary tool which identifies the glycemic effect of carbohydrate foods, leading to the creation of diets that can effectively treat chronic diseases such as diabetes and heart disease.
The $50,000 Bloomberg Manulife Prize was founded in May 2011 by McGill alumnus and Toronto-based investment manager Lawrence S. Bloomberg, C.M., O.Ont., MBA'65 and corporate sponsor Manulife Financial. The annual award is given to a researcher whose work has broadened our understanding of how physical activity, nutrition or psychosocial factors influence personal health and wellbeing. Applications for the Prize are judged by a jury of distinguished academics from universities and research institutions across North America.
"The Bloomberg Manulife Prize was created to raise the profile of health research that is a catalyst for real and lasting change to our wellbeing and the way we live," explains Mr. Bloomberg. "I am delighted that this year the Prize is recognizing a prominent Canadian researcher who has not only made pioneering discoveries that have changed how we view nutrition but who has made public advocacy and education a centerpiece of his work."
"Dr. Jenkins is a leader in his field and has made significant contributions to the study of Nutritional Sciences," says Marianne Harrison, Senior Executive Vice President & General Manager, Canadian Division at Manulife. "We at Manulife are proud to support this award that recognizes his forward-thinking work in the study of nutrition and the promotion of healthy living."
Dr. Jenkins' influence extends well beyond the laboratory; his research has informed global dietary guidelines, including those of the Diabetes Federation and the World Health Organization, influencing the treatment of approximately 115 million individuals worldwide. As an advocate for healthy and sustainable eating, he has represented the medical community on Agriculture Canada's Science Advisory Board and has partnered with grocers such as Loblaws, inspiring them to produce a line of foods that are beneficial to cardiovascular health.
Since its inauguration, the Prize has gained the endorsement of prominent health organizations including The Canadian Cancer Society, The Canadian Heart and Stroke Foundation, ParticipACTION Canada, The Canadian Diabetes Association and YMCA Canada.
Dr. Jenkins will accept the prize at a special ceremony at the MaRS Centre in Toronto on Monday, Jan. 19, where he will also take part in a conversation about his research. This will be followed by a moderated discussion on Wednesday, Jan. 21 at McGill, to discuss how small changes in our diet can prevent chronic disease, lower cholesterol levels and provide long-term cardiovascular benefits.