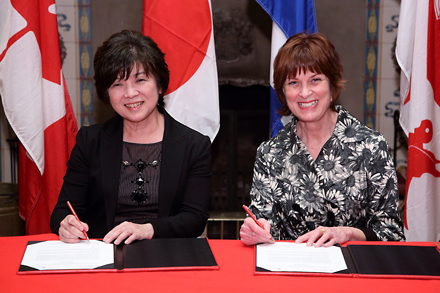 Centre will serve as hub for all collaborations between McGill and pioneering Japanese research institute
By Julie Fortier
McGill and Riken, Japan's largest comprehensive research institution, held their third joint workshop in Montreal on June 20-21, focusing on collaborative research in biomedical fields. The event aimed to broaden collaboration between the two organizations, which signed a cooperation agreement in 2010, and follows two earlier joint workshops concentrating on green chemistry and nanotechnology.
Though McGill and RIKEN scientists have been developing joint research projects for a few years, the two leading institutions took their research relationship to the next level by signing an agreement aimed at establishing a joint research centre to strengthen their cooperation.
"We welcome this opportunity to enhance our ties with RIKEN, a prestigious partner and international leader in basic and applied research," said Prof. Heather Munroe-Blum, Principal and Vice-Chancellor of McGill. "This agreement will allow our researchers to build on what have already been fruitful collaborations in fields of strategic importance for Quebec, Canada and Japan, such as nanotechnology, green chemistry and advanced biomedical sciences."
"I am very happy that we were able to sign this joint statement to strengthen the relationship between RIKEN and McGill University. McGill University has been a wonderful partner for us. I look forward to having our researchers interact ever more actively with each other and work on collaborative projects," said Dr. Maki Kawai, Executive Director of RIKEN. "In particular, I would like to support and encourage exchanges between people at the two institutions to further enhance our collaboration."
The Centre will capitalize on the convergence of life sciences, natural sciences, and engineering by serving as a platform for McGill-RIKEN collaborations, including joint research projects, researcher exchange and the training of graduate students. News released last week about how using iron could make hydrogenation cheaper and greener (read full story here) is only one of many examples of collaborative research being conducted by teams that include researchers from McGill and RIKEN.