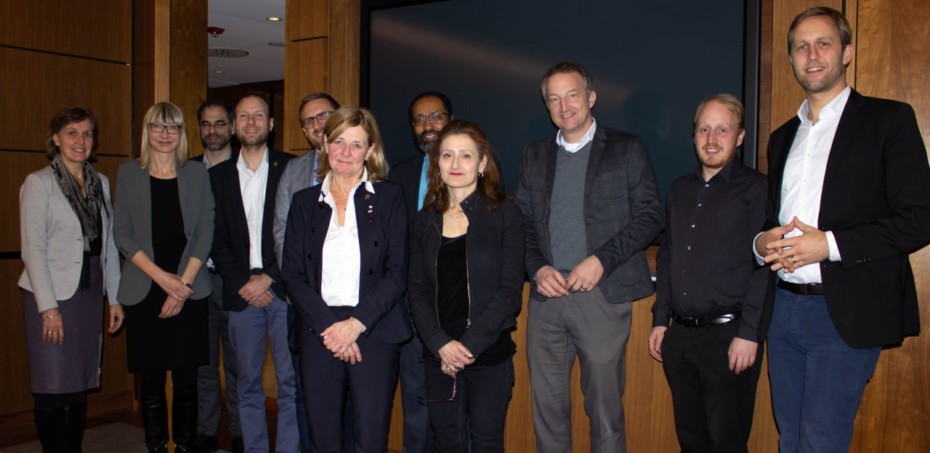 Globalization is such a well-established notion, it requires no explanation, but what might surprise some is to what extent it is prevalent in higher education. In countries such as the UK and France, over 50 per cent of all published research papers involve an international co-author, according to a Times Higher Education report. And while the rate is lower in the US, Canada is closer to its European peers in this regard at 48 per cent of all papers published.
Against this background, in December 2019, the Office of the Vice-Principal, Research and Innovation (OVPRI) hosted a workshop with representatives from the German university, Friedrich-Alexander-Universität Erlangen-Nürnberg (FAU), to discuss the importance of successful international research collaborations and future opportunities for joint projects concerning the application of artificial intelligence in medicine.
Bringing experts together
Martha Crago, Vice-Principal, Research and Innovation, and Jean Saint-Vil, Special Advisor to the Vice-Principal, Research and Innovation, invited seven McGill researchers and six researchers from FAU to participate, each bringing to the table different expertise in artificial intelligence and healthcare including, computational biology, knowledge translation, personalized therapy, global health equity, sociology and machine learning.
The full-day workshop comprised of presentations on the ecosystems and perspectives on AI at McGill, at FAU, and at the National Research Council of Canada (NRC), as well as a conversation about upcoming competitive interdisciplinary projects. The workshop allowed researchers from both universities to learn more about their counterparts, kick-start conversations on collaboration opportunities, and leave with the tools and relationships needed to follow through on collaborative opportunities.
"When we open our doors to international colleagues, we gain a great deal," said Dr. Crago. "Their additional perspectives can be very valuable, particularly in complex fields such as AI or Medicine. We all benefit when this happens."
"McGill and FAU are leading institutions with recognized strengths in both Medicine and Artificial Intelligence research," said Jean Saint-Vil. "This focused workshop, which builds upon earlier discussions among researchers and senior administrators, is very timely. Strengthening existing links, it will catalyze joint-projects that bring mutual benefits to both institutions."
Globalization of data for better health care
The general focus of the conversations included discussing needs for better AI healthcare systems through enhanced globalized data exchange, or the development of applications in hospitals, especially with regard to aging populations.
"One of the major benefits of collaborating with institutions in different countries is that you learn about how AI enabled innovations are being integrated into health care," said Robyn Tamblyn, James McGill Professor in the Department of Epidemiology, Biostatistics, and Occupational Health. "For example, the new policy in Germany to adopt and reimburse all AI enabled technologies that can provide evidence that they can improve the cost effectiveness of health care. This is a model that could be adopted to accelerate innovation in Canada."
The demographic trend to increased proportions of elderly citizens is a global issue. Data from Statistics Canada show that from 2010 to 2050, the share of the population aged 65 and older among the 36 Organisation for Economic Co-operation and Development (OECD) countries – which includes Canada and Germany – is projected to increase from 15 per cent to 26 per cent. This is consistent with the historical trend in Canada, where the share of s population aged 65 and older increased from 8 per cent to 14 per cent between 1950 and 2010.
Participants also discussed collaborating for possible future projects related to global health, and brainstormed about connecting researchers with their counter-parts in the two institutions.
The benefits of collaboration with international universities
One of the topics discussed in the McGill-FAU meeting was the importance of fostering international collaborations with other universities. Participants overwhelmingly agreed to emphasize understanding how each institution works internally and externally. International partnerships must begin with this education, as it is imperative to learn and understand differences in complex research and funding ecosystems, as well as institutional and social culture.
"Learning about institutional and cultural differences between two institutions is crucial in these kind of relations," said Sabine Pfeiffer, Professor and Chair of the Department of Sociology at FAU. "Without a thorough understanding of each ecosystem, you won't be able to maximize the potential of the partnership and the collaboration might fall flat."
In learning about differences in research and funding systems at other universities, it is also important to assess the weaknesses and strengths of each partner. This knowledge enables both parties to better understand what they can offer to the partnership and therefore maximize the potential and success for significant research opportunities.
"If you think about the healthcare space in Canada and healthcare space in Germany, there are many different challenges and also opportunities," said Björn Eskofier, Professor in the Department of Computer Science at FAU. "If you think about a solution that works only in your local setting, then you might overlook creating international solutions. If you have the chance to develop and research things in this international setting from the very beginning – especially in healthcare – then you might create more globalized solutions."
The key factor for success in international collaborations
This McGill-FAU workshop is an example of McGill's newly adopted Guiding principles for international, inter-institutional research collaborations, which are essential to the development of new research synergies and innovative discoveries in a globalized world. McGill's OVPRI and the Office of the Provost and Vice-Principal Academic (OPVPA) are continuously working toward strategic research collaborations to reinforce McGill's position as a globally excellent research university and expanding McGill's global footprint.
According to the newly adopted Guiding principles for international, inter-institutional research collaborations, alliances between institutions must do the following:
support the goals and themes of McGill's Strategic Research Plan and be in priority areas where McGill excels or is building strength;
promote global excellence by enhancing quality and impact of McGill research and/or innovation;
facilitate McGill researchers to develop or join major programs of research and/or innovation;
accrue mutual benefits for McGill and its partner(s), whereby each side attracts an appropriate share of matching or full funding;
involve countries that adhere to principles that are compatible with the university's international strategy or represent particular opportunities as described in 1-4;
support developing countries, where there is an alignment with McGill's commitment to key global, national and/or provincial responsibilities.
According to Eskofier there are three key factors for success in international collaborations: Firstly, there needs to be a topical match, meaning experts must be interested in the same research areas and foci. Secondly, researchers on both ends must be fully committed and interested in actively pursuing an international collaboration – no one can be forced. Thirdly, the collaboration framework requirements must be met, so there needs to be sufficient funding and an interest from above, such as university leadership and politicians.
"If you have these three ingredients together, putting two international collaboration partners together is really more than the sum of its pieces because you get a more diverse picture, and therefore you develop better solutions," said Eskofier.