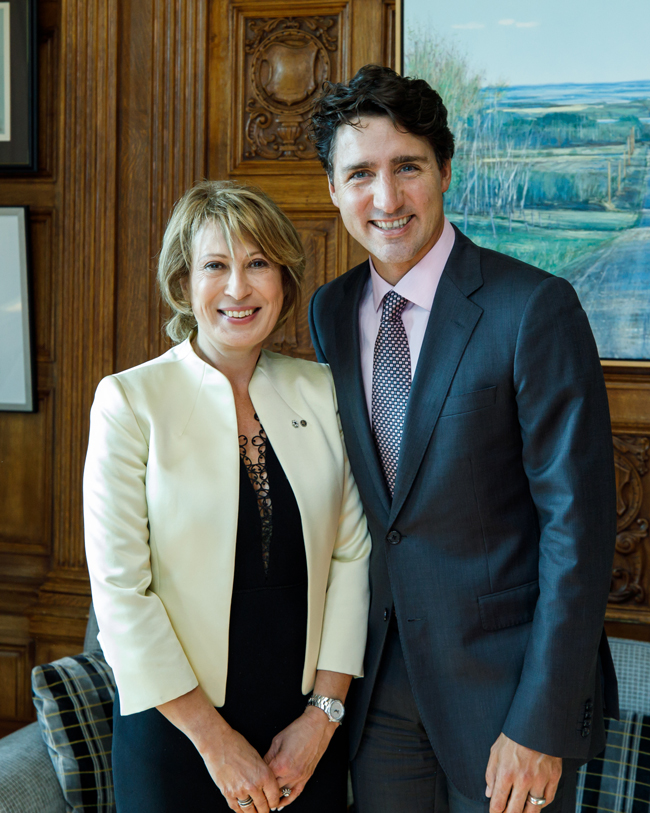 By McGill Reporter Staff
Mona Nemer (PhD82), a long-time Vice-President of Research at the University of Ottawa, who earned her PhD in Chemistry at McGill, was named Wednesday, Sept. 26, by Prime Minister Justin Trudeau (BA92), as Canada's new Chief Science Advisor.
McGill's Vice-Principal of Research and Innovation, Martha Crago, and award-winning astrophysicist Vicky Kaspi were in Ottawa for the announcement.
"We're very happy to see this important position reinstated, coming at a time when the discussions around the importance of federal support for fundamental science was never clearer," Crago said. "It makes us especially proud that Dr. Nemer is a McGill alumna and we wish Dr. Nemer very well and look forward to working with her."
News of the appointment was also hailed by the broader Canadian university community. "The appointment of Dr. Nemer comes at a pivotal time for Canada, as other nations increasingly look to Canada for leadership in research and innovation," said Paul Davidson, president of Universities Canada. "University leaders, and researchers from all disciplines, look forward to working with Dr. Nemer to advance the research ecosystem in Canada and establish sound public policy."
Reporting to the Prime Minister and federal Science Minister, Kirsty Duncan, Dr. Nemer will advise the government on scientific and research issues. Her mandate will include ensuring Canadians are informed about government science and that researchers are free to speak about their work, which represents a loosening of the tight control placed on scientists under the former government of Stephen Harper. Nemer is also charged with ensuring government-wide decision-making includes scientific analyses.
"The recent report from the Fundamental Science Review Panel calls for urgent federal reinvestment in the research ecosystem," according to a release from Universities Canada. "Universities look forward to further steps in the next budget to strengthen research for Canada's future and for the benefit of all Canadians."
Nemer's own research has focused on cardiology and congenital heart issues.
A former professor at the Université de Montréal, she is a Member of the Order of Canada, a fellow of the Academy of Sciences of the Royal Society of Canada, a fellow of the American Academy of Arts and Science, a Knight of the Ordre national du Québec and a Knight of the French Republic's ordre national du Mérite.