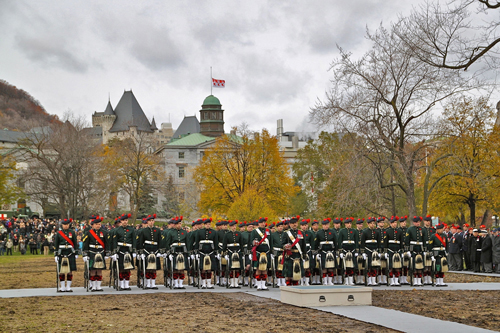 By Doug Sweet
A century ago, student soldiers, alongside their staff and faculty colleagues, marched and paraded on the lower field of the downtown McGill campus before heading off to a terrible war.
By the end of that conflict, the First World War, more than 3,000 McGillians had gone overseas to fight and more than 360 never came home.
Again this year, McGill will play host to Montreal's Remembrance Day ceremonies, on the lower field of the downtown campus, Tuesday, Nov. 11, 2014, between 10:30 a.m. and 11:30 a.m. Given that 2014 marks the 100th anniversary of the beginning of World War I, this year's ceremonies are particularly poignant. To mark this moment, Chancellor Michael Meighen will address the crowd to commemorate the significant contribution McGill made to the war effort 100 years ago.
On Thursday, Nov. 6,, Remembrance Ceremonies took place at Macdonald Campus. Faculty, staff and students, along with guests from the Ste-Anne's Veterans' Hospital and John Abbott College and Macdonald High School, gathered to remember the fallen. Go here to read coverage of the event.
This year's ceremonies are also made poignant by recent events that left two members of the Canadian Forces dead at the hands of troubled individuals who appear to have been motivated by extremist impulses. As a result of those events, there will be an increased security presence at this year's ceremonies.
Two days after the downtown ceremonies, McGill will unveil a restored Book of Remembrance, which lists those from our community who died in both the First and Second World Wars – 363 in the First World War, and 289 in the Second.
This lavishly illuminated tome, first produced in 1926, spent decades on display in Memorial Hall, next to the Currie Gym. It will now find a permanent home in the McGill University Archives collection in the McLennan Library Building and a facsimile will remain on public display in the passage between the McLennan and Redpath Library Buildings so that all who pass can pause to remember the sacrifices made by those who came before.
The illuminated Book of Remembrance was created sometime between 1944 and 1950.  The Memorial Hall and Memorial Pool were officially opened on November 26, 1950 by the Viscount Alexander, then Governor General of Canada. Go here for the full story.