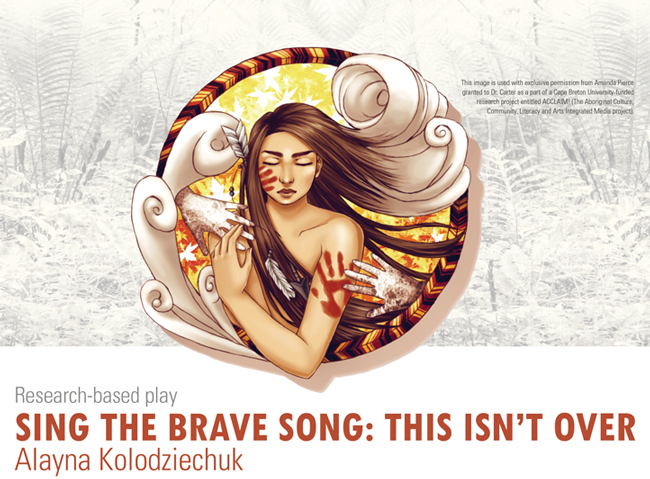 Sing the Brave Song: This Isn't Over is an original play inspired by the Truth and Reconciliation Commission. It is the product of a collaboration between students in the Faculty of Education; Mindy R. Carter, Assistant Professor, Integrated Studies in Education; and playwright Alayna Kolodziechuk.
Carter says when her students told her they didn't really know that much about the Residential School experience, she concluded that perhaps there was a need to bring a full discussion of the calls to action in the 2015 report by the Truth and Reconciliation Commission (TRC) into the classroom.
"The TRC and issues facing Indigenous peoples in Canada are not yet broadly understood," says Carter. "The TRC is an excellent resource that should always be considered in approaching issues between and amongst Indigenous and non-Indigenous peoples in Canada."
Carter has a background as an actor and director, and wanted to use that to provoke conversations about First Nations issues. She says the play was inspired by a conversation with a leading First Nations academic. "I spoke with Dr. Marie Battiste, a Mi'kmaw educator from Potlotek [pronounced Boht-loh-deck] First Nations, Nova Scotia, and full professor at the University of Saskatchewan," she says. "We talked about a project I was working on in Cape Breton, Nova Scotia, and in Thunder Bay, Ontario, with Aboriginal students and teachers using the arts. During our conversation I continually remember her guiding me to 'create art' and to then invite people to come and engage with it."
Sing the brave song stars current students or recent graduates from McGill's Education Faculty and is produced by Carter. It was written by playwright Alayna Kolodziechuk, who used survivor testimony, video archives, local and national news stories, social media commentary, court cases, and academic research on the experiences of Indigenous peoples in Canada. Kolodziechuk also included monologues written by students in the Curriculum and Instruction in Drama Education course, who use drama to shed light on the experiences of Aboriginal people in Canada.
At the end of each one-hour performance; there will be Talk Back sessions with invited guests in which the audience will be invited to share their thoughts, concerns and experiences as a part of the ongoing research dialogue.
May 18 and 19; Morrice Hall, 3485 McTavish; doors open at 12:30 p.m., curtain at 1 p.m;
Free admission but please reserve your tickets by emailing Hala Mreiwed. Get more information online.
Note: The image above is used with permission from Amanda Pierce granted to Dr. Carter as a part of a Cape Breton University-funded research project entitled ACCLAIM! (The Aboriginal Culture, Community, Literacy and Arts Integrated Media project).