The Honourable Navdeep Singh Bains, Canada's Minister of Innovation, Science and Economic Development, announced on April 16, an investment of $49 million in an aerospace consortium led by Bell Helicopter Textron Canada Ltd.  The investment, made through the Government of Canada's Strategic Innovation Fund, aims to advance innovative helicopter technologies, accelerate economic growth, strengthen and expand the role of Canadian firms in regional and global supply chains, and attract investment that creates well-paying jobs.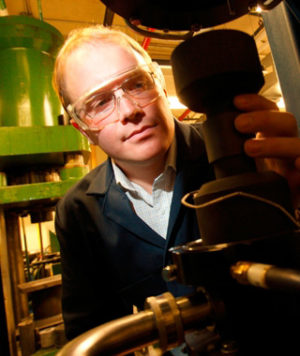 McGill is among the 18 industry and academic partners involved in the Bell collaboration. Professor Mathieu Brochu of the Department of Mining and Materials Engineering will contribute his expertise to the advancement of innovative technologies intended to make more fuel-efficient engines and to reduce the environmental footprint of aircraft travel.
"Programs like this one are an opportunity for university researchers, industry partners and government agency partners to work together and contribute to innovative technologies benefitting Canadians," says Martha Crago, McGill's Vice-Principal, Research and Innovation. "Congratulations to Professor Mathieu Brochu for his role in manufacturing advanced aero components that will contribute in reducing fuel consumption from power engines. We are very grateful for the support shown by the Strategic Innovation Fund."
Professor Brochu will work on expanding the component knowledge of additive manufacturing (AM), a type of manufacturing that uses industrial grade 3-D printing to build objects by layering materials, with a focus on the high temperature resistance of components. Due to the mechanical requirements and environmental conditions of certain aircraft parts, the raw material (superalloys) selected must have an excellent corrosion resistance at elevated temperatures. Manufacturing materials that can withstand these temperatures presents a challenge. Innovative research in AM has the potential to open the door for the development of a new generation of low power engines.
"The Strategic Innovation Fund opportunity will permit the research community to challenge our knowledge on AM," said Professor Brochu. "It will help us further the technology and push towards advances for future generations of areo-engine components."
The collaboration is projected to create or maintain more than 300 jobs in Canada, contribute almost $178 million to Canada's GDP over the next five years and strengthen Canada's position as a world-leading centre for innovation.