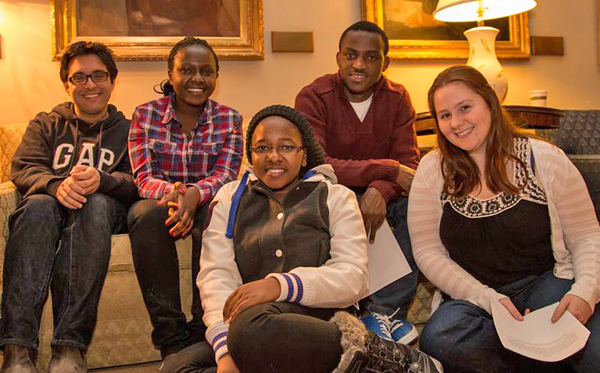 By Neale McDevitt
When asked if she would recommend that other African students apply for the MasterCard Foundation Scholars Program at McGill, Njeri Muguthi is unequivocal in her praise. "This has changed the course of my life in a great way," she says. "I'm attending a wonderful university, meeting students from around the world and I'm building my network.
"Who knows?" continues the first-year Science student, who, prior to coming to McGill last fall, was staying at home fulltime in Nairobi, Kenya, to help raise her infant sister while her parents worked. "Maybe this will help me do something great in the future."
In less than 50 words, Muguthi has perfectly captured the sweeping spirit of the program, a $500-million, 10-year initiative to educate and prepare young people – particularly from Africa – to lead change and make a positive social impact in their communities. The initiative provides young people from economically disadvantaged communities who have demonstrated academic talent and leadership potential with access to quality and relevant education.
McGill signed on in 2013, welcoming the first cohort of 11 students this past August. Thanks to the generous support of the MasterCard Foundation, McGill will welcome 91 African students to the University over the next 10 years. "This is such an important program," says André Costopoulos, Dean of Students. "Yes, it is giving these students a McGill education that will allow them to go back and enrich their community, but the Scholars also enrich McGill by their presence and by the intellectual diversity that they bring us."
Elation gives way to reality
Back in Accra, Ghana, Iptisam Sani had just quit her job and was watching TV one day when she decided to check her email. "When I opened the email telling me I had been accepted, I started running around the house, screaming.
"I didn't have much confidence when I filled out the application," continues the first-year Engineering student. "There are a lot of people on this continent so I never thought I had a chance."
Muguthi was with a friend when her mother called to give her the news. "I just dropped the phone and stood there laughing. I was in shock," she says. "Honestly, I felt like it was a miracle."
But elation gave way to other emotions when Muguthi touched down in Montreal in August. "Those first few weeks were difficult," she says. "I'm very close to my family and I had to come to terms with being so far away from my family. Then there were my classes. I had been out of school for a year to take care of my baby sister and suddenly – bam – I had three assignments in my first week. I called my mom and said, 'I want to come home.'"
Thank you for being a friend
Enter the mentors. An essential component of the MasterCard Foundation Scholars Program is multifaceted mentoring. "Each student is paired with a faculty mentor – a member of the department that is closely related to the student's area of interest – who acts like an academic elder," says Lauren Chapman, Professor of Biology and Lead Mentor in the program. "And then they also have peer mentors, volunteer upper-year students, who do everything from giving guidance on classes to helping our new students expand their network. They understand what it's like to be a McGill student so they provide invaluable peer-to-peer advice."
Add fun and friendship to that list. And back in September, friendship was something a homesick Muguthi desperately needed.
"It's hard when you feel like you're all alone, but my peer mentors, Kimber Bialik, U2 Arts/ISID and Anand Bery, U3 Science, helped pick me up," says Muguthi. "They took me out on some outings and we had fun. It gave me a much-needed break from some of the pressure and all the assignments. It's nice to know there are people looking out for you."
In most cases, the official meetings between students and peer mentors have given way to something less formal. "Now we just hang out," says Kate Gong, a peer mentor doing her fourth year in Physiology. "We have dinner together, go for coffee, go shopping. On my birthday, they were at an event and stopped everything to call me up and sing Happy Birthday on the phone. They're my friends and they support me as much as I support them."
Like many first-year students, Muguthi and Sani are keeping their options wide open when it comes to possible career paths. Muguthi is leaning toward majoring in computer science ("I find programing very exciting!"), while Sani is favouring mining engineering ("There are lots of mining companies back home."). They are unanimous when it comes to praising their respective MasterCard Foundation Scholars Program experiences.
"Canadians are such cool people. I am so happy to be here. This has opened me up to the rest of the world," says Sani. "I'm discovering things every day."
For her part, Muguthi says her learning experience has extended far beyond the classroom to include how to skate and make the perfect snow angel, to how to better organize her time and "how to depend on myself."
"The other day, when I heard the MasterCard Foundation was accepting applications, I sent the webpage to all my friends on Facebook and encouraged them to apply," says Muguthi, now one of the program's biggest boosters. "You never know how something can come along and change the course of your life forever."
A vital part of The MasterCard Scholars Program at McGill is its Peer Mentorship Program and organizers are looking for 14 Peer Mentors: upper-year students who will provide guidance on academics and life at McGill in an effort to ease the Scholars' transition. Application forms and additional information may be found here. All applications must be completed and submitted via email to andrew.biteen@mcgill.ca by Thursday, April 10, 2014 at 4 p.m.