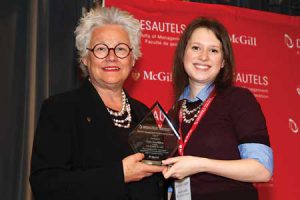 By McGill Reporter Staff
Four prominent Montreal entrepreneurs were honoured at the 32nd annual Management Achievement Awards, presented by undergraduate students from the Desautels Faculty of Management on Jan. 27 at the Omni Hotel Mont-Royal.
Ned Goodman (BSc'60), President and Chief Executive Officer of Dundee Corp., received the 2012 Lifetime Management Achievement Award for his contributions to Canada as an investment management executive and as a philanthropist.
Also receiving awards at the student-run ceremony were Cora Tsouflidou, founder of the Cora restaurant chain; Bertrand Cesvet (BA'86, MBA'90), Chairman and Senior Partner of the Sid Lee creative agency; and Morrie Cohen (BCom '60), a businessman known for his longstanding devotion to community service in Montreal.
Over the course of his 50-year career, Goodman combined his McGill training in geology and his business smarts to become a leading figure in Canada's investment-management industry.  The veteran executive told the luncheon gathering that he considers business "a culture – a culture of humility, passion, integrity, character, and my word being my bond.  Over my career, I've probably done billions of dollars of financial deals on a handshake or a telephone call."
Cesvet recalled his days as a McGill undergrad – a pivotal experience for a local kid who had had little previous contact with Montreal's anglophone community, or with cultural communities elsewhere in Canada. "I discovered right in my backyard, quite literally, the world … What I discovered was an idealized version of Montreal and of Canada: open to the world, multicultural, talented, rigorous and inspiring" – qualities that have contributed to Sid Lee's considerable success on the international marketing scene.
Tsouflidou bought an abandoned diner in 1987, focused on breakfasts, and went on to parlay the popular concept into a network of franchise outlets. She told her McGill audience that she was "more than honoured to be here – and especially to know that it's the students who chose Cora. For me, that's more important than all the rest…"
The Awards were established in 1979 to honour Canadian business leaders who have made a significant and valuable contribution the Canadian economy and way of life through their success in business and their involvement in the community.