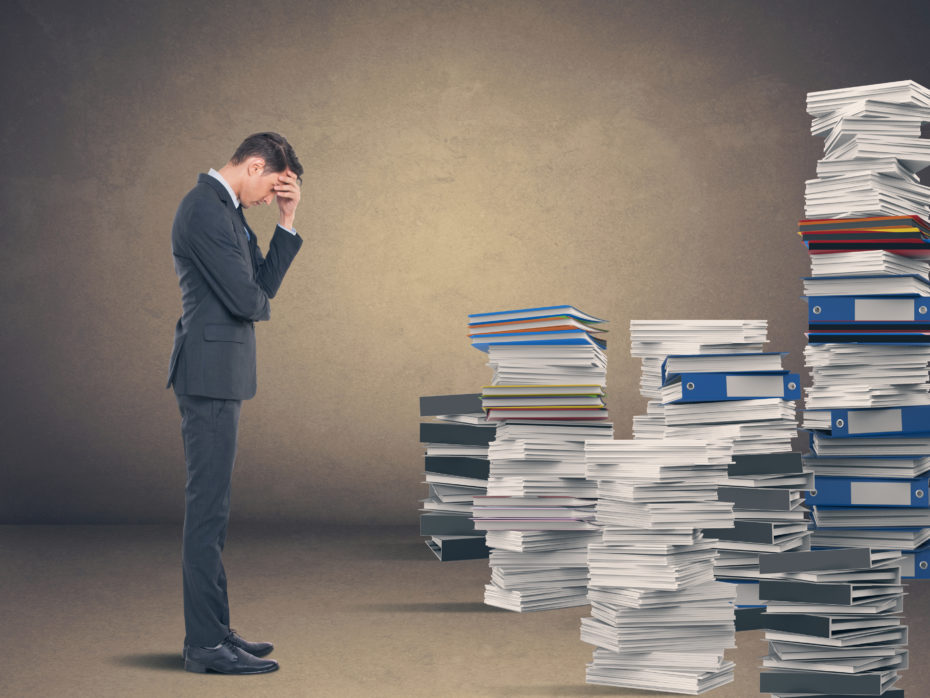 A new semester comes the chance to build new habits. This fall, we challenge you to go paper-free by thinking before you print.
Reducing unnecessary printing is a priority identified by My Healthy Workplace's sustainability learning community because moving away from printed documentation tackles sustainability on two fronts: environmental and social.
In addition to reducing inevitable waste that comes when a document is no longer needed or accurate, falling in line with environmental best practices, prioritizing digital documentation facilitates and promotes effective knowledge transfer among employees.
By storing files digitally, your documents become more disaster-resilient, and can be accessed on the move between campuses or while away at conferences. They are also then searchable, which promotes sharing of institutional knowledge as new employees join your team. Digital archiving also reduces physical space requirements, reducing costs.
Moving to digital-first processes has cut costs for Enrolment Services, Heidi Enami, Associate Registrar, said.
Instead of sending printed copies of documents to the Ministry of Education via registered mail and waiting for a digital notification that they have been processed, Enami explained that she and her staff are able to upload the documents directly. The change saves time and has cut out thousands of dollars of mailing costs, she said. "At our end, it's a lot more efficient and straight forward."
A digital workplace is an inclusive workplace
Digital documents are also integral in Universal Design for Learning (UDL). UDL is a framework "designed to help reduce barriers to learning and to support teaching strategies that help meet the needs of all learners," according to Teaching and Learning Services.
"It's important for a lot of reasons," said Timothy Swiffen, Access Technologist with the Office for Students with Disabilities. "It isn't just a benefit for students who have disabilities."
For example, some learners use screen readers or text-to-speech software to access information, whereas other might not have English as a first language. Providing high-quality digital versions of documents enables all students to study more efficiently, said Swiffen, even if that means printing out copies on their own.
"It's about increasing autonomy for students with disabilities while increasing benefits for students in general," Swiffen said.
Three tips for printing less:
1. Think first, print second: Before you press the 'print' button ask yourself – and your team – whether this particular activity requires a physical copy.
Rather than printing copies of meeting agendas for all participants, consider displaying it on a screen in your space or making your meeting device-friendly so that participants can access the agenda digitally.
For faculty, check with your department to see if printed syllabi are required, or if you can distribute digital versions instead.
When printing is your only option, try to always print double sided or onto scrap paper.
2. Become a PDF pro: The free software you have access to at McGill is able to do more than you think. Get to know what options you have other than printing.
Play around with your computers software to make sure you know how to save documents as PDFs. This can be done easily through the Print to PDF function, which allows you to select Adobe PDF as a printer. By doing so, when you hit print, you're saving your document digitally instead.
Save important emails as files onto your computer rather than printing them.
Adobe Reader DC is available on all McGill Windows 10 computers and provides users with the ability to sign, highlight, comment, and redact documents. This is also the software to use to make sure your documents meet Universal Design for Learning standards! Click here to check out resources from the OSD to learn how.
3. Take advantage of McGill's digital services: As a world-class institution, McGill has a lot of tech solutions available for its community that make printing less an easy choice.
Using your McGill username and password, you can log into Microsoft One Drive for Business, a cloud-based storage space, which allows you to easily share and collaborate documents within your team without printing.
There is a variety of audiovisual and computing equipment available for loan by McGill faculty and staff at the downtown and Macdonald campuses. Visit the IT Knowledge Base to see what is available and follow their link to submit a reservation request.