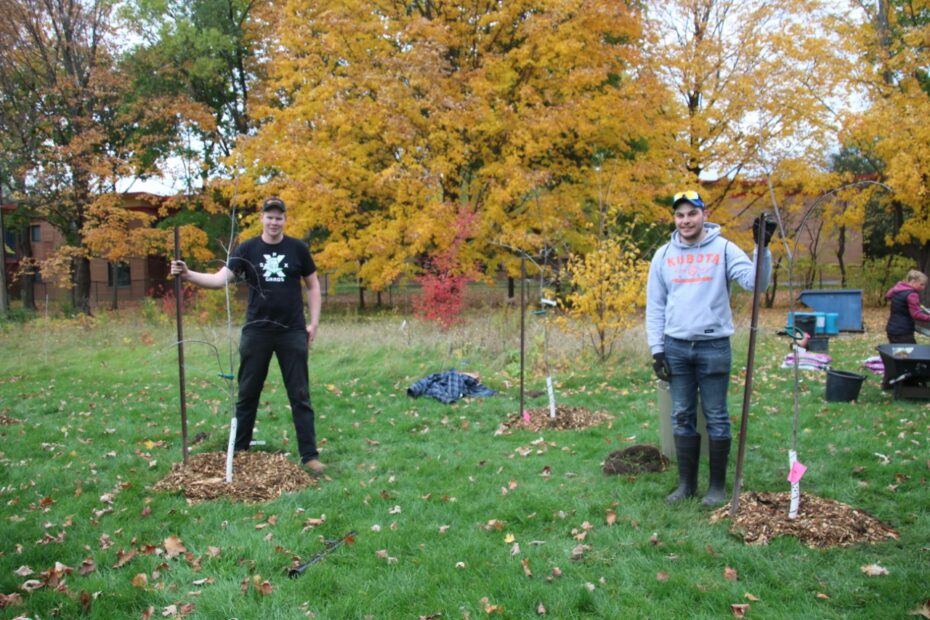 In 2014, McGill University announced short- and long-term sustainability targets with the unveiling of its Sustainability Strategy, Vision 2020: the first step in an ambitious plan to attain a Platinum Sustainability rating by 2030 and achieve carbon neutrality on its campuses by 2040. These initiatives have been well received at Macdonald Campus, whose community has long been supportive of environmentally conscious practices, always proving itself eager to propose and adopt progressive solutions to help ensure society's present needs are met without compromising the resources needed to sustain future generations.
Working together
Macdonald Campus is at the heart of a diverse ecological network at the western tip of the island of Montreal. The Campus stewards extensive ecological resources in the region, including the 245-hectare Morgan Arboretum forest reserve; the 22-hectare Stoneycroft Wildlife Area – home to the McGill Bird Observatory; the Macdonald Campus Farm and Horticultural Research Centre; the Emile A. Lods Agronomy Research Centre; and the 51-hectare Molson Nature Reserve, located on neighbouring Île-Perrot.
The Campus is linked to a mosaic of habitats and ecological reserves, including three of Montreal's ecoterritories: La forêt de Senneville; Corridor écoforestier de la rivière à l'Orme; le corridor écoforestier de l'Île-Bizard and the Quebec government's Réserve écologique des Îles-Avelle-Wight-et-Hiam located in Lac des Deux Montagnes.
Mac Campus' activities influence and are heavily influenced by these relationships and its community members are acutely aware of the importance of continuously improving the campus' ecological footprint.
"As a leading Canadian university, McGill must lead by example by helping to mitigate climate change, reduce energy use and waste, care for our natural environment, and create a safe and inclusive community," says Department of Natural Resource Sciences Assistant Professor Cynthia Kallenbach. "I see it as a responsibility to our students and to our global community that we meet this challenge. We will be a better leader, and research and educational institute for it."
Macdonald Campus Working Group
As such, the Sustainability of Operations at Macdonald Campus Working Group, launched in 2019, united employees and student groups from various parts of the campus in the hope of embarking on new projects that not only help McGill achieve its 2020 Vision, but that are also meaningful to its community members.
The group's first order of business was to survey the campus community to get a sense of the issues that were pertinent to their colleagues, and the community happily obliged.
"I am constantly inspired and motivated by the outstanding enthusiasm we have had from within the working group and from the larger community of students and staff," says Kallenbach, who also serves as the group's Chair. "As for the survey results, we saw common themes emerge, including banning single-use items, diversifying the green space, and 'greening' the campus infrastructure. Interestingly, we also found that there were a lot of recurrent ideas, suggesting that there are many places where the community agrees on where we need to concentrate our efforts."
Challenge accepted
The working group has set some lofty goals for itself, but it's a team that's ready to rise to the challenge. Their strategy? A step-by-step, organized approach with clear milestones and specific objectives to keep them focused.
"We have three phases," explains Kallenbach. "The first was to determine the initiatives we wanted to focus on based on alignment with campus needs and the Vision 2020 Sustainability Strategy, which we completed last Spring. The second phase, which we are in now, aims to develop action plans for how the initiatives we decided on can be implemented.  The third and final phase is focused on implementation and creating a structure so that our initiatives and group are sustained over the years."
To ensure a cohesive approach, Kallenbach's group works closely with The McGill Office of Sustainability, connecting their initiatives with those already in place downtown. "In order to implement and assess the feasibility of our larger initiatives, it's essential that we involve the appropriate stakeholders and experts to help guide us."
The first of many projects
The working group, with support from McGill's Sustainability Projects Fund, recently received a green  light on its first project proposal: a tree planting initiative, the first stage of which took place in October 2020. Volunteers – including faculty, staff and students from McGill's Farm Management & Technology Program – planted 20 trees between the S-Road and Eco-Residences at Macdonald Campus. Subsequent phases will see 80 more trees planted next spring, and 100 more in fall 2021.
The project – led by Plant Science Faculty Lecturer David Wees, Facilities Management Supervisor Franco Nardi, and Plant Science Administrative Officer Lindsay Flood – will help toward carbon sequestration; reducing the urban heat island effect; providing critical animal habitat and wind screening; as well as providing more outdoor spaces to promote the health and well-being of the Macdonald Campus community.
Further, the trees – a variety of species native to Northeastern North America – will simultaneously create opportunities for new teaching and learning experiences. These include a Landscape Design course (FMTP 097), where students can engage in the tree planting activity, as well as a Flowering and Plant Diversity course (PLNT 358), in which students can observe and analyze the tree species as they grow.
Finally, the initiative extends beyond the campus, contributing to the city of Montreal's "Plan Canopée," with the goal of increasing canopy coverage of the island from 20 per cent to 25 per cent by 2025. Once complete, the working group hopes to offer an interactive tree map and guided walking tours to encourage visitors to engage with the beautiful and diverse trees on Macdonald Campus.
For more information or to follow the Sustainability of Operations at Macdonald Campus Working Group's activities, visit www.mcgill.ca/macdonald/sustainability  Faculty and students who wish to participate in upcoming sustainability initiatives at Macdonald Campus can contact sustainability.mac@mcgill.ca.
To learn more about McGill's Vision 2020 Sustainability Strategy, visit the McGill Office of Sustainability website.