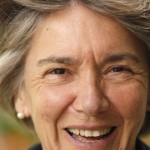 By Julie Fortier
The College of Family Physicians of Canada has named family medicine professor Dr. Ann C. Macaulay "Family Medicine Researcher of the Year" for 2008.
Dr. Macaulay has made significant contributions to the study and prevention of type 2 diabetes in the Aboriginal population, namely through her involvement in the Mohawk community of Kahnawake, where she served as a physician for more than 30 years and established a diabetes prevention program. She is a strong advocate of participatory research, where researchers are in partnership with the intended users of the research: individuals, organizations, policy makers or entire communities. Dr. Macaulay is currently inaugural Director of Participatory Research at McGill (PRAM, http://pram.mcgill.ca).
"On behalf of The College of Family Physicians of Canada, it is an honour to acknowledge Dr. Ann Macaulay from McGill University as the 2008 Family Medicine Researcher of the Year," said Dr. Rick Glazier, Chair of the CFPC, Section of Researchers.  "Dr. Macaulay's insightful work in the area of community-based research will benefit Aboriginal communities in Canada and internationally. We commend her on the quality of her work that is making a significant contribution to family medicine across Canada and reflects the high standards of our national medical research community."
The formal announcement and presentation of an award to Dr. Macaulay will take place at the CFPC's annual meeting, being held November 27 to 29, in Toronto.
Dr. Macaulay has previously been named to the Order of Canada, foreign member of the Institute of Medicine (USA), and CIHR Advisory Board Member for the Institute of Aboriginal Peoples' Health.