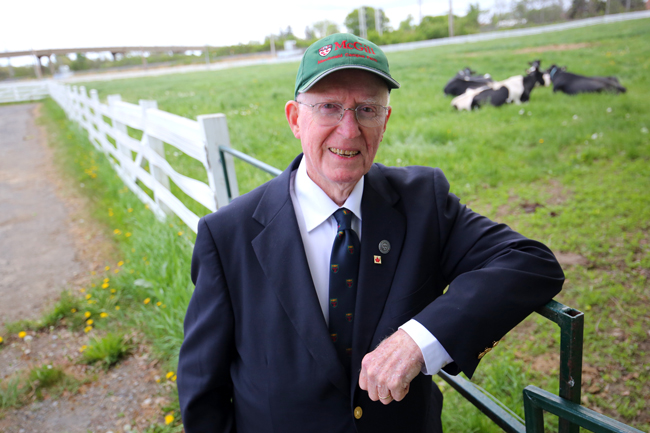 By Katherine Gombay
A $1-million gift from Macdonald College alumnus J. William Ritchie, BSc(Agr)'51, will provide major support for McGill's Faculty of Agricultural and Environmental Sciences in its efforts to open the Mac Campus to more visitors and provide a unique, hands-on education into the critical role of agriculture in the food supply chain.
Ritchie's gift will support construction and renovations to an original stone dairy barn dating back to 1907 and which will serve as the centrepiece of the Faculty's renewed outreach efforts. The historic building is designated to become the Macdonald Farm Community Engagement Centre and will include the centrally located Lorna and William Ritchie Educational Hall. The 279-square metre hall will serve as an initial point of contact for visitors, accommodate a 140-seat instructional area and be home to multimedia displays and other interactive exhibits portraying the workings of the Macdonald Farm and themes related to agriculture, nutrition and food production.
"Thanks to the outstanding generosity of William Ritchie, our Faculty will be able to connect our teaching and research programs even more deeply with the community of which we are a part," said Chandra A. Madramootoo, Dean of the Faculty of Agricultural and Environmental Sciences. "As an internationally renowned leader in fields like sustainable agriculture, food safety and food security, and human nutrition, the Faculty is ideally positioned to contribute to important public engagement about agriculture and food production, and to showcase the vital link between good agricultural practices and a healthy, sustainable future."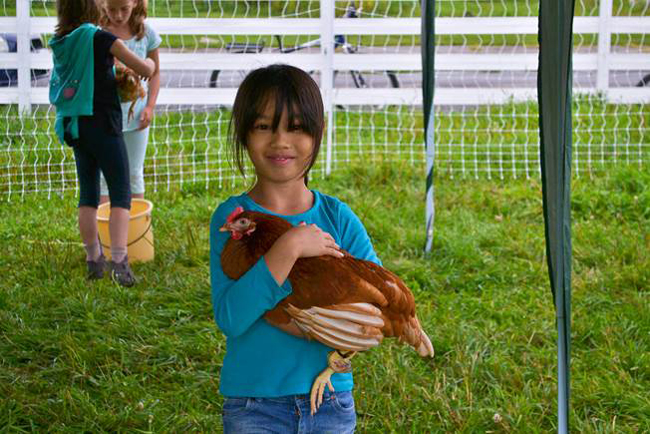 The Macdonald Farm Community Outreach Program currently provides bilingual guided tours aimed at educating school children about agriculture and environmental stewardship. Last year, more than 5,000 children participated in activities on the Ste. Anne de Bellevue campus during a limited spring and summer schedule. Operating on a year-round basis out of the new Centre, the Faculty estimates that the Campus and the Farm could welcome up to 15,000 visitors a year, mainly from surrounding suburban communities as well from areas closer to Montreal's inner city.
"As a graduate of Macdonald College, I have come to appreciate the Faculty's role and its proud tradition when it comes to agriculture, food, nutrition and the environment," said Ritchie, a Nova Scotia businessman and loyal McGill volunteer and supporter who grew up in Montreal. "Supporting the Macdonald Farm Community Engagement Centre is an opportunity to open the campus, and its many activities, to even more students and more people in the community."
Read more about William Ritchie and his recent gift in the McGill News.