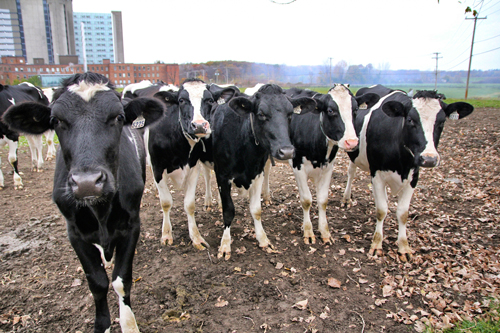 By Neale McDevitt
To borrow the punch line from an old joke, the Macdonald Campus Farm dairy herd is outstanding in its field. If you don't believe us, just ask the people at the Agropur Cooperative.
For the third time in four years, the Cooperative has declared Mac Farm's milk as regional champion in its Club de l'Excellence. The prestigious award is given annually to the farm that produces milk with the lowest bacteria level and somatic cell count, while maintaining clean, well-kept facilities.
There is no secret to the continued success says Paul Meldrum, General Manager, Macdonald Campus Farm. "Our approach is; we won't sell something that we wouldn't eat ourselves, whether it is eggs or beef or milk," he says. "We are producing food that people are going to put into their bodies so it should be the highest quality possible."
There are two key components in attaining and maintaining this level of excellence – a healthy herd and stringent procedures to collect the milk.
"We have very detailed protocols for cow health, milking procedures, and equipment monitoring and sanitizing. And we make sure our student casuals receive proper training," says Meldrum.
Traditionally, the highest quality milk is produced on smaller farms ("mom and pop farms," Meldrum calls them) because the fewer people involved in the procedure, the less likelihood of human error and the greater the consistency. That the Mac Farm – one of the largest operations in the Agropur Top 5 – produces such highly regarded milk on a regular basis is a testament to its people. "Protocols are only as good as the people doing the work. We have excellent students and excellent staff – people who take great pride in what they do.
"I think this is key to any business but even more so when you're dealing with live animals," says Meldrum.
The Mac dairy herd is comprised of some 85 animals, mostly Holstein but also Brown Swiss, Ayrshire, Jersey and some Canadienne. "Each breed has its own niche," Meldrum says. "For example, Holsteins are renowned for volume and Jerseys are renowned for higher butter fat content, higher protein level."
The healthiest cows produce the best milk. This means that they need the best feed possible – but the highest quality feed is only grown in the best soil. "Years ago I spoke to an Austrian farmer and I can still hear his voice – 'You need to have the healthy soil to have the healthy plants to have the healthy animals to have the healthy people.' It's a cycle," says Meldrum.
That cycle – and that quality – is wonderfully self-contained on Mac Farms which, apart from a few specialized supplements (such as soybean and meal), grows the high quality hay, corn, corn silage and forages that make up the bulk of the herd's diet. "Healthy animals start with good field and soil management," says Meldrum.
And while a devastating fire destroyed much of that Mac-produced feed last Halloween, the herd hasn't noticed a dip in the quality of its food. "We went through a hay broker in Huntingdon who knows exactly the quality of feed we need. We've secured enough to feed the herd until mid-June when we'll be able to take over with our own crops again," says Meldrum.
Ironically, some of the stiffest competition faced by the Farm is provided by former Mac students. "Of the four other milk-producing farms in the Top 5, three have former students who are back on the farm – and they are consistently in the running every year," says Meldrum. "It's nice to see that people have taken what they learned here and are applying it back home.
"But," says Meldrum with a laugh, "now they are gunning for us."