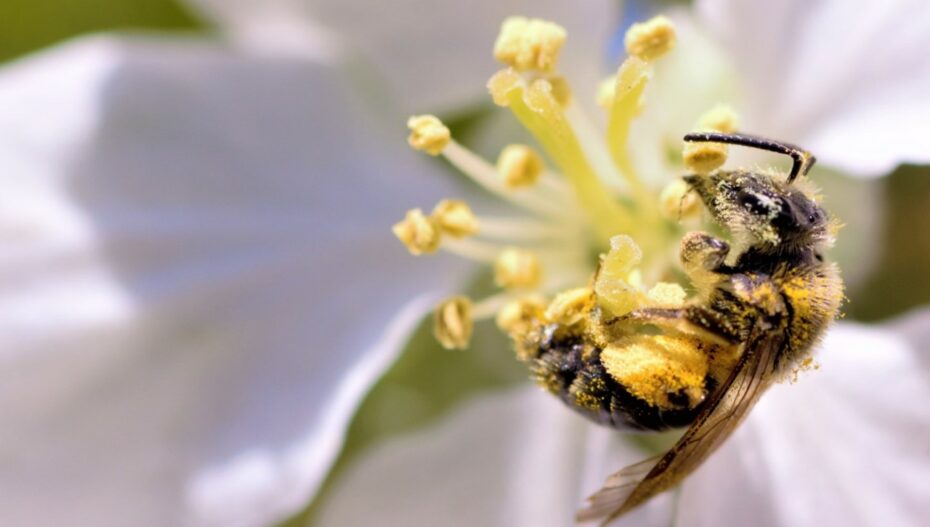 The Macdonald Campus Sustainability Working Group's latest initiative: The Native Pollinator Habitat Project, undertaken in partnership with neighbouring John Abbott College, is set to reduce the Campus' environmental impact and improve the ecology of the surrounding community. The project is supported by the McGill Sustainability Project Fund and a World Wildlife Fund Go Wild School Grant.
Led by Dr. Frieda Beauregard, BSc(AgEnvSc)'04, MSc'07, PhD'16, lecturer in Plant Science and Curator of the McGill University Herbarium, the project was spurred by the alarming habitat loss among pollinators like wild bees, an essential part of our ecosystem that help to ensure the propagation of different plant species.
"About 87  per cent of all flowering plants are fully or partially dependent on pollinators to reproduce, so losing pollinators would mean we have fewer fruits and seeds, which in turn means less food for humans and other animals," says Gail MacInnis, PhD '20, a former researcher at Macdonald Campus' Lyman Entomological Museum and current Postdoctoral Fellow at Concordia University.
She further explains that different pollinator species pollinate different types of plants, which makes diversity extremely important. "There are many insects that are considered pollinators – bees, flies, butterflies, beetles, even ants – who move pollen between flowers and plants, usually by accident during their search for food or shelter. This project, however, specifically supports wild and native bees, which are largely solitary, and therefore need much more help to survive and thrive, especially in highly landscaped areas."
Observation is key
These bees, who nest primarily underground, in old stems or in dead wood, require undisturbed areas to build their nests and lay eggs. The objective is to provide more of these natural habitat options for wild bees around Macdonald Campus and to monitor their populations using data collected through an application called iNaturalist.
"We chose this platform because it allows our students – who will be collecting observational data on insects at the nesting habitats and on flowers – to share observations of the living organisms they encounter," says Beauregard. "By monitoring this over time, we will be able to see how adjustments to the local landscaping can make it more pollinator-friendly and implement those changes."
And while it is primarily an exciting opportunity to help replenish these vital local insect populations, the project simultaneously offers Macdonald Campus students a chance to connect with and mentor students from neighboring John Abbott College, says Beauregard. "I wanted to include John Abbott College because I think there is so much potential to bring our two campus communities together over our shared vision of creating a more sustainable campus."
Student Life Counsellor in Sustainability and Social Entrepreneurship at John Abbott College Shannon Coulter-Low agrees. "The initiative will provide our CEGEP students with hands-on experience and the opportunity to participate in the stewardship of the natural world within their community."
A collective endeavour
The pollinator project also strives to raise awareness in surrounding communities about the role that bees and other native pollinators play in the environment. By extension, it encourages local residents to support bees in their yards and add their own observations to the Campus iNaturalist project.
"Anyone on or off-campus can contribute to the app at any time and we encourage people to do so, both because it is fun to get to know the nature that is around us, but also because it creates a valuable record of the kinds of organisms that are out there which can then be used to understand and document species changes over time," says Beauregard.
The project, expected to launch in late spring/early summer 2021, will see educational signs added to the existing pollinator gardens throughout the summer that will detail how to create a bee-friendly landscape and instruct students and other campus visitors on how to contribute their observations to the Macdonald Campus project.
The project is currently seeking McGill students with a strong background in entomology to volunteer to lead John Abbott students through this initiative. To volunteer, please contact Frieda Beauregard.