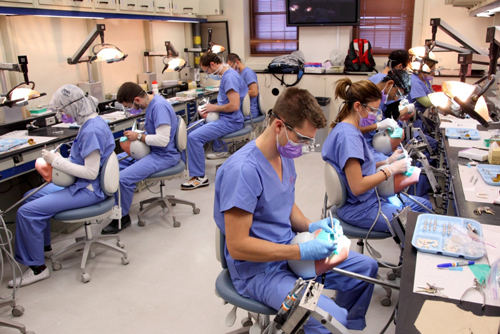 Learning, research and community service to come together in Faculty of Dentistry's modern new home
By Cynthia Lee
On Oct. 18, McGill's Faculty of Dentistry announced that many of its activities, including its undergraduate teaching clinic and clinical and community research unit, will be moving to a building located at the corner of McGill College Avenue and Sherbrooke Street. The Faculty of Dentistry will occupy three floors at 2001 McGill College Ave.
Currently located in the Montreal General Hospital, the Faculty of Dentistry's undergraduate teaching clinic offers dental services at a lower cost than private clinics. Many of the Faculty's teaching, research and administrative activities currently located on the McGill campus will also be moved to the new space.
"The move to this new location, adjacent to the McGill downtown campus, will provide the public easier access to our clinic by public transportation," said Dr. Paul Allison, Dean of the Faculty of Dentistry. "The new space will bring research, clinical teaching, graduate and dental students together, and become the hub of the Faculty's community outreach activities, all in a state-of-the-art facility."
A leader in community outreach
McGill dental students provided care to 4,420 Montrealers last year alone, through nearly 15,000 patient visits. In addition to its main undergraduate teaching clinic, the Faculty of Dentistry operates four outreach clinics: the Pediatric Clinic (for children of refugees or recent immigrants, located at the Montreal Children's Hospital); the Summer Clinic (for people with physical and cognitive disabilities, among others, run in its main clinic during the month of July); the Jim Lund Clinic at Welcome Hall Mission (which offers free dental care to low-income families, homeless people and new immigrants); and the Mobile Clinic (which uses mobile dental equipment to go directly into community centres and provide free dental care to low-income families, the elderly, recent immigrants, refugees and people with disabilities). These community outreach activities, and the Mobile Clinic in particular, serve as a model for a number of other dental schools in Canada. The Faculty also looks at access to dental care in its research activities, in particular through its Oral Health and Society Research Unit.
"The Faculty of Dentistry – whether through its community outreach, its research or its teaching – is a particularly strong example of how McGill is committed to instilling in its students values of public service and compassion for all segments of society that will remain with them wherever their careers take them. It is also a concrete example of the engagement of McGill toward the Montreal community and Quebec society," added Suzanne Fortier, Principal and Vice-Chancellor of McGill.
"We are not just trained to be skilled practitioners. We are trained to be aware of our community and this new facility will allow us to develop our skills in the best environment possible," said Sina Hashemi, President of McGill Dental Students' Society.
New cutting-edge nucleus
The Faculty of Dentistry's new facility, set to open in June 2014, will be at the cutting edge of dental education, equipped with the latest high-tech simulation technologies, teaching equipment and learning spaces, thereby bolstering experiential and collaborative learning.
The project, which includes renovations and the purchase of equipment, is estimated to cost $18 million. The Faculty has raised approximately $6 million so far through alumni and government support and today launches its campaign to raise the remaining $12 million.
Plans include:
• a modern undergraduate teaching clinic, equipped with the latest digital charting and radiography equipment;
• a multifunctional simulation laboratory with 40 patient simulators, which will help students learn complex clinical procedures and infection control techniques, among other things;
• equipment for continuing education, which will enable the Faculty to film and transmit procedures as they are performed on patients and to provide hands-on training to dental professionals;
• a surgical unit for students and oral and maxillofacial residents to learn and perform periodontal, oral and other surgical techniques;
• a multi-purpose oral medicine and research unit, designed to enhance clinical research in implantology, oral cancer, dental caries, access to dental care and other fields;
• an oral imaging unit, which will contain the latest digital radiography and photography equipment, video recording equipment and a cone beam computerized tomography scanner;
• classrooms (including an active learning classroom), meeting rooms, faculty and student lounges.
For more information about McGill's Faculty of Dentistry, click here.