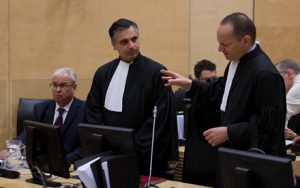 By Bridget Wayland
Should Saif Al-Islam Gaddafi be prosecuted for mass atrocities before the International Criminal Court (ICC) in The Hague or a national court in post-revolutionary Libya? McGill Law professor Payam Akhavan has been playing a key role in deciding this important question, as counsel for Libya's fledgling government.
Under the ICC Statute, Libya is supposed to surrender both its prisoners for the case The Prosecutor v. Saif Al-Islam Gaddafi and Abdullah Al-Senussi, unless they are prosecuted before its national courts. Last May, the fledgling government asked the ICC to drop its case, arguing that the nation is ready and willing to put Gaddafi and Senussi on trial at home. Libya's legal team includes Michelle Butler, Professor Philippe Sands, and Akhavan.
A professor of International Law at McGill since 2006, Akhavan is a renowned war crimes lawyer and scholar who has appeared as counsel before the International Court of Justice, the International Criminal Court, the European Court of Human Rights and the Permanent Court of Arbitration. Specifically, he was the first Legal Advisor to the Prosecutor's Office of the International Criminal Tribunals for Rwanda and the former Yugoslavia at The Hague from 1994 to 2000, and served with the United Nations in Cambodia, East Timor and Guatemala.
In Libya, he is representing the new government in its application to the ICC, while also advising on the creation of its post-revolutionary judicial system. For instance, Libya is adopting new legislation that will incorporate crimes against humanity, war crimes and genocide into their national criminal code.
This landmark case is raising fundamental questions for international law. "Typically this issue doesn't arise," says Akhavan. "Usually states are not willing to prosecute a deposed leader, so the ICC must step in to conduct the criminal prosecution. Libya is clearly willing to put him on trial. The question is, what is its ability to do so?"
Akhavan and team have argued that, in accordance with Article 19 of the ICC Statute, Libya has the right to prosecute members of the former regime in their home country, given time to establish a new justice system, democratically elected government and all the institutions needed to enforce the rule of law, post-revolution.
The ICC's defense lawyers, along with human rights organizations Amnesty International and Human Rights Watch, worry that a fair trial is not possible, that revenge is more likely to be served than justice, that security cannot be ensured given the political instability of the country, and that any guilty verdict will entail the death penalty.
On the other hand, the ICC Prosecutor and local victims groups say that, if done right, such a trial could contribute to a national reconciliation and, what's more, could bring about justice on a wider slate of offenses. The ICC can only prosecute Gaddafi and Senussi for crimes committed during the revolt, defined as Feb. 15 – 28, 2011. Libya must charge for the same crimes (in substance), but could also include charges of corruption, embezzlement, murder and rape during the four decades of Muammar Gaddafi's long rule.
"When I went to Libya," says Akhavan, "it was quite extraordinary to see a country recovering from atrocity. It has a lot of destruction from the war, both physical and psychological. There's a palpable excitement now that Gaddafi has been overthrown, a sense of freedom and opportunity. But people realize that building a democratic culture is hard work, and will take time."
Back home at McGill, Akhavan continues to teach and research international law and human rights while advocating for democracy and documenting human rights abuses in Iran, his country of origin. "For me," says Akhavan, "Libya is interesting because I've been involved in these struggles for many years. But I'm also interested in the lessons of Libya for the wider Middle East, Iran in particular."
The 2009 'Twitter Revolution" in Iran was, after all, the prototype for the 2011 Arab Spring, which led to the downfall of Gaddafi's regime. In July 2012, Libya held its first free, fair, democratic elections after 42 years of totalitarian rule, and has been working to establish its new government and legal system ever since.
Meanwhile, there have been many delays to Libya's challenge before the ICC. In the most recent development on December 7, the ICC gave the Libyan counsel until January 23 to provide proof that the country is properly preparing for the trial, with enough evidence to charge Gadaffi with crimes against humanity, the same indictment presented by the ICC's prosecutor.
The ICC itself will then determine whether or not it has jurisdiction in this case.
Backgrounder: Who is Saif Al-Islam Gaddafi?
The object of a legal tug-of-war between the ICC and Libya, Saif Al-Islam Gaddafi is the second-eldest son and erstwhile heir of former Libyan dictator Muammar Gaddafi, and the only family member in custody. A Western-educated, cosmopolitan figure, Saif was once seen as a reformer, but became the public face of the regime during the Arab Spring protests that spread to Libya in February, 2011. He allegedly used a television broadcast to incite Libyan security forces to use violence against civilian demonstrators, ordered the use of live rounds against the protestors, and recruited Pakistani mercenaries to put down the revolt.
Tens of thousands of people were killed and as many arrested over the next eight months, as the country descended into the chaos of civil war. With Libya mostly ungoverned, the International Criminal Court (ICC), acting on request of the UN Security Council, issued arrest warrants for its head of state, Muammar Gaddafi, its head of military intelligence, Abdullah Al-Senussi, and its de facto Prime Minister, Saif Al-Islam Gaddafi. They were charged with crimes against humanity (murder and persecution) committed while trying to suppress the start of the Libyan revolution.
"Liberation" was announced in October, shortly after Muammar Gaddafi was apprehended and killed by rebel forces in Sirte. Most Gaddafi family members and loyalists fled the country; Saif was apprehended by an anti-regime militia while crossing the desert in guise of a Bedouin nomad. He has been held in the remote Libyan hilltown of Zintan ever since, despite being wanted by the ICC.