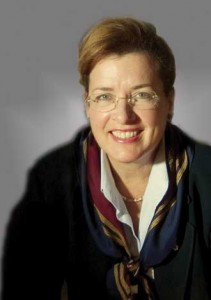 Dr. Bartha Maria Knoppers named Director of New Centre of Genomics and Policy
By Julie Fortier
World-renowned genomics ethics expert Dr. Bartha Maria Knoppers has been appointed Director of the new Centre of Genomics and Policy at the McGill University and Génome Québec Innovation Centre. Dr. Knoppers is known internationally as a leading expert in ethics, law and policy within the field of human genetics, reproduction and biotechnology. She has also been appointed a professor in the Department of Human Genetics at the McGill Faculty of Medicine. Both appointments are effective June 1, 2009.
"The appointment of Dr. Knoppers builds magnificently on McGill's leadership in the expanding field of health law and public policy," said Richard I. Levin, Vice-Principal (Health Affairs) and Dean of the Faculty of Medicine. "We feel very privileged and excited to have one of the world's best authorities in genetics research and ethics join our community of scholars, to steer the discussion in this extraordinary area of medical science, and to help define the path for the future, in Canada and internationally."
Dr. Knoppers, formerly a senior researcher and law professor at the Université de Montréal, served as chair of the International Ethics Committee of the Human Genome Organization from 1996 to 2004. She was a member of the International Bioethics Committee of UNESCO that drafted the Universal Declaration on the Human Genome and Human Rights. She is also the founder of the International Consortium – Public Population Project in Genomics (P3G), and co-founder of the International Institute of Research in Ethics and Biomedicine and a co-director of the Quebec Network of Applied Genetic Medicine. From 2000 to 2006, she served on the board of Genome Canada and on the executive of the Canadian StemCell Network. She has been chair of the Ethics Working Party of the International Stem Cell Forum since 2004.
"This new Centre of Genomics and Policy offers the opportunity to prospectively frame and guide the direction and eventual applications of research in the life sciences," Dr. Knoppers said.
The new Centre of Genomics and Policy will spearhead research in five domains: procreation, pediatrics, privacy, population health, and personalized medicine. Together with national and international partners and following a multidisciplinary approach, its research into models and applications of policymaking in these domains will apply the cross-cutting analysis grids of rights, duties, responsibilities and choice to the socio-ethical and legal norms affecting selection, protection, prevention and promotion of human health.
Dr. Knoppers was named Officer of the Order of Canada in 2002, and also received the Queen's Jubilee Medal that year. She holds a Bachelor of Arts degree from McMaster University, a Diploma of Legal Studies from Cambridge University, a Master's degree in Comparative Literature from the University of Alberta, a Law degree from McGill University and a Doctorate of Laws from the University of Paris I: Panthéon-Sorbonne, as well as numerous honorary degrees.
Located on the McGill campus, the McGill University and Génome Québec Innovation Centre is a world-class research facility for genomics and proteomics. The Centre has developed a renowned expertise in complex genetic disorders such as cardiac disease, asthma and Type 2 diabetes, and has become a networking site for various research initiatives. The Innovation Centre provides complete DNA analysis services, from a few samples to several tens of thousands per week.