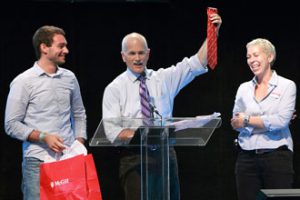 By Neale McDevitt
Canadians of all political stripes paid their final respects to Jack Layton (BA'71) on Saturday in a moving state funeral held in Toronto. Layton, the charismatic leader of the New Democratic Party who almost single-handedly catapulted his party to become the Official Opposition in May's federal election, died on Aug. 22 in his Toronto home following a battle with an undisclosed cancer. He was 61.
"Jack inspired the whole country and brought a hope and optimism to politics that hasn't been there for a long time," said Jamie Nicholls, MP for Vaudreuil-Soulanges and a doctoral student at McGill's School of Urban Planning, Policy and Design. "I think that will be his lasting legacy – he made us believe."
Nicholls was part of the famed "Orange Crush" in the last federal election that saw the NDP win a record 103 seats, including 59 in Quebec. Five of the newly minted Quebec MPs are McGill students. "Let's put this up front – Jack is irreplaceable," said Nicholls. "But he represented the party's values and I know each of my colleagues in caucus share these same values. That vision – Jack's vision – will never disappear."
Politics in his bloodline
Layton's love of politics was seemingly woven into his DNA. His father, Robert Layton, was twice elected as a Progressive Conservative MP for the riding of Lachine and served as Minister of State for Mines in the cabinet of Prime Minister Brian Mulroney. His grandfather, Gilbert Layton, was a cabinet minister in the Union Nationale government of Maurice Duplessis, and his great granduncle, William Steeves, was a reformist Father of Confederation.
The Montreal native dove into the political forum at an early age, being elected student council president of Hudson High School. A lifelong champion of social justice and equality, the young Layton drew the ire of some members of the predominantly Anglophone Hudson Yacht Club when he, as junior commodore, invited a slew of his francophone friends to one of the club's youth dances.
With his appetite sufficiently whetted, Layton enrolled in political science at McGill. On top of making the University swim and water polo teams, he also became a Brother of the Sigma Chi fraternity.
Like so many young intellectuals, Layton was caught up in the exciting swirl of Quebec politics of the late 1960s. Among other things, Layton took part in a protest of some 10,000 people demanding to have more courses taught in French at McGill.
It was also while at McGill that Layton met and was inspired by a young philosophy professor named Charles Taylor. Today considered one of the most influential philosophers alive, the young Taylor was also active in politics and spoke against consensus-building and maintained that the most fertile ideological fields were sown with seeds of sharply opposing views.
Diving into the political forum
But his political career would be launched and carried on in Toronto. Layton won his first election race in 1982, when he surprised experts by beating incumbent Gordon Chong for a seat on Toronto city council. Raising the bar of his political aspirations, Layton ran an unsuccessful campaign for the Toronto mayoralty in 1991. After a hiatus, he returned to the municipal scene in 1994 and was regarded by many to be the "conscious of Toronto politics."
In 2003, with the endorsement of former NDP leader Ed Broadbent, Layton was elected leader of the NDP on the first ballot. The following year, he became the MP for Toronto- Danforth after beating incumbent Liberal MP Dennis Mills in the 2004 federal election. Buoyed by his leadership, the NDP nearly doubled its share of the popular vote from the previous election and came away with 19 seats. The upward trend continued in both the 2006 and 2008 federal elections in which the party won 29 in 2006 and 37 seats respectively.
But Layton's greatest political victory was to come earlier this year, in the May federal elections. Layton hit the campaign trail on the limp following surgery to repair a broken hip. But, focusing on the Harper government's record on health care and promising to cap credit card interest rates, Layton began to hit his stride, albeit with a walking stick. The NDP's poll numbers, middling before the election, began to surge – especially in Quebec where the party began overtaking the front-running Bloc Québécois. Layton's image as "un bon Jack" (a good guy) struck a chord with Quebec voters and, riding the wave of its leader's popularity, the NDP shocked everyone by winning 103 seats and becoming the Official Opposition for the first time in its history.
The celebration was short-lived, however. On July 25, a gaunt Layton announced that he had been diagnosed with an unspecified form of cancer and would be taking a temporary leave to fight it. Layton, who had successfully fought prostate cancer the previous year, said he was hoping to return as leader of the NDP upon the resumption of the House of Commons on September 19. That return never materialized as, on Aug. 22, it was announced he had succumbed to his illness.
In a statement issued upon Layton's death, Principal Heather Munroe-Blum said: "Just a year ago, Mr. Layton visited our campus to meet with the incoming class of first-year McGill students. Higher education, he told them, 'is an investment in making a better world, in finding solutions to some of the challenges that we're dealing with as a community, as a global society, as a series of neighborhoods.'
"In the four decades since his graduation in 1971, Jack Layton displayed remarkable courage and determination in seeking solutions to many of society's most difficult challenges," she continued.  "We will greatly miss him, but will always treasure the wisdom and good humour that he so generously shared."