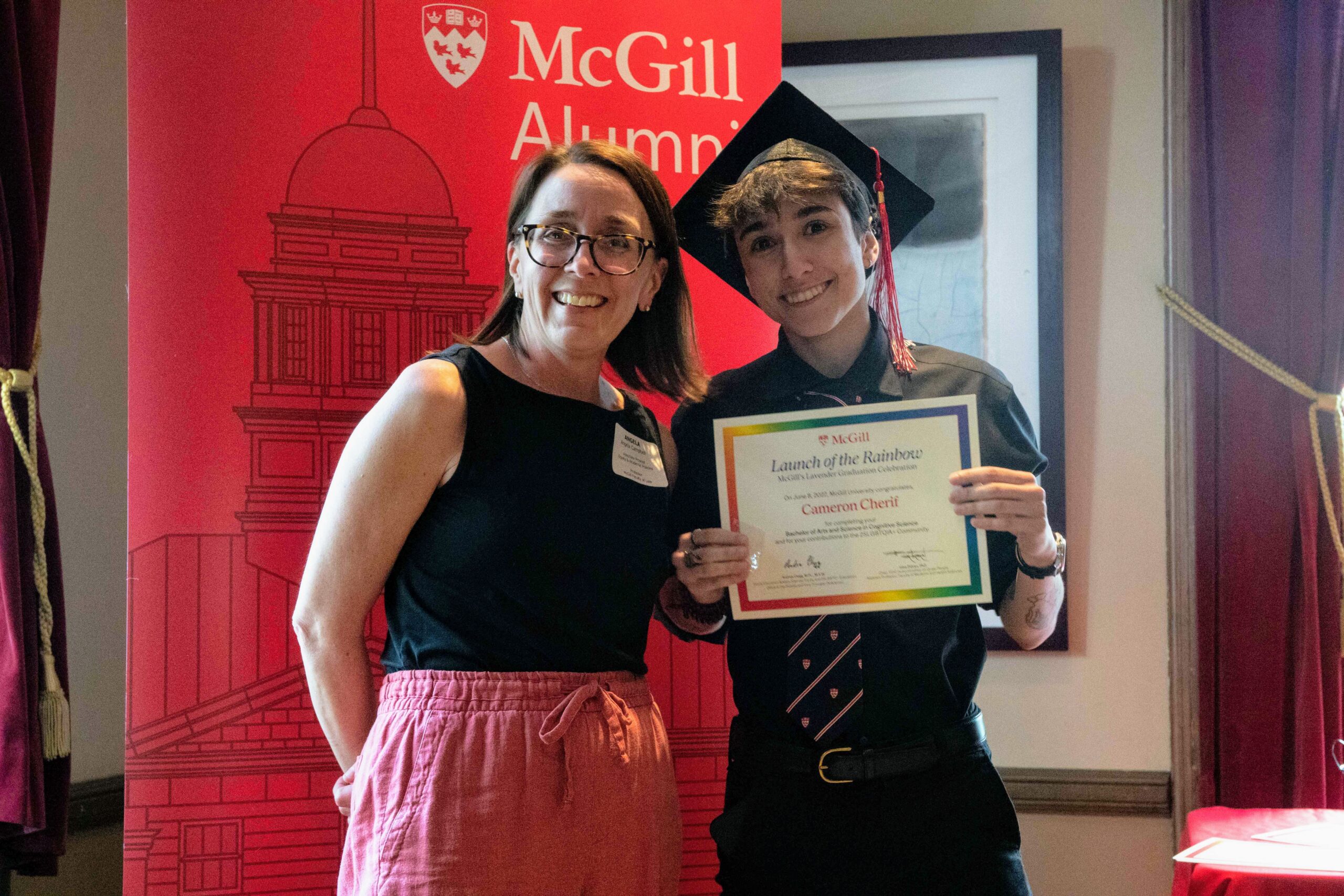 On Wednesday, June 8, more than three dozen guests of honour were feted in McGill's annual Lavender Graduation for 2SLGBTQIA+ students at Thomson House. And, like every other graduation celebration over the past few weeks, this year's event was held in person for the first time since the start of the COVID-19 pandemic. 
Organized by the Joint Board-Senate Equity Diversity and Inclusion Committee on Queer People; the Equity Team; and the McGill Queer Alumni Association, the event celebrated the achievements of McGill's Lesbian, Gay, Bisexual, Trans, Queer, Intersex, Pansexual, Questioning, Two Spirit, Non-Binary, and Asexual (2SLGBTQIA+) graduates, and their allies and families. 
In 2018, McGill made history when it became the first institution outside the United States to hold a graduation celebration for 2SLGBTQIA+ students, taking up a custom which began with three students at the University of Michigan in 1995. Other Canadian universities have since followed McGill's lead. 
Festive and joyous 
The elegant third-floor ballroom at Thomson House was packed for the first in-person Lavender Celebration at McGill since 2019 as graduates gathered with their friends and families – including some who took part in the virtual celebrations in 2020 and 2021 and wanted to catch up with friends and former professors. One by one, the grads took their symbolic walk across the stage to receive their certificates. 
"I think people realize very, very starkly just how much we missed when we didn't have these in-person celebrations over the last two years," said Angela Campbell, Associate Provost (Equity and Academic Policies). "This year, I would say things feel extremely festive and joyous. You just feel the energy. It's amazing." 
That energy was on full display as graduates mixed and mingled with one another – in some cases, for the very first time face-to-face. 
"We did an online version the past two years, but it just wasn't the same," said Grey Cooper (BA '21), one of the speakers at the event. "There are a lot of people here who haven't seen each other, either ever, or since the pandemic started." 
'You will always belong here' 
The event was not only a celebration of individual successes despite formidable obstacles, but also a recognition of the collective successes of McGill's 2SLGBTQIA+ community – successes which date back more than half a century. 
"Pride is a term often invoked in public contexts that celebrate 2SLGBTQIA+ contributions and achievements," Campbell told graduates. "Today, there is so much for you to be proud of: your academic accomplishments; how you have supported friends and peers; how you've enriched McGill campus life intellectually, politically, and socially; and most importantly, who you are. Being proud of your identity, is for many people, not easy. This is especially so when we are part of families and communities that have never truly seen themselves reflected in the heart of university life, especially at an institution of world repute like McGill.  
"But make no mistake: you have always belonged here, and you will always belong here." 
Launch of the Rainbow
"This ceremony doesn't just applaud graduates of 2022 and those from previous years getting to shine in-person today," said Hiba Zafran, Assistant Professor at the School of Physical and Occupational Therapy, and Chair of the Joint Board-Senate Committee on Equity – Subcommittee on Queer People. "The Lavender Graduation also marks your queer journeys, whatever it took to get here, to be proud exactly as you are today, and whoever you'll be tomorrow.  
"Thank you for the magic and transformation that your presence had brought to your classes, your projects, and for many, the advocacy work that you chose to do at McGill," continued Zafran. "I hope your journeys involved at least as much joy as challenges." 
The LavGrad celebration is also affectionately known as The Launch of the Rainbow – the sending out of 2SLGBTQIA+ graduates into the world, as well as an open invitation to come back to campus as proud members of the McGill community. 
"As the Rainbow is launched, remember that the bookend to this celebration is at Homecoming, the Return of the Rainbow in October," Campbell told attendees. "Please do stay in touch and return."