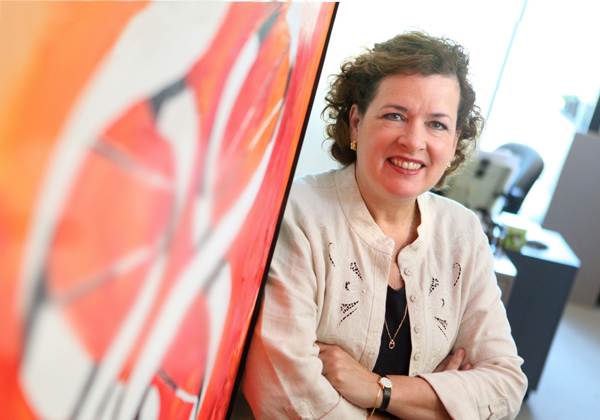 By McGill Reporter Staff
On Nov. 20, Bartha M. Knoppers, was one of five local luminaries honoured during the annual Great Montrealers reception. Since 1978, the Board of Trade of Metropolitan Montreal has recognized the outstanding achievements of luminaries in economic, cultural, scientific and social life who have contributed to Monreal's development and reputation.
Knoppers, Director of the Centre of Genomics and Policy at McGill, was recognized in the scientific sector for her research into the ethical aspects of genetics, genomics and biotechnology. In 2007, she created the Public Population Project in Genomics and the Quebec biobank CARTaGENE, which collects biological samples from over 20,000 people. An internationally renowned lawyer, Knoppers has led the fight for the social appropriation of genetics and genomics.
Joining Knoppers in the pantheon of Great Montrealers was Alvin Cramer Segal in the economics sector, Oliver Jones in the cultural sector and Dr. Réjean Thomas in the social sector. For the first time ever, the academy decided to honour an exceptional Montrealer posthumously, Marcel Côté, Founding Partner of SECOR.
"This tribute evening shines the spotlight on some of our city's luminaries who, through their talent, commitment and generosity, have helped make Montréal what it is today," said Michel Leblanc, President and CEO of the Board of Trade of Metropolitan Montreal. "The 2014 Great Montrealers honoured this evening have devoted their lives to advancing the causes and issues that are important to them. They are role models for younger generations, showing them that it takes time and passion to achieve great things."
"Every city needs to celebrate its builders, the men and women who, through their hard work and talent, contribute to its prestige and reputation," said Montréal Mayor Denis Coderre. "The Great Montrealers honoured are perfect examples of this: their outstanding careers and many accomplishments are testimony to the city's vigour and vitality."
The names of the Great Montrealers for 2014 will be engraved on the Constellation of Great Montrealers, located in the Hall Place Riopelle at the Palais des congrès de Montréal. Since 1978, the academy of Great Montrealers has honoured 132 luminaries, including those this year. The photo and biography of each of the recipients for 2014 can be found here.