McGill's valedictorians are outstanding students whose strong academic performance, leadership and community involvement has earned the respect of their peers. This year's cohort is remarkable for its diversity, each having vastly different backgrounds, experiences, passions and goals.
What they do share is ambition, curiosity, and a desire to have a positive impact on the world.
As with most students, McGill's valedictorians were challenged over the course of their studies. But, with perseverance, dedication, and the support of people around them, they thrived. The University has benefitted just as much for having them as valuable, contributing members of our community.
As part of our Spring 2023 Convocation coverage, the Reporter is conducting a series of Q&A interviews this year's valedictorians.
In this instalment, we feature Khadija Ahmed, valedictorian for the Faculty of Law, on Wednesday, May 31, at 3 p.m. Ahmed will receive her BCL/JD (Bachelor of Civil Law and Juris Doctor)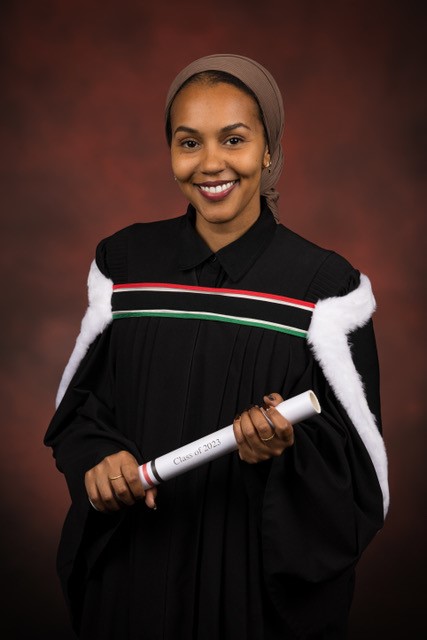 Where is your hometown?
Ottawa
Why did you choose McGill?
I came to McGill Law specifically for its pluralism, bilingualism, diverse student body and unique international opportunities the program offers.
What were some of your impressions when walking onto campus for the first time?
My first impressions were of my peers. I remember arriving in orientation week and being consistently impressed by everyone's backgrounds, talents, and professional interests – which ranged from science, rugby, skiing, fashion, and music, to food law, politics and youth criminal justice. The graduating law Class of 2023 is a formidable group of people who are bright, socially conscious, athletic, ambitious and, above all, emotionally intelligent. I am grateful to be a member of this remarkable graduating class.
What are some of the highlights of your time as a McGill student?
Too many to count! But my involvement with the Muslim Law Student Association (MLSA) from 1L to being the president of the MLSA is a significant highlight. Alongside my Muslim law school peers, we were able to undertake so many great initiatives during my time at the Faculty: from protests; petitions; and numerous panels, including multi-faith panels with McGill Christian Legal Fellowship and the Jewish Law Student Association; to virtual as well as in-person iftars for Ramadan. These are initiatives that I think sparked dialogue and enriched life at the Faculty.
Three favourite places on McGill/Mac campus?
5th floor of the Nahum Gelber Law Library in the morning for maximum sunlight (or 3rd floor by the moot rooms for more (social) studying.)
Thompson house! (Especially the two rooms with couches) A staple for every law student in the Faculty. I'll miss running into McGill friends as well as the London Fog and South Indian Veggie Curry Plate very much.
Dispatch Coffee for a latte before going up Peel.
What were some of the biggest challenges you faced during your time here, and how did you overcome them?
Bill 21 came into force the spring before I started law school and has remained a looming shadow and symbol of discrimination. I attended the hearing for its injunction in 1L; helped lead a protest in 2L for the Superior Court hearing on its merits; and observed the hearing at the appeal level earlier this year in 4L.
I would not say we've overcome this challenge since Bill 21 is still law and continues to contradict what I have grown to cherish and defend as Canadian values, like liberty and diversity. But, because of solidarity, coalitions across groups, interfaith solidarity, and community, I remain hopeful that we will overturn and overcome such discrimination. For instance, we gathered 500 signatories for the Faculty of Law petition.
The impact of COVID during my time as a McGill law student cannot be overstated. The law school curriculum is intense, and doing it online made it more challenging. It also forced me to adjust my expectations of my law school journey. Fortunately, this was made easier because of my friends in law school. We made the best of circumstances despite curfews, extremely long days online, and isolation. Together we persevered. If I could grade us on how our class adjusted to doing law school during a pandemic, it would definitely slant our Faculty's b-curve.
What's next for you, both short and long term?
I'm off to New York City to start working for White & Case LLP. I worked there this past summer and am very excited to return this fall!
Tell us about your Faculty and your classmates. How important have they been to your overall McGill experience?
Absolutely critical! Whether it's been studying property law together; decompressing at Parc LaFontaine; or attending an event led by our classmates like the Christie Bike Ride, I've learned with/from my classmates, and I am inspired by them. They've made law school more fun.
We've all grown so much and gained so much knowledge but also life perspective since joining the Faculty because so much life has happened in the span of three to four years. We've all experienced excitement, adventure, and joy, but also doubt, stress, getting good and bad grades, not getting that internship/job, uncertainty, rejection, grief, and loss of loved ones – and we continue to push through. The grace, flexibility, and integrity of my classmates coloured my McGill experience for the better.
Who or what will you miss most?
I will miss two things. One, is my friends and colleagues who will be spread across the country and all over the world after Convocation. Law school is a special and formative time where our paths cross, and it is not guaranteed that our paths will cross again – and being qualified in different jurisdictions makes it less likely. Second, I'll miss the perks of student life, including the ability to schedule my week to my preference and hosting or attending interesting on-campus events and panels in Montreal.
What advice do you have for new students to McGill?
Build and invest in your law school community! Understandably, law school is very busy and sometimes the Faculty can be a stressful environment, whether it's during exams or recruitment season. But you do not stop growing just because your class has ended – you can learn so much from being a part of groups/collectives/societies, participating in events, or simply taking the time to listen. Plus, your friends and peers are your future colleagues and network. Being an active part of your community is a gift that keeps on giving.
Do you have friends or family coming for Convocation?
Yes! I have my mom, brother, sister-in-law, and my one-year-old niece, Amaia. I'm so excited to have Amaia at this milestone!
What are some of the biggest challenges facing the world today? How confident are you that we can address these challenges and make a difference?
I can think of several major global challenges, from climate change to artificial intelligence's impact on the job market, which will fundamentally alter how we function as a society. However, I will highlight a challenge that I believe is not receiving as much attention as it should: Islamophobia – both globally and here at home in Canada.
Islamophobia, undoubtedly, colours debates, policies, and laws. From hate crimes to institutional discrimination, Islamophobia is pervasive and unacceptable. Within the last five years, we have grieved the Quebec Mosque shooting; the attacks in London, Ontario; and witnessed numerous threats and vandalism on mosques even during the holy month of Ramadan.
I'm confident we can address these challenges, especially when organizations like the National Council of Canadian Muslims are leading this work. However, this is a mammoth task that requires more attention and action from all, including official anti-Muslim sentiments everywhere from Canada and Austria, to India and Myanmar. This is a serious problem with grave consequences directly affecting more than two billion people across the world. I hope and believe that this graduating class will help eliminate Islamophobia while also contributing to solutions to other problems facing the world.