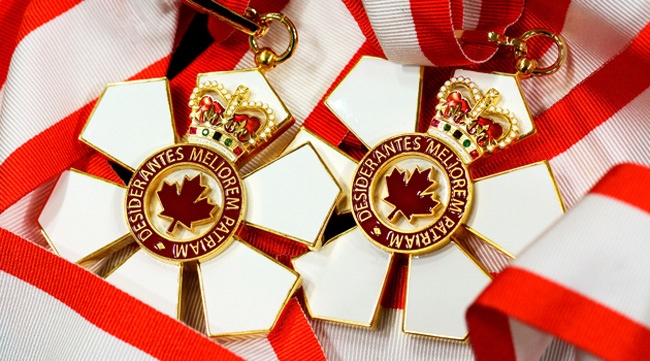 Astrophysicist Victoria Kaspi (BSc89), Director of McGill's Space Institute, added to her constellation of major awards in 2016 by being named a Companion of the Order of Canada, along with retired Supreme Court Justice Morris Fish (BA59, BCL62, LLD01). Companion is the highest rank in the Order of Canada, whose new members and officers were announced at the end of 2016 by Governor General (and former McGill Principal) David Johnston.
Major McGill benefactor Lorne Trottier (BEng70, MEng73, DSc06), was promoted to Officer of the Order.
Other McGill alumni named as Members of the Order include: Katherine Carleton (Mgmt02), Michael David Dan (PhD89, medical resident 1992), John Parisella (BA71, DipEd73) and Isaac Schiff (BSc64, MDCM68).
The Order of Canada was created in 1967, and is one of the country's highest civilian honours. Appointments to the Order recognize outstanding achievement, dedication to community and service to the nation. The newest appointments comprise three Companions, 22 Officers and 75 Members.
2016 was a brilliant year for Vicky Kaspi, who was also named the first woman and one of the youngest recipients ever of the $1-million Gerhard Hertzberg Canada Gold Medal for Science and Engineering, presented by the Natural Sciences and Engineering Research Council (NSERC). Holding the Lorne Trottier Chair in Astrophysics and Cosmology as well as a Canada Research Chair, Kaspi has produced significant research on compact neutron stars called pulsars, and is currently focused on trying to understand the origin of the mysterious phenomenon of Fast Radio Bursts.
Morris Fish, who served on the Supreme Court of Canada from 2003 to 2013, is a keen legal scholar, who was awarded an honorary doctorate by McGill in 2001. He was elected an Honorary Fellow of the American College of Trial Lawyers in 2006, and was presented with the F.R. Scott Medal by McGill's Faculty of Law in 2006, among other awards. He had been appointed to the Quebec Court of Appeal in 1989.
The name Lorne M. Trottier is found all around McGill's science programs, from the Engineering Building named for him to two annual symposia on science and sustainability, along with his sponsorship of McGill's Office for Science and Society. Co-founder of Matrox, a privately held group of companies known around the world for innovative computer graphics, video and imaging products, Trottier has contributed more than $20 million to McGill in the last two decades.
Katherine Carleton, of Peterborough, Ont., was awarded membership in the Order for "her efforts to promote a thriving arts and culture sector in Canada as an advocate and voice for Canadian orchestras," according to the description on the Governor General's website.
Michael David Dan, of Toronto, Ont., was named a Member "for his contributions as a philanthropist, notably for his partnerships with Indigenous people."
John Parisella, of Montreal, a well-known figure in Quebec political circles, joined the Order as a Member "for his social, political, diplomatic and academic engagement and for his dedication to major governance issues."
Isaac Schiff, of Boston, MA, and Toronto, was made a Member of the Order "for his groundbreaking contributions as a doctor and administrator who has advanced women's health, notably in the areas of infertility and menopause."
Recipients will be invited to accept their insignia at a ceremony to be held at a later date.
Read the press release issued by the Office of the Secretary to the Governor General.