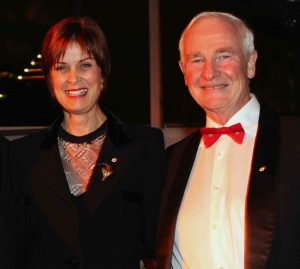 Former McGill Principal to become 28th Visitor to McGill
By McGill Reporter Staff
Prime Minister Stephen Harper has ended weeks of speculation by naming McGill's former Principal and Vice-Chancellor, David Johnston, as Canada's 28th Governor-General. Johnston will assume office on Oct. 1, immediately at the end of current Governor-General Michaëlle Jean's term.
In his official announcement, Harper praised the 69-year-old Johnston for his "hard work, dedication, public service and humility." The Prime Minister went on to say that he was confident Johnston would "continue to embody these traits in his new role as the Crown's representative in Canada."
For his part, Johnston said he was "profoundly" touched by the appointment and relished the opportunities his new job will provide. "I've had the good fortune to witness Canadians' creativity and our ties to the world, as well as our diversity and our vitality," he told reporters in Ottawa. "The opportunity to see these values at work across the country means a great deal to me."
Johnston, a legal scholar and current President of the University of Waterloo, led McGill for 15 years, from 1979 to 1994, before returning to the Faculty of Law to teach. In 1997, he was named Chairman of the Board of Overseers of Harvard University, his alma mater. He assumed the presidency of the University of Waterloo in 1999 and has guided that institution to new levels of national and international recognition.
"David Johnston has made an enormous contribution to higher education in Canada," said Heather Munroe-Blum, McGill's current Principal and Vice-Chancellor. "We at McGill are absolutely delighted to see this inspired choice to be the Queen's representative in Canada. His appointment is both a recognition of his prodigious talents and sterling reputation, and an important symbol of the vital role higher education, research and innovation plays in this country's prosperity and progress in the global community.
"Prof. Johnston has truly made a very real difference everywhere he has served," Munroe-Blum said.
The governor-general is appointed by the Queen on the advice of the prime minister and acts as the Queen's representative in Canada. The term is five years and can be extended to seven.
On being sworn in as Governor-General, Johnston automatically becomes the official Visitor of McGill University. This little-known role dates to the Royal Charter of 1852, under which McGill operates. At the time of the Charter, the Governor of Lower Canada was appointed as the Visitor, a role that since Confederation has been played by the Governor-General of Canada. The post is ceremonial; although the Visitor does have the power to disallow University statutes, that power has never been exercised.
McGill awarded Prof. Johnston an honorary doctorate of laws in 2000