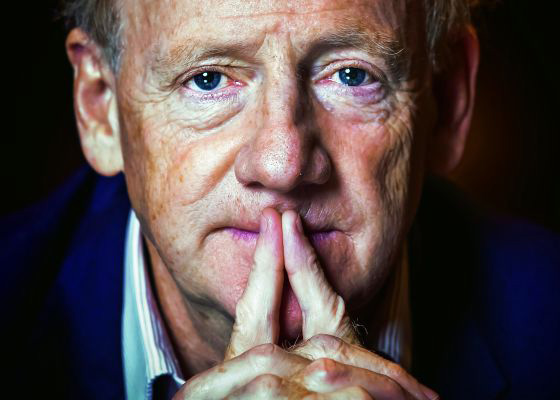 On October 18, world-renowned author John Ralston Saul will deliver the inaugural lecture of the Warren Allmand Lecture Series. The Series, co-sponsored by the Thomas More Institute, and supported by the McGill Institute for the Study of Canada and the Institute of the Study of International Development, is intended to honour the legacy of the late Warren Allmand, former MP, Cabinet Minister, and tireless proponent for the advancement of human rights. Allmand was also a proud McGill alumnus, graduating in 1957 with a Bachelor of Civil Law degree.
The title of Ralston Saul's lecture is The Fight for Freedom of Expression Around the World: A Personal Account.
Recent debates about free speech have become increasingly confused. How can one defend the right to freedom of expression in the face of hate speech and an increasingly skewed division between fact and opinion?  For John Ralston Saul, it has always been clear in the world of writing that freedom of expression involves two fundamentals: a belief in unrestricted expression, coupled with a commitment to not encouraging hatred between people. This means that those who claim the right to freedom of expression in order to encourage racism or hatred simply have no understanding of the history of freedom of expression. And they neglect what has caused so many public voices, over the last few hundred years, to die in its defense.
About John Ralston Saul
Saul has had a growing impact on political and economic thought in many countries. Hailed as ahead of his time by TIME magazine, he is included in the prestigious Utne Reader's list of the world's 100 leading thinkers and visionaries. President of Canadian PEN from 1990-1992 and an active member of Centre québécois du PEN international, he helped create the Canadian PEN Writers In Exile Network in 2004. His 14 works have been translated into 28 languages in 37 countries.
He has received many national and international awards for his writing, including the Canada's Governor General's Literary Award for Non-Fiction, as well as the Gordon Montador Award for Best Canadian Book on Social Issues. His Reflections of a Siamese Twin was chosen by Maclean's magazine as one of the ten best non-fiction books of the twentieth century.
He is a Companion of the Order of Canada, the Order of Ontario and a Chevalier in the Ordre des Arts et des Lettres of France. Born in Ottawa, Saul studied at McGill and King's College, University of London, where he obtained his Ph.D. in 1972.
The event is free, but it is recommended to RSVP online.
Get more information  on the Warren Allmand Lecture Series