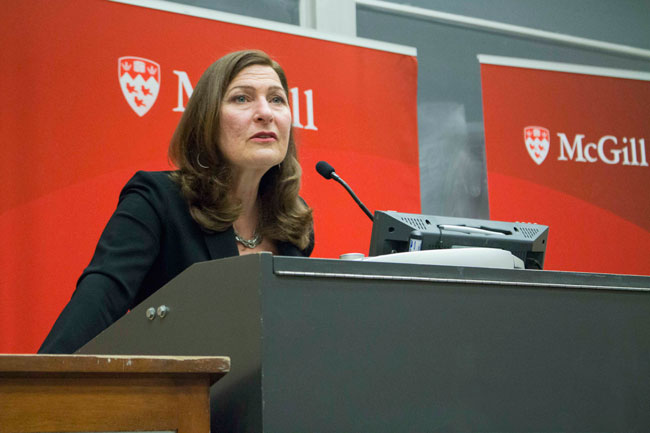 By McGill Reporter Staff
Anna Maria Tremonti says it's a great time to be a journalist. "Alternative facts" and "fake news," she says, will lead to a search for the real stories. That will revitalize and relaunch the news media.
The award-winning journalist gave this year's F.R. Scott Lecture, organized by the Friends of the McGill Library, before a crowded amphitheatre in the McConnell Building.
Tremonti has been host of CBC's prestigious current affairs show The Current since its inception in 2002. Before that she reported for CBC TV for 19 years including two years with the The Fifth Estate and nine years with The National.
Tremonti pointed out to the crowd that journalists cannot take back journalism alone. "What are you reading and watching, and listening to – what do you click on your computer?" she asked. "Do you simply want your beliefs reflected back at you? Are you turning them over in your head and thinking about them again? Have you tried to think differently? If you aren't actively engaging in the wider world, if you aren't curious and seeking the truth, you aren't helping. And we need your help. Because we need to take journalism back from those who would traffic in fabrication, back from spin masters of political public relations, back from those who deride facts to push their own interests and angry bias, and back from those who would push us toward the frivolous and away from the substantive."
Talking about her career in journalism Tremonti said the once thick line between fact and fiction has thinned. That line is very important, she told the crowd. With the rise of "fake news" or "alternative facts" powerful people have been able to walk away from the consequences of what they say and do. When you are tweeting out your policies there is no critical follow up.
Tremonti attacked government and corporate secrecy, and gave an impassioned speech about the importance of long-form and in-depth journalism. She implored journalists to take back journalism by challenging their bosses, offering alternatives to fluffy and vapid stories, and demanding worthwhile assignments. The more substantive ideas "small-t trump the fluff" she said laughingly. Do the stories of substance and explain why they matter.
Ann Vroom, President of the Friends of the Library, talked about the importance of scholarship and independent journalism as ways to offset "alternative facts" in her opening remarks.
Andrew Potter of the McGill Institute for the Study of Canada (MISC) talked about the decimation of the staffing of newspaper newsrooms at the same time as the rise of "fake news" which he called propaganda, or lies. Potter quoted from a poem by FR Scott entitled "Press Report" in which Scott lamented the coverage of something he had said. Potter reminded the crowd that a crisis of truth is not just a creature of our time.
Press Report
Are these my words, recorded
So incomplete?
Is all my though rewarded
With such deceit?
Great issues in this season
Compel a choice,
And to the search for reason
I add my voice.
But with a twist of headline
The lie is said,
And truth upon the deadline
Lies wholly dead.
Francis Reginald (Frank) Scott was a poet, professor of constitutional law, and founding member of the socialist movement in Canada (born in Quebec City on Aug. 1, 1899; died in Montreal on Jan. 30, 1985). As a man of letters and social commitment, Scott profoundly influenced the evolution of modern Canada's artistic and political culture. He was the sixth of seven children of Amy and Canon Frederick George Scott, an Anglican priest. (The Canadian Encyclopedia)
Previous FR Scott lecturers have included The Honorable Rosalie Abella, Graham Fraser, Antonia Maioni, Professors Emeriti Charles Taylor and Desmond Morton, among others.
Watch the complete lecture by clicking on the thumbnail below