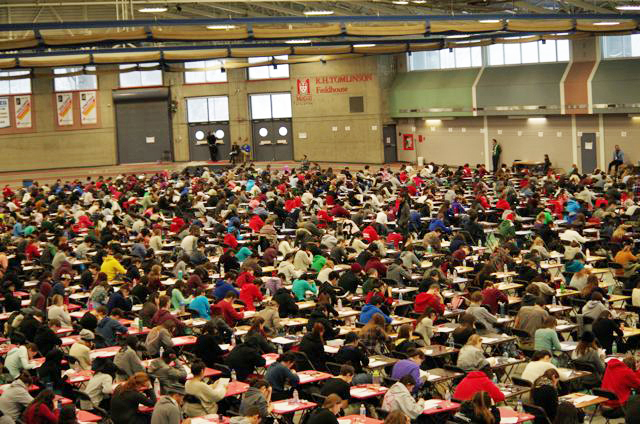 Just as Christmas music follows (or sometimes precedes) Remembrance Day, final exams arrive at McGill  in the run-up to the holidays.
This year, final exams run from Friday, Dec. 8, until Thursday, Dec. 21. The schedule with room assignments will be posted this week.
Morning exams begin at 9 a.m., while afternoon exams start at 2 p.m. Evening exams will be held at 6:30 p.m., while Continuing Studies exams will be held at 6 p.m. More details can be found here.
Students who might be struggling at this time of year can find a variety of resources to help, whether through Student Services, or from their peers. If a student falls ill during finals, they can look into options for deferred exams, which will be held during Spring Reading Break, the week of March 5, 2018.
There are also a variety of de-stress activities for students, including yoga sessions and therapy dogs
On every exam day on the downtown campus, therapy dogs will be available in the lobby of the Brown Building from 12:30 p.m. to 1:30 p.m. Yoga sessions will be held in the adjacent SSMU building, in the Lev Bukhman room, from noon to 1 p.m., while mindfulness sessions will be held in Brown 4200 from 4:30 p.m. to 5 p.m. In addition, a new session on Mental Health for Finals will be held in Brown 4200 on Dec. 14, from 10 to 11:30 a.m.
Counselling Services are also offering drop-ion sessions for students to learn how to better understand their emotional experience and free themselves from unhelpful thinking patterns. Students may attend one or both sessions and can register online.
As well, the McGill Library is a go-to destination for health, wellness, enlightenment, and enjoyment during the exam period. McGill students, faculty, and staff members have access to millions of print items found in their catalogues as well as online resources, recordings, games, gadgets, and more. The Library also offers health and wellness spaces for users who want to keep active while working. Get more information online.