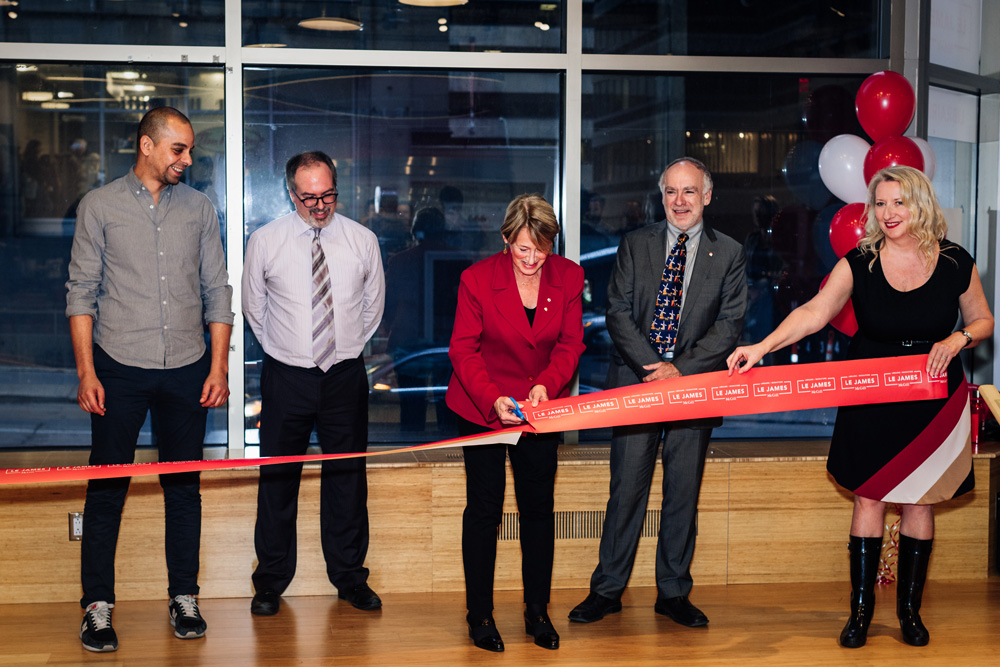 While the doors to its spacious and stylish new locale have been open since late August, Le James Bookstore held its grand opening  on October 10, with a proper ribbon-cutting ceremony.
Members of the McGill community, including Principal Suzanne Fortier, mingled with some of the people who helped realize the ambitious project, including project managers, construction personnel and architects.
Fittingly, the mood in the room was jovial, as the move to 680 Sherbrooke West, marks the end of what has been a long, and sometimes winding road, for the Bookstore.
Addressing the crowd, Jason Kack, General Manager of Le James Bookstore, began by outlining the Bookstore's nomadic ways. "Through our history we have moved around," he said. "We've been on the site of the McConnell Engineering Building, in the Student Union Building, Bronfman, the McTavish Bookstore building…and more recently, Parc Avenue. There was even a brief stint where we operated out of a 24-foot trailer."
Spacious new digs
The new Bookstore is significantly more spacious. Spread out over approximately 12,000 square feet (compared to 3,400 square feet at the old location on Parc Avenue), the new locale carries all McGill merchandise – from text books and coursepacks to McGill sweatshirts, coffee mugs and silk ties.
And while the primary mandate of the Bookstore will always be to sell books, it is both large and flexible enough to now serve as a venue for events such as book launches and signings. On October 11, the day after the grand opening, acclaimed author and cultural critic Roxanne Gray signed books for 100 fans at the venue prior to her Beatty Lecture.
Staying focussed on service
But Kack reminded people that, as beautiful and efficient as the new design may be, there is a vital element that cannot be designed at the draught table.
"What makes a building a Bookstore? What is the difference between a house and a home? It's the people. In our case it's also the drive and the passion to be of service to our community," he said. "During all of our moves and all of the trials and tribulations that came with each move, we may have stumbled, but we did not fall – we always managed to get the store open and ready for Back to School.  How? By always focusing on what was and still is important – the students.
"This did not happen by magic, or by luck," Kack continued. "At McGill, we are surrounded by intelligent, competent and hardworking people. People with heart. People that go above and beyond to service our community – thank you to all that made this vision a reality."