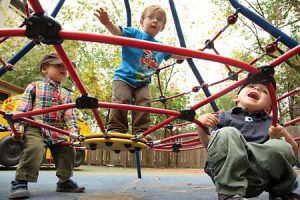 By Neale McDevitt
Christa Scholtz doesn't mince her words when it comes to the importance of the local daycare to herself and her family. "My life works because this daycare works," said the political science professor whose son and daughter are currently in the program. "When I'm at work I can concentrate fully on my job because I know my children are in a great place where everyone is totally committed to kids and to making it work for families."
The object of Scholtz's affection is the Centre de la petite enface McGill, a $7-a-day daycare housed in four adjoining greystones on Peel St. for the children of McGill staff, students and faculty. Having first opened its doors in 1973 to some 40 children, the daycare now serves 106 children from the ages of four months to five years.
And Scholtz isn't the only member of her family enamored with CPE McGill. "When my daughter wakes up she usually asks, 'Is it a daycare day?'" Scholtz said. "And if it is a daycare day she is thrilled."
Child-centred approach
For Lisa Gallagher, CPE McGill's executive director, the secret to the daycare's success is based on a communal approach. "Our focus is on building and maintaining a community and the children are at the centre of that community and I really believe in the collaborative work we do with families and our fabulous team of educators."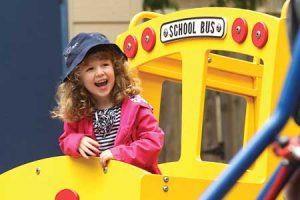 "We rely very heavily on a participational partnership between the educators and administrators of CPE McGill and the parents of the children, who do everything from sitting on our Board of Directors to helping in the classroom on a daily basis."
CPE McGill boasts 18 full-time educators, four part-time educators and two administrators. The pool of some 25 volunteers is primarily made up of McGill students who lend a hand in classes for special events and on cleanup days.
While there is no set pedagogical approach, Gallagher says CPE McGill's philosophy is that children learn best though play. "Children must be actively engaged in what's going on," she said. "It's not a receptive type of experience where educators are feeding them information.
"In fact, the educator's role is to observe and listen to children and to discern what they are interested in. Then they must plan their class projects and themes accordingly. The curriculum changes each year because it is based upon the interests and level of development of each child."
With an enviable lack of turnover among staff ("People only leave to start families of their own," said Gallaher.), CPE McGill's continuity only further enhances the feeling of security and stability among children. That, and one of the best educator-to-child ratios among Quebec daycares, makes CPE McGill a popular place. "At present, we have about 800 families on our waiting list, which means about a three-year wait," said Gallagher.
The daycare's connection and proximity to McGill further enhance a child's experience, allowing them to swim at the Currie gym, skate at McConnell Arena and have regular excursions on the downtown campus and surrounding area. Older groups occasionally get to visit the mother or father of one of their classmates to see what they do for a living, while students from the Schulich School of Music come lead musical activities. "The children have all kinds of rich experiences," said Scholtz. "I feel very privileged that we are a part of it."
 The baby whisperer
Teamed up with educator Alfie DiPasquale, Alma Crane-Hennessey has been doing what she calls "the baby dance" with infants and toddlers at CPE McGill for 20 years. "This age group is my favourite," said the soft-spoken Crane-Hennessey. "There is just so much development that goes on at this stage, in one month the change is incredible. Before language development the understanding is there unless there is a developmental delay and it is interesting to see how you can communicate with the babies even before they can talk. It's very much like a dance."
Crane-Hennessey says that, as with any dance partnership, the key to building a relationship with an infant is gaining their confidence. But to do so, you need to start with the parent.
"The biggest objective in the infant room is really developing trust with the parents," she said. "There is always lots of apprehension at first for parents and, they might not realize it, but they're often holding on tight and the baby can sense this. It's like their mom is saying 'I don't want to leave you because I'm kind of scared myself.' I hardly concentrate on the baby at all. I start working to build trust with that parent."
In keeping with CPE's policy, parents are invited to sit in the classroom whenever they want, for as long as they want, in order to helptheir children acclimatize to the new surroundings. The no-pressure approach seems to have a calming effect on both kids and their parents. "When your baby sees you and I developing trust, they pick up on that," said Crane-Hennessey. "I get parents to put their baby into my arms and that sends a message to the baby that 'I trust this lady. You'll be OK.'"
Scholtz clearly remembers the first day she brought her eldest daughter to CPE McGill.
"I was very nervous because it was the Big Unknown," she said. "But upon meeting Alfie and Alma I just felt all that hesitation and trepidation melt away."
Parents and infants aren't the only ones who are impressed by Crane-Hennessey. In early October she will be feted at 24 Sussex Drive as one of the recipients of the Prime Minister's Award for Excellence in Early Childhood Education.
"It's really nice for early childhood educators to get some recognition because we're always fighting to promote our profession," she said. "But I really wish the whole daycare could get the award because we have fabulous educators here. This is a place quite unlike any other."