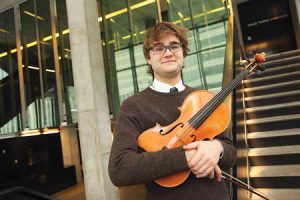 Violist earns elite prize for string musicians at Schulich
By Chris Chipello
Violist Isaac Chalk has been named the 2011-2012 recipient of the Schulich School of Music's coveted Golden Violin Award.
Chalk becomes the sixth winner of the $20,000 award, the largest of its kind for a music student in Canada. The Golden Violin is presented annually to an outstanding McGill string player who is close to completing studies and has demonstrated the potential for a highly successful performing career.
"This is a big honour, and it's exciting to be selected for it," said Chalk, who is completing his Bachelor of Music degree this spring, after previously earning a Licentiate in Music and an Artist Diploma at the Schulich School. Chalk, who turns 23 years old this week, said he hopes to pursue his musical training in Europe later this year, and plans to put the $20,000 award toward the purchase of a top-quality viola that he will be able to perform with for many years to come.
Chalk, who also worked extensively as a choral singer and attended La Maîtrise des Petits Chanteurs du Mont-Royal as a youngster, began studying viola with Prof. André Roy while still in high school.
"Isaac is a very, very versatile musician," Roy said. "He's been part of just about every ensemble at the Schulich School," from baroque to modern. "He was a driving force behind the Roddick String Quartet" when it represented Canada at the London International String Quartet Competition in 2009.
Chalk grew up in a household where music, and McGill, figure prominently. Isaac's father, Dr. Colin Chalk, is a professor in the Faculty of Medicine and chief of Neurology at the Montreal General Hospital. Dr. Chalk, an avid amateur oboist, and his wife encouraged their four children to take up musical instruments early on. "Mom took us to our lessons," Isaac says. "She was sort of the hockey mom of the violin."
Isaac's older sister had studied viola with Roy. As Isaac's interest in the instrument grew, Dr. Chalk decided to introduce him to Roy, as well. "I knew (André) was a good guy, and I knew that he was also very busy, so I was kind of expecting he would sort of say 'I can't take on another student right now,'" Dr. Chalk recalls.
Roy agreed to meet with the youngster, with the thought of possibly lining up a graduate student to work with him. But Roy was struck by the "great fluidity in (Isaac's) playing and (his) natural ability." Roy recalls taking Dr. Chalk aside and telling him that "you've got a special talent here." In studying with Roy over the years since then, Isaac also has proved to be "a very dedicated young man" who "pushes himself to excellence," Roy says.
In a field where career paths are often unpredictable, Isaac is keeping an open mind as to where his may ultimately lead. "As a musician, I've never felt that there's an end," he says. "If I can live comfortably and all I have to do is play my instrument, that sounds pretty good to me."
The Golden Violin Award was provided in 2006 by philanthropist Seymour Schulich, a year after he donated $20 million to McGill's School of Music.
The Golden Violin, made of pewter and gold plate, remains on permanent display in McGill's Marvin Duchow Music Library. Its recipients, chosen by the McGill scholarships committee, receive a smaller likeness in the form of a 14-karat gold lapel pin. The five previous winners are violinist Emmanuel Vukovich, violist Lambert Chen, cellist Chloé Dominguez, violinist Aaron Schwebel and violinist Ewald Cheung.
Isaac Chalk will perform in a special recital on Tuesday, March 13, at 7:30 p.m. in Tanna Schulich Hall to mark the Golden Violin Award. Admission is free.
View a video about Isaac Chalk and the Golden Violin Award here: www.youtube.com/watch?v=Zo37fjrY-cY