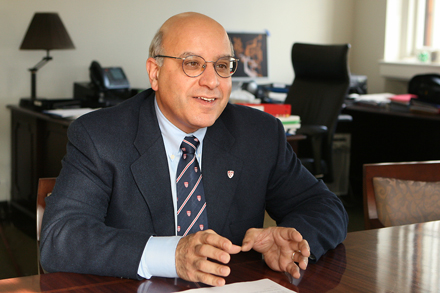 Masi to address one of the biggest questions facing higher education 
By McGill Reporter Staff
With our growing ability to deliver education in various ways over the Internet, will there still be a place for the physical university in the years ahead?
That's the complex, challenging question Provost Anthony C. Masi will address in a talk next week at McGill.
In partnership with the Max Bell Foundation, the event, being held at the Faculty Club's main ballroom at 6 p.m. on Thursday, Nov. 14, promises to be a compelling and provocative analysis of what higher education needs to consider as transformative technological changes take greater hold over teaching and research.
There's no cost to attend, but, as space is limited, members of the public are asked to RSVP to talks@reviewcanada.ca to reserve a seat.
Masi, who is steering McGill's entry into the new and expanding world of Massive Online Open Courses, or MOOCs, contributed a widely read article to Literary Review of Canada magazine in September, in which he concluded:
"More than at any time in the 35 years that I have been at McGill, I worry about how information technologies are affecting my institution's present and how they may transform its future. At the same time, however, I have come to appreciate digital disruption's potential to reinvigorate teaching and learning in higher education. …
"MOOCs, for example, are shaping up to be a game changer. Will they allow universities to make the necessary accommodations more quickly, or force them to make room for new education providers who can? I hope for, and I am working to encourage, the former; but right now, I am not sure that I would bet against the latter."
These are questions that challenge traditional assumptions about everything from how learning space is changing in the face of technology to how our libraries are no longer simply repositories of printed material to how professors interact with students.
"The fundamental educational question," Masi wrote, "is how much the campus-based, face-to-face university experience can sustainably add intellectual – as compared to social and personal – value, even while MOOC sophistication and adoption increase."
MOOCs, which offer the opportunity for literally hundreds of thousands of people to study for free "at" some of the best universities on the planet, are only just getting started. For the time being, they aren't for credit. McGill is adapting four specific MOOCs to be rolled out throughout 2014, and the University is very much in a learning and researching mode when it comes to MOOCs and how they might improve traditional ways of teaching on campus.
But as Masi noted at the close of his essay, "resources are only likely to get scarcer, and technological change faster paced. So while many professors and administrators know the radical departures from normal required to adapt, we also know that we are not making them fast enough or profoundly enough."