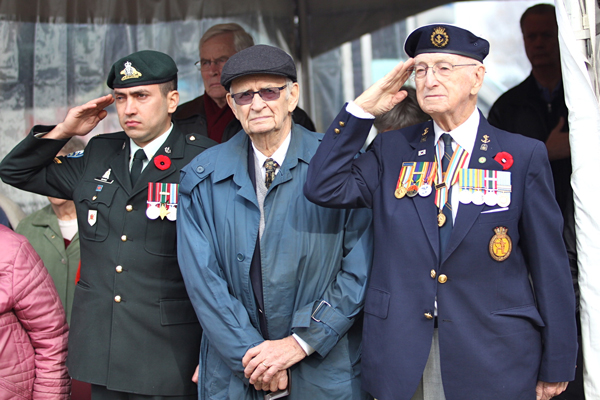 By Neale McDevitt
The Remembrance Day ceremony held at Macdonald Campus on Nov. 6 was a study in subtle, poignant moments.
There were no military processions, marching smartly in formation. Instead, a pair of pipers led hundreds of students from nearby Macdonald High School across the John Abbott College's Memorial Field, walking past the oak trees originally planted in 1931 to honour members of the Macdonald College community killed in World War I.
There was no 21-gun salute echoing across the campus. Instead, there were the silent salutes given in honour of fallen comrades by several dozen veterans, many bused in from Ste. Anne's Veterans' Hospital just down the road. Some stared stoically straight ahead. Others fought back tears.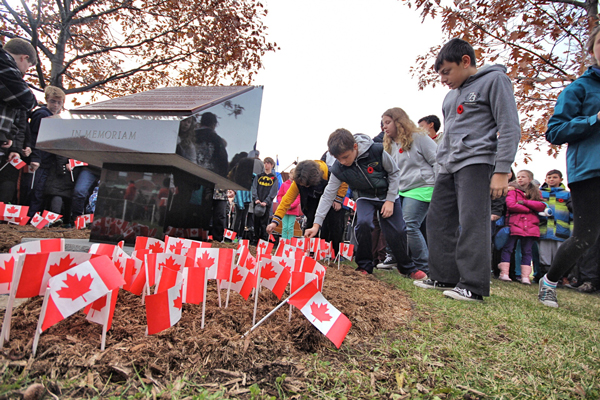 There were no visiting dignitaries or politicians on hand to lay wreaths. Instead, at ceremony's end, people – mostly elementary and high school students – planted small Canadian flags around the permanent War Memorial. It is a tradition that was started spontaneously by some school children a few years back.
And while Remembrance Day honours all Canadians who have served in times of war, military conflict and peace, the names of two soldiers were on everyone's mind. Warrant Officer Patrice Vincent and Cpl. Nathan Cirillo – two soldiers killed in two separate attacks days apart – were mentioned by a number of the speakers during the ceremony.
"Recent tragedies have occurred recently in Quebec and Ottawa… tragedies that bring fresh in our minds… a world that is affected by intolerance and hatred," Chandra Madramootoo, Dean of the Faculty of Agricultural and Environmental Sciences told the crowd. "I ask everyone here today to stand up and speak out against hatred, against intolerance, and to respect the dignities of all people of this world. We must build and we must continue to fight for a fair society, a just society in which everyone has respect for different religions, for peoples of different races, for people of different beliefs."
Perhaps the most moving part of the ceremony was when veterans read In Flanders Fields and Act of Remembrance in both official languages. Following the Last Post the crowd observed a minute of silence.
At the end of the ceremony, people broke ranks and school children mingled with veterans. Others were intrigued by the four Honour Guards who stood, heads lowered and completely motionless for the entire ceremony. Some of the older veterans were escorted to their busses by students and the crowd dispersed, leaving the small Canadian flags encircling the War Memorial to flutter in the cold November wind.
To enlarge each picture, click on the thumbnail. All photos by Neale McDevitt.