The McGill University Health Centre (MUHC) Foundation and MEDTEQ+ has announced a new partnership with the Research Institute of the McGill University Health Centre (RI-MUHC), MIMs, and Caprion-HistoGeneX, respective leaders in cancer research, artificial intelligence, and precision medicine, to increase survival of stage IV colorectal cancer patients.
A research team, led by Dr. Peter Metrakos, Cancer Research Program Leader at the RI-MUHC and Professor of Surgery at McGill University, is planning to use artificial intelligence (AI) to improve survival rates of patients diagnosed with stage IV colorectal cancer. Stage IV colorectal cancer is incredibly deadly, with a five-year survival rate of only 12 per cent. It is the second leading cause of cancer death in Canadians and is responsible for more deaths than breast cancer or prostate cancer. In 2016, Dr. Metrakos and his international colleagues provided new insight on how colorectal cancer liver metastases sometimes co-opt existing blood vessels. Following this discovery, Dr. Metrakos turned to personalized medicine to ensure each patient receives the best treatment for their disease.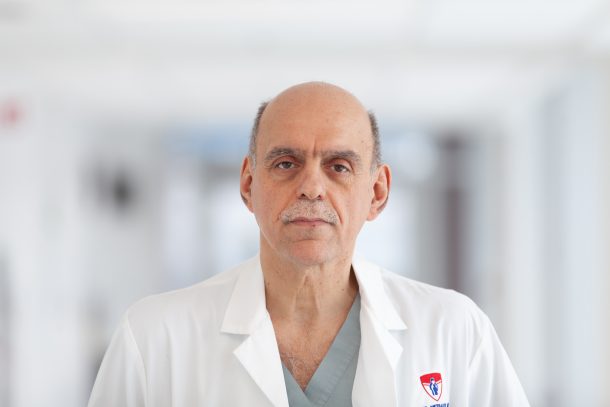 "The Cancer Research Program at the RI-MUHC is home to some of the top scientists in Canada, including Dr. Metrakos," says Dr. Miguel Burnier, Interim Executive Director of the RI-MUHC. "Personalized medicine is the next step in ending cancer as a life-threatening disease."
With liquid biopsy techniques, Drs. Metrakos and Anthoula Lazaris, with their team will help separate DNA, RNA, proteins and other constituent parts of the blood, to identify the ones associated with a patient's cancer. This critical anonymized data will be recorded for each patient. MIMs, a Montreal-based AI company will use its state-of-the-art AI program to identify patterns and insights into the data gathered from each patient's blood sample, key to personalized treatment and improved survival. The hope is to establish a signature from this wealth of data to determine which patients will not respond to standard treatment and thus quickly guide alternative treatment plans. This signature will then be developed into a clinical test, in collaboration with Caprion-HistoGeneX.
This groundbreaking project is possible, in part, thanks to the generosity of donors. In the case of this project, Dr. Metrakos' funding is provided by generous donors to the MUHC Foundation. Recognizing the potential of this important cancer research project, MEDTEQ+, funded by the Ministère de l'Économie et de l'Innovation, agreed to provide matching funds for industry investment and donations. This process enables donor funds to be matched three times. With over 26,000 Canadians diagnosed with colorectal cancers each year, this project has the potential to affect millions of lives, from the patients going through cancer treatment to their families, friends and colleagues.
"This exceptional partnership between leaders of their respective fields will allow to accelerate further the research against cancer. We're confident that artificial intelligence will bring tremendous added-value in improving treatment to stage IV cancer patients," says Diane Côté, CEO of MEDTEQ+. "MEDTEQ+ has always favoured the collaborative development of innovations exploiting new enabling technologies, such as artificial intelligence in several forms, and this project is a great example of our approach."
"This innovative new partnership demonstrates Quebec's continued leadership in the field of artificial intelligence applied in health care. I am certain that this collaboration will ensure many promising developments in healthcare, for the benefit of patients here in Québec; as well as Canada and the world." says Pierre Fitzgibbon, Quebec's Minister of Economy and Innovation.
"We are grateful to our donors for their confidence in medical innovations like this one." says Julie Quenneville, President of the MUHC Foundation. "Thanks to investment by our industry partners and MEDTEQ+, gifts to projects like this have triple the impact, helping donor dollars go further."