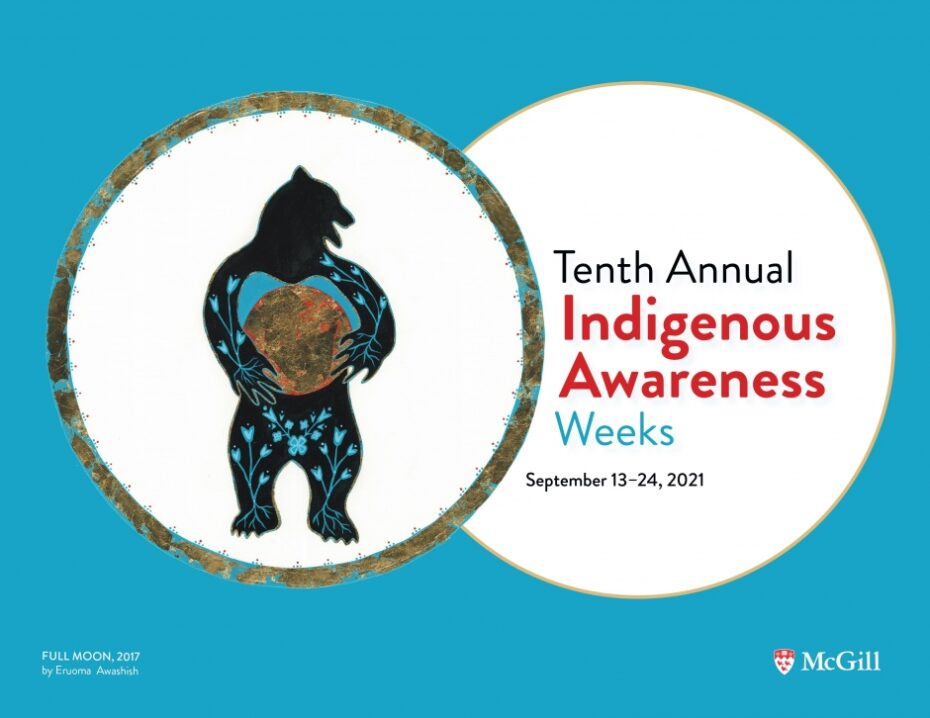 McGill's Indigenous Awareness Weeks (IAW) celebration is always a special event. One of the first major events of the new academic year, IAW brings together members of the University community to talk, to share and to learn about Indigenous peoples' cultures.
But this year's edition of IAW is even more special. "It's a milestone event because this is our 10th anniversary," says Carole Brazeau, Program Manager, Indigenous Initiatives. "In addition, IAW will end with the 20th anniversary edition of the First Peoples' House Pow Wow. And, to top it off, IAW is part of McGill's Bicentennial year. We have a lot to celebrate."
Indigenous Awareness Weeks will run from September 13 – 24.
Celebrating Indigenous excellence and resilience
One of the main goals of IAW is to encourage a greater understanding of Indigenous peoples among students, staff, and faculty at McGill. This year's programming will cover a wide variety of topics pertaining to Indigenous rights, law, medicine and health and the environment.
In keeping with the theme Celebrating Indigenous resilience and excellence: Past, present and future, IAW 2021 will highlight Indigenous Elders, knowledge keepers, artists, academics and students.
Wide array of subjects, guests
The Opening Ceremony will take place on September 13, at 10 am. Otsi'tsaken:ra (Charlie) Patton, Kanien'kehá:ka Elder from Kahnawa:ke will open IAW, followed by remarks by Provost Christopher Manfredi and artistic performances by Beatrice Deer and Craig Commanda.
Other highlights include a virtual international round table on the United Nations Declaration on the Rights of Indigenous Peoples (September 14); medicinal plant walks at the Morgan Arboretum (September 15) and the Gault Nature Reserve (September 20); and a discussion about student health and wellness with McGill Indigenous students (September 16).
As part of IAW, the McGill community is invited to participate in the National Building Reconciliation Forum (September 21 – 23). The annual national forum features participants from postsecondary institutions and Indigenous communities working to advance reconciliation.
On the second day of the Forum, Brazeau will make a presentation titled McGill University's 52 Calls to Action and Indigenous Awareness Weeks. The presentation is part of the workshop called Raising Awareness among postsecondary institutions about the realities of First Peoples.
Going virtual

Because of COVID-19, all events will be virtual, including Pow Wow on September 24.  People can watch the virtual "launch" of each event but, in the event that they can't attend, they will be able to watch the video at their convenience. The events are free and no registration is required. Links will be posted on the day of each event on the Indigenous Awareness Weeks 2021 webpage.
"It is always great to gather, to meet people and have them participate in person," says Brazeau. "But because the videos will be online, it's possible for even more participants to have access and learn about Indigenous peoples' traditional knowledge and cultures"
See the complete Indigenous Awareness Weeks 2021 program online.