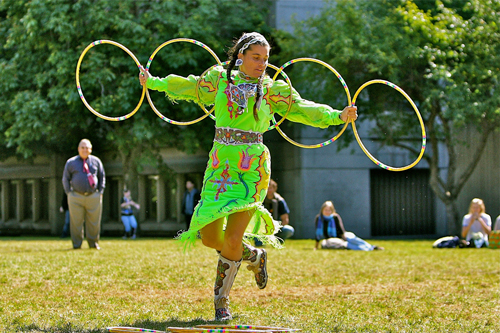 By Neale McDevitt
Allan Vicaire knows you don't mess with success – but a little tinkering never hurts.
Vicaire, Indigenous Education Advisor in the Social Equity and Diversity Education Office, is gearing up for McGill's third annual Indigenous Awareness Week (Sept. 23-27), an event he has helped organize since its inception in 2011. Based on the results of a poll following last year's event, the 2013 version has been tweaked to include all-day scheduling and a number of new programs. Call it Indigenous Awareness Week 3.0.
"People said they wanted more language classes, so we've added a Mohawk 101 workshop (Tuesday, Sept. 24)," said Vicaire, when asked for examples of new programing. "We're bringing in Akwiratékha Martin from Kahnawake to teach Mohawk, but also to tell the story of how the language almost disappeared until recent efforts have revitalized it."
Organizers have also added a Traditional Hoop Dancing Workshop on lower campus being hosted by the Indigenous Student Alliance (Wednesday, Sept. 25). "In the questionnaire people had said how much they loved watching the dancing at the Pow-Wow, but how they really wanted to learn how to do it themselves," said Vicaire. "This workshop gives them that chance."
Even the venerable Pow-Wow, which predates Awareness Week by nine years, has undergone some fine-tuning as a result of last year's assessment. While it will still include many familiar sessions, such as the Inuit throat singers and various dancing and drumming performances, it will also highlight the creations of more local Indigenous and Inuit craftspeople than ever before.
"People said they wanted more local Indigenous and Inuit crafts so we reached out to people from the area who make earrings and do beadwork and the like," said Paige Isaac, Coordinator, First Peoples' House at McGill, "There's a young entrepreneur and Kahnawake who makes really yummy desserts and she's going to make custom-made Pow-Wow desserts and another vendor who makes beautiful sealskin gloves things that you won't necessarily find in downtown stores."
Something for everyone
For the first time ever, Indigenous Awareness Week will have an official opening ceremonies (Monday, Sept. 23, from noon – 3 p.m.), to be held in the Ballroom of Thomson House. Following a lunch buffet, McGill elder, Sonny Diabo will deliver the welcome address and the blessing. This will be followed by a performance of traditional Inuit throat singing by Nina Segalowitz and Taqralik Partridge. Finally, keynote speaker Teresa Edwards, Director of Human Rights and International Affairs for the Native Women's Association of Canada will discus the challenges and barriers facing Indigenous women.
Other events include a guided tour (Tuesday, Sept. 24) of the Kahnawake Cultural Centre's permanent exhibit which traces the rich culture and history of the Kanien'keha:ka people beginning with the foundation of the Haudenosaunee Confederacy to the 1990 Oka Crisis; the always popular Dreamcatcher Making Workshops (Wednesday, Sept. 25 for staff and faculty; Thursday Sept. 26 for students); and the Kairos Blanket Exercise (Thursday, Sept. 26), an interactive exercise in which blankets spread on the floor tell the story of how Indigenous people's land has been appropriated by the Crown through the years. "It's a hands-on look at history," said Isaac of the latter workshop, one that she will be animating along with Vicaire.
Respondents to last year's poll asked for more of these types of lessons in local history, said Vicaire, who noted that almost 35 per cent of the students polled said some events they attended at last year's Awareness Week were directly applicable to their studies.
"We should think about a way to make these talks – especially by indigenous scholars – count for credit," said Vicaire.
Vicaire hopes that this type of event – and it's increasing popularity – will help in the establishment of an Indigenous Studies Program at McGill. "There was a joint SEDE-SSMU forum held last November about the development of this kind of program and the results were published in April," said Vicaire. "As part of Indigenous Awareness Week, we're going to have an information session [Wednesday, Sept. 25] to talk about the results and to continue the dialogue."
In the end, diversity seems to be the catchword for Indigenous Awareness Week, with a wide range of activities and topics on tap to interest just about anyone. "We have everything from hands-on workshops and language courses, to Indigenous scholars and short film screenings," said Isaac.
"We try to cover a lot," said Vicaire. "We don't ask how we can make this a better event. Instead we ask what other conversation can we bring to campus that we haven't talked about yet?"
Indigenous Awareness Week runs from Sept. 23-27. For more information, including the full schedule, and to register, go here.
The 12th annual Pow-Wow, hosted by First Peoples' House at McGill, will take place on lower campus on Friday, Sept. 20 from 11 a.m. – 4 p.m. under the big tent. For more information, click here.