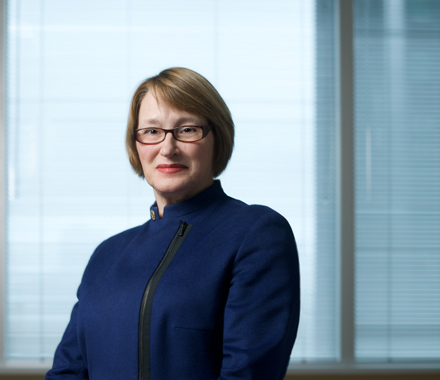 McGill's incoming Principal and Vice-Chancellor, Suzanne Fortier, paid a visit to Senate Wednesday, en route to a meeting of the European Research Council.
The new Principal, formerly the President of the Natural Sciences and Engineering Research Council, will not take office until September 5, in order to comply with rules imposing a cooling-off period for senior federal employees going to work at organizations with which they had had dealings.
Fortier, speaking in both English and French, expressed delight at rejoining the McGill community (she's a double alumna) after her tenure at NSERC and at Queen's University in Kingston, where she was a professor and senior administrator.
She remarked upon McGill's commitment to excellence as well as the work of Senate in shaping the goals and values the University community shares, through good times and challenging times.
In her former positions, she said, she was well aware of McGill's stellar reputation abroad.
"I can't wait to come back!" she said.