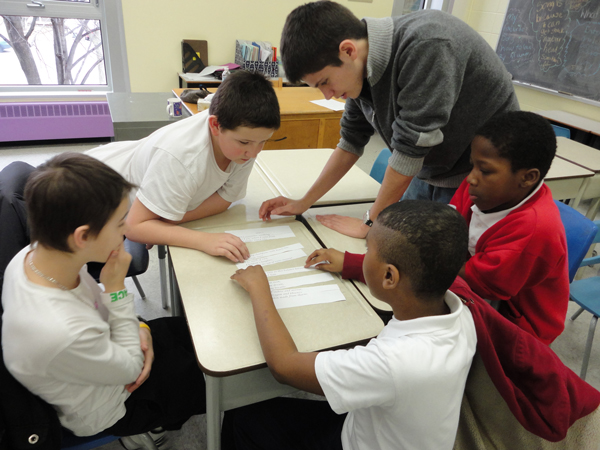 SEDE's Homework Zone outreach program continues to grow
By Dan Moczula
Every week, eighty-two McGill students go off to mentor children from age six to twelve in three different elementary schools in Montreal's southwestern neighbourhoods of Lasalle and Verdun. Homework Zone is a massive undertaking between McGill's Social Equity and Diversity Education (SEDE) Office and the Lester B. Pearson School Board.
The Homework Zone program combines homework help with workshops and extracurricular activities to engage elementary school students and make them more passionate about learning and education.
Now in its third year, Homework Zone was developed when a representative from the Lester B. Pearson School Board approached SEDE with a proposition for a mentoring program. Lester B. Pearson, SEDE, and two McGill student coordinators developed a needs-based approach that would benefit all participants.
"Our goal was mutual development of both the elementary school students in the southwest and those from McGill. The McGill students would provide elementary school students with balanced experiences and the McGill students would be exposed to different perspectives which they weren't exposed to prior," said Lauren Thurber, one of the original coordinators of the program.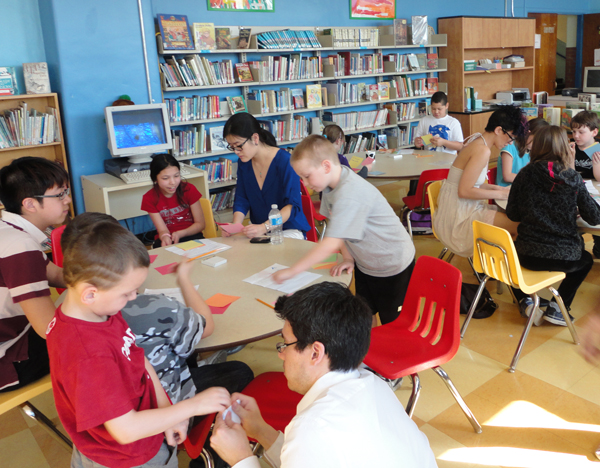 In Homework Zone's first year, 31 McGill students volunteered to assist with homework and lead workshops. Half of a session would be homework help and the other half would be an activity. Other partners soon came onboard, including Montreal-based artists and McGill student groups such as Midnight Kitchen, a volunteer-run group that provides affordable healthy food, and Heart of the City Piano Program, a group that provides free piano lessons to young students.
"By connecting the McGill groups to these children, we wanted to break down barriers between the University and the larger Montreal community and show that McGill has the resources to help them," said Thurber.
Homework Zone is constantly evolving – currently boasting 82 volunteers and an expanded range of workshops offered.
"We had McGill Astrophysics come do a comet workshop which was a huge hit. We have had slam poetry workshops, calligraphy, and have many more workshops on the way," said Gabrielle Jacobs, current Homework Zone coordinator.
The response to the program has been great. "We had goals for the kids, firstly to get a high school diploma and secondly to look within their schools for engagement. I am still working at Lester B. Pearson and I see the Homework Zone kids getting involved in their schools," said Thurber.
Homework Zone has led to more partnerships with Lester B. Pearson. SEDE conducts Spaghetti Nights workshops for parents and guardians, where families come together to share advice about raising and encouraging their children's development and academic success. Developed in collaboration with the school board and the Riverview Community Learning Centre, Spaghetti Nights breaks down barriers of involvement by providing families with a free spaghetti dinner and daycare service run by Homework Zone volunteers.
The program prides itself on a two-way learning process: the elementary students learn from their mentors and the mentors learn from their students.
"A lot of mentors weren't certain who they were yet. We saw them finding out their skills and interests by spending time with the kids," said Thurber.
Reflection is at the core of Homework Zone. At the end of every semester, volunteers gather to discuss their experiences on personal level, as well as discussion about the neighborhoods in which they volunteer and the societal and educational issues that make the program necessary.
The goals of this reflection are two fold; to have McGill students think critically about their role as a mentor and the neighbourhoods they work in, and to bond with each other.
As Homework Zone has progressed, a large sense of community has been developed around the program. Much of its growth has been due to word of mouth from prior volunteers, many of who remain involved in the program on other levels. One former volunteer has started a blog about her experiences to offer advice to new mentors.
One sign of the program's success is that it continues to grow, recently expanding to the Boys and Girls Club of LaSalle.
But there is always room for improvement. A program evaluation coordinated by a McGill PhD student in Educational Psychology is currently underway to study the impacts of Homework Zone on the elementary students, the schools and community. Another evaluation is also being conducted by SEDE to study the learning expectations and outcomes of McGill volunteers involved in Homework Zone. These actions promise to provide evidence-based research necessary for the program's continued evolution, and credibility in responding to community needs.
"You see this rippling effect," said Thurber. "First the children want to learn more and then you can take a step back and see how they are developing who they are in a more balanced way. It's amazing."