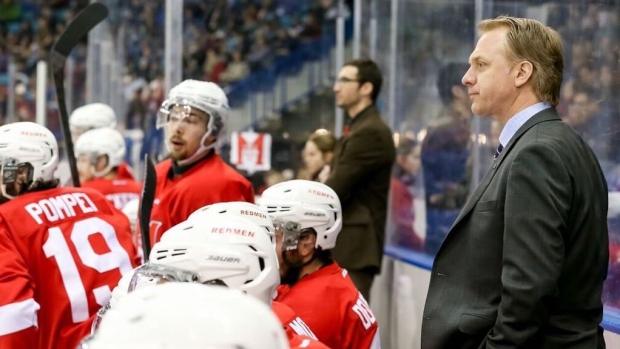 The McGill community is saddened to learn of the death of Kelly Nobes, head coach of McGill's men's varsity hockey program on Sept. 4. He was 45.
During his nine years as bench boss at the University, Nobes guided McGill to five appearances in nine years at the national championship tournament, where the team won silver in 2011 and gold in 2012, their first-ever University Cup title. He also directed McGill to four OUA East Division titles and three Queen's Cup league championships (2011, 2012, 2018).
"As the varsity community tries to come to terms with the painful reality of Kelly's passing, we will remember him for his intensity, competitiveness and ability to create a winning culture," said Lisen Moore, manager of McGill varsity sports.
Nobes received the Father George Kehoe Memorial Award as U SPORTS coach of the year in 2017-18 and had an overall record of 399-287-14 in 700 games including coaching stints at RMC (2001-2006) and Laurier (2006-2010).
"Kelly had a deep connection with his players and the McGill hockey community," said Geoff Phillips, director of sport programs at McGill. "He turned young men into leaders and shared his love of the game. He leaves a legacy of former players who will go on to lead with his passion."
Nobes played four seasons at McGill, where he earned a bachelor's degree in physical education (1997) and a master's degree in exercise physiology (2001). A speedy centre, he graduated as the ninth-leading scorer in school history with 181 points, including 64 goals, in 131 career games.
"Kelly understood and embraced McGill's drive toward excellence on and off the ice," said Marc Gelinas, executive director McGill Athletics and Recreation. "He set the example of what it means to compete, but he was also just as passionate about his family – both at home and the one on the ice. Our community mourns."
We extend our deepest sympathies to his wife Michelle, a McGill graduate (B.Ed. '97) and their four children (son Bodie, daughters Darcy and Jetlyn and son Wesley), as well as to his larger family and friends, and the student-athletes on our varsity hockey team.
Funeral plans will be posted here when available.