McGill's valedictorians are outstanding students whose strong academic performance, leadership and community involvement has earned the respect of their peers. This year's cohort is remarkable for its diversity, each having vastly different backgrounds, experiences, passions and goals.
What they do share is ambition, curiosity, and a desire to have a positive impact on the world.
As with most students, McGill's valedictorians were challenged over the course of their studies. But, with perseverance, dedication, and the support of people around them, they thrived. The University has benefitted just as much for having them as valuable, contributing members of our community.
As part of our Spring 2023 Convocation coverage, the Reporter is conducting a series of Q&A interviews this year's valedictorians.
In this instalment, we feature Sébastien Belliveau, valedictorian for the Health Sciences A ceremony on Tuesday, May 30, at 10 a.m. Belliveau will receive his MDCM (Doctor of Medicine and Master of Surgery). Belliveau also earned a BSc in Biology from McGill  in 2017 and an MSc in Neuroscience from McGill in 2019.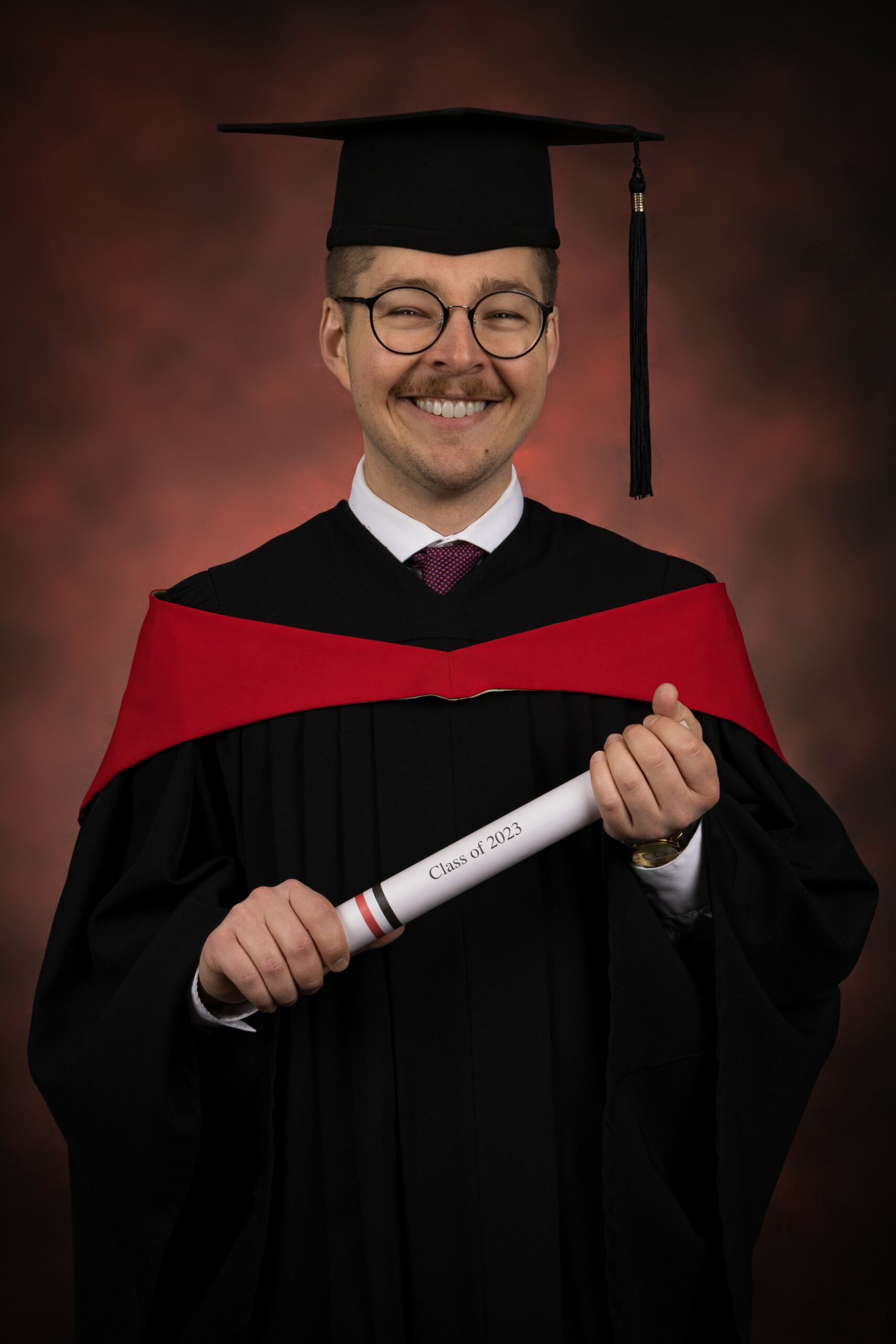 Where is your hometown?
Montreal
Why did you choose McGill?
As an anglophone Montrealer, McGill was the natural choice for my undergraduate degree. Loving my experience in the department of Biology, I decided to stay for my graduate and medical degrees as well.
What were some of your impressions when walking onto campus for the first time?
I remember a sense of amazement at the grandeur walking through Roddick gates up to the Y intersection for the first time. The beautiful historic buildings, the masses of students and staff, it felt like a city within a city.
What are some of the highlights of your time as a McGill student?
Student life at McGill was definitely much better than I anticipated and really coloured my nine years at McGill. I also enjoyed being on the McGill Biology Student Union in my undergrad and being class president for three out of my four years of medical school.
Three favourite places on McGill/Mac campus?
The Y intersection – great view with lots going on
Thomson House
The hallway overlooking Molson Stadium at the Neuro
What were some of the biggest challenges you faced during your time here and how did you overcome them?
Scheduling, scheduling, scheduling. Balancing extra-curricular fun and my responsibilities as a student was challenging at times but learning how to juggle multiple commitments (and/or leisure) was and will be vital to my success. Google Calendar was of great help.
What's next for you, both short and long term?
I will be starting my residency in urology at the Université de Montréal come July. Outside of clinical work, I aim to continue my research on sustainability in surgery and healthcare more broadly.
Tell us about your Faculty and your classmates. How important have they been to your overall McGill experience?
As class president for the past three years, I've had the privilege to get to know my classmates and the Faculty that supports our success quite closely. My classmates inspire me to try and be the best version of myself that I can be. I'm fortunate to have learned from them and hope to keep doing so across our careers.
As for the Faculty, I wouldn't be here without the teachers who instructed and supported me, as well as the administrators who are so devoted to the student body.
Who or what will you miss most?
What I will miss most are the friends I have made throughout my time at McGill, and the vibrant student life.
What advice do you have for new students to McGill?
Be curious, be kind, be true to yourself, and work smart (and hard when necessary).
Do you have friends or family coming for Convocation?
Yes, my mom and her partner. Some friends will be watching the stream as well.
What are some of the biggest challenges facing the world today? How confident are you that we can address these challenges and make a difference?
Climate change represents an existential threat to our societies and is one of the biggest challenges of the current century. In my mind, it's imperative that every sector works towards decarbonization and circular economic principles. While I'm not certain that we can fully address this challenge, I sincerely believe that through concerted efforts, the most dangerous effects of climate change can hopefully be mitigated. At the very least, we owe it to ourselves to try.
Do you have anything to add?
I miss samosa sales.