McGill's valedictorians are outstanding students whose strong academic performance, leadership and community involvement has earned the respect of their peers. This year's cohort is remarkable for its diversity, each having vastly different backgrounds, experiences, passions and goals.
What they do share is ambition, curiosity, and a desire to have a positive impact on the world.
As with most students, McGill's valedictorians were challenged over the course of their studies. But, with perseverance, dedication, and the support of people around them, they thrived. The University has benefitted just as much for having them as valuable, contributing members of our community.
As part of our Spring 2023 Convocation coverage, the Reporter is conducting a series of Q&A interviews this year's valedictorians.
In this instalment, we feature Ghania Javed, valedictorian for the Faculty of Arts 'A' ceremony on Tuesday, June 6, at 10 a.m. Javed will receive her BA, Joint Honours in Political Science and Islamic Studies with a South Asian Studies minor.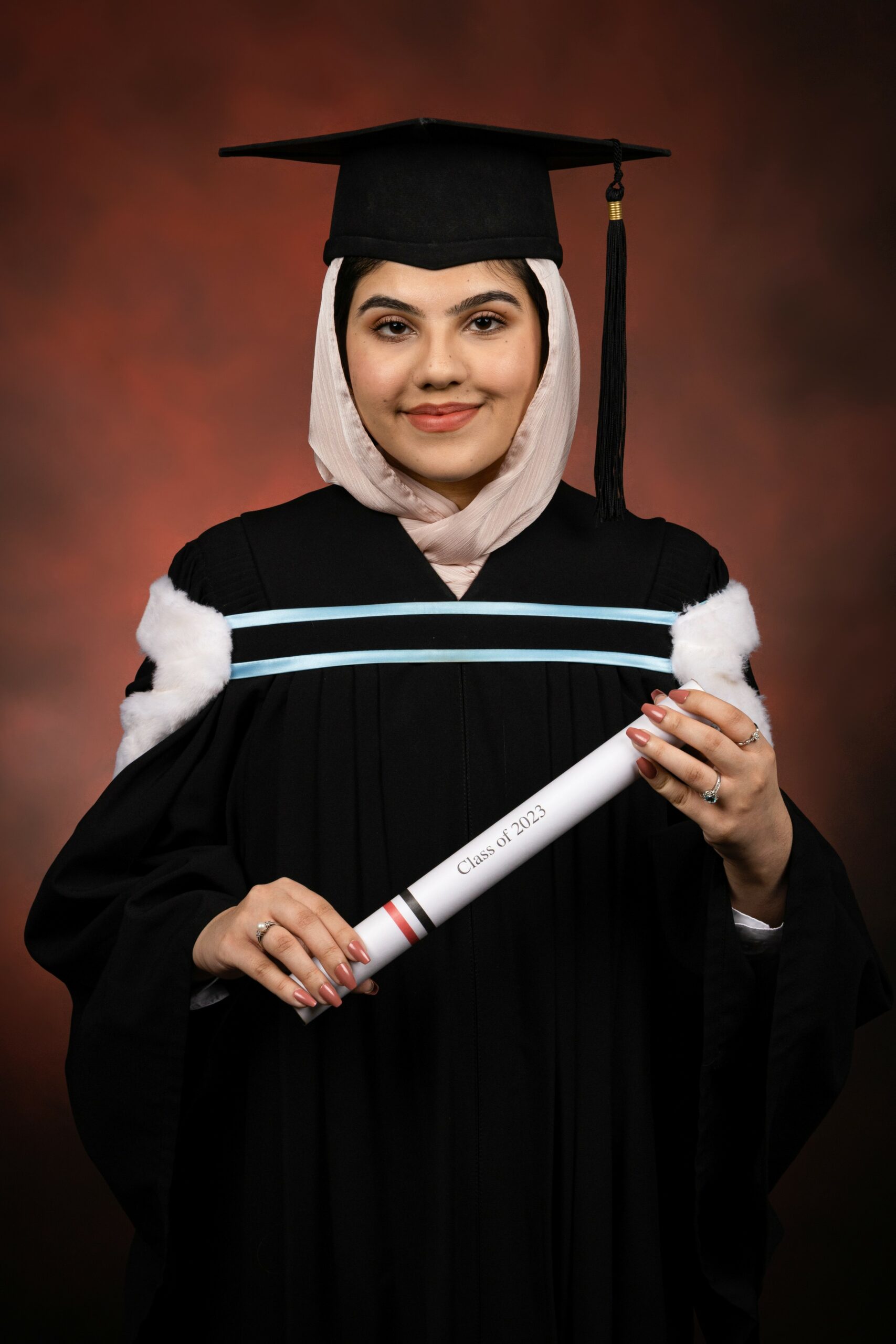 Where is your hometown?
I consider two places to be my hometown: One is Lahore, Pakistan and the other is Milton, Ontario. I was born in Lahore and moved to Canada when I was very young, but I still feel connected to Lahore since most of my extended family still resides there. I spent my childhood and teenage years in Mississauga, Ontario going to Square One after school with my friends, skating in the outdoor rink at Celebration Square, and attending an occasional Raptors game. My family and I eventually moved to Milton. Fun fact about Milton: It's the second happiest city in Canada and I love hiking there!
Why did you choose McGill?
I was very excited to explore out of province universities and when I visited McGill I had a feeling that I would enjoy being in Montreal and at McGill. Although things like Bill 21 and concerns about Islamophobia were deterrents, our tour guide was able to ease some of our concerns. In the end, McGill's beautiful downtown campus, the busy city vibes, and the stellar Islamic Studies department won me over.
What were some of your impressions when walking onto campus for the first time?
I vividly remember moving into Carrefour Sherbrooke during my first year and meeting my amazing Floor Fellow who was so welcoming. I was a bit taken back by the fact he knew who I was, but he was a warm face in a new environment. I was a bit nervous moving into residence, but he made me feel included and excited for my first year at McGill.
What are some of the highlights of your time as a McGill student?
I've had the honour of being a part of amazing groups and organizations on campus, through them I was able to meet and connect with amazing students at McGill. Running for VP Internal for the Carrefour Sherbrooke's Hall council was the starting point for my involvement on campus. I made lasting friendships through it, and it motivated me to be more involved at McGill.
I also worked for Residence Life for two years alongside some amazing student colleagues. We got to plan orientation events for first year students, and it made me feel connected to McGill despite having a full online year due to the pandemic. I was glad to have a small helping hand in welcoming and helping new students at McGill.
Three favourite places on McGill/Mac campus?
I was definitely one of those students who took advantage of any warm sunny day and would sit on Lower Field for hours with my friends. You see the campus come to life on a sunny Montreal day.
I spent countless days in Morrice Hall, whether that was in the Islamic Studies Library working on my papers, attending an Urdu class in one of the third-floor rooms, or doing my readings in the Islamic studies lounge. Morrice Hall became my second home, and I am not ashamed about it.
As a practicing Muslim, the prayer spaces on campus, especially the Muslim Student Association prayer room in the University Centre and the small, tiny prayer space tucked in a staircase of Morrice Hall, were a lifesaver. In between classes I was able to go pray there and relax before going back to studying. We need more spaces like that on campus!
What were some of the biggest challenges you faced during your time here and how did you overcome them?
For the longest time I felt like an imposter at McGill. I felt like I didn't belong since everyone else was doing such amazing things with their lives. I also didn't have the most welcoming experience because of being a Muslim woman, which only added to my imposter syndrome. During online classes, I felt more disconnected from McGill because I loved being able to meet with friends and professors in person.
I got involved on campus to overcome the imposter syndrome and get re-involved on campus after online classes. My friends and family motivated me to go for leadership positions I would have not gone for without their initial push.  I became an Arts Representative to the Student Society of McGill University (SSMU) and then became President of the Arts Undergraduate Society (AUS). Being in leadership roles gave me the confidence to create a space for myself and for others like me at McGill. I became more vocal about inclusivity on campus and tried to use my position to advocate for creating space for diversity at McGill.
Tell me about your Faculty and your classmates. How important have they been to your overall McGill experience?
The Faculty of Arts – especially the Islamic Studies department and the small, yet impactful, South Asian Studies department – made me excited to be a student. I looked forward to the courses I took in these departments and the professors were truly amazing. They inspired me to learn and engage in conversation and dialogue that honestly gave me a new type of appreciation for academia. Since most of the classes in these departments were smaller in numbers, I was able to connect with fellow classmates.
Who or what will you miss most?
As cheesy as it sounds, I will miss the people at McGill. I truly made some amazing friends and acquaintances at the University who will be hard to let go. I will miss the little things like study sessions where we distract each other by talking more than we study, the weekly brunches, and the chai dates. I'll miss just being a student and exploring and learning as I went about my crazy undergraduate journey.
What advice do you have for new students to McGill?
As someone who was nervous about belonging at McGill, I would advise new students to create space for themselves. Throughout my journey at McGill, with its highs and lows, I realized space was not something that had to be found but something I had to create for myself. So don't be afraid to go after things even when you're nervous about them! You will meet some amazing people at McGill when you say yes to things.
Do you have friends or family coming for Convocation?
Yes! My friends and family are coming. They couldn't be more proud to attend Convocation.
Do you have anything to add?
I would like to thank my parents and siblings for supporting me throughout my undergraduate degree. To my friends, for always being in my corner and listening to my multiple voice note rants (podcasts, as they would call them). Lastly to the graduates, a huge congratulations on this amazing achievement, I wish you all the best!