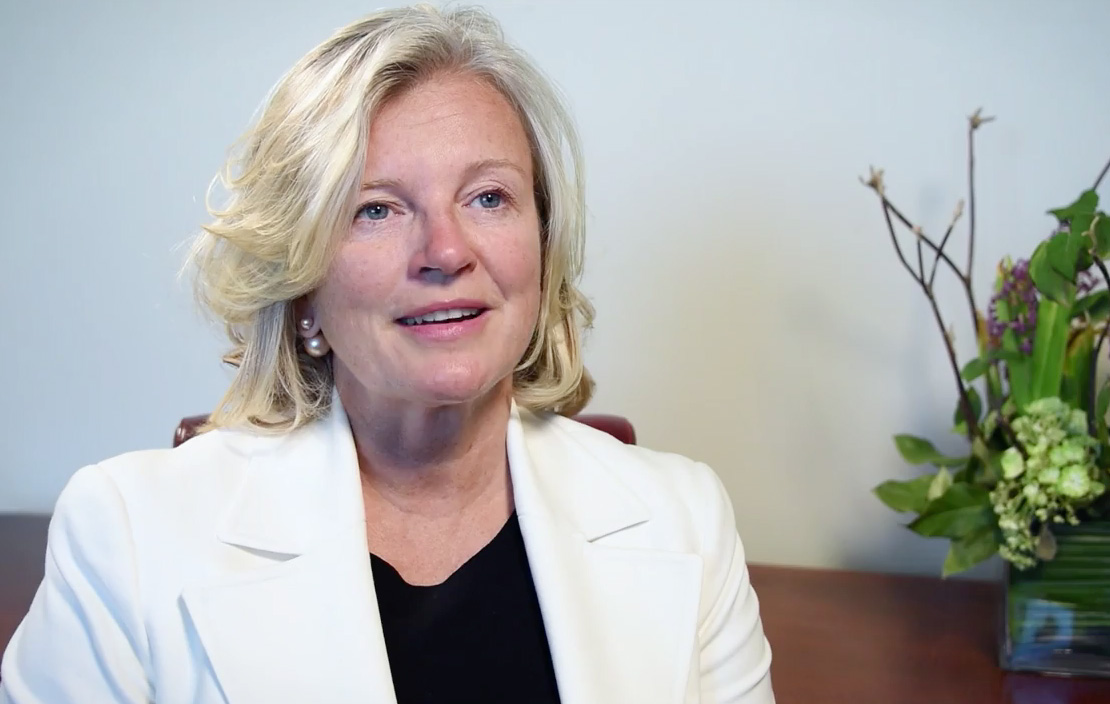 The newest video in the NeuroXXceptional series, celebrating exceptional women at The Neuro, features neurologist Angela Genge, Director of the ALS Clinic and the Clinical Research Unit. Genge is dedicated to fighting Amyotrophic Lateral Sclerosis (ALS) and has recently launched the Global Centre of Excellence for ALS Research and Patient Care. In this interview, Genge talks about advances in ALS testing and therapies and the profound passion that drives her research.
You specialize in ALS. Why would you go into something that is devastating for the patient and does not have a lot of hope, necessarily?
When I first came on to staff in the 90s, I had a patient that wanted to be in a clinical trial. However, the trial was not only not in Quebec but the trial was not even in Canada.  I remember thinking this is just not fair. Our patients deserve a shot at every treatment that comes, as early as they can get it. Since then I have fought to bring trials to Canada. So hence, we are now doing the first Phase 1, in human clinical trial in ALS. We are often the only site in Canada, we are often the only site outside of the US, and we are often in before Europe now.
The thing about ALS is that it is pure chance. These are the nicest people, the most engaged people, often the most productive people in our society, and they get this disease that doesn't make them feel sick, and it creeps up on them and all of a sudden they're going to die.
How can you not fight for them? How can you not find something for them?
What has changed in ALS since you started working on it?
The biggest change has been in the last three years. Although the Ice Bucket Challenge money has not created a new therapy overnight, it has put a lot of money into ALS for developing and testing new therapies. More importantly, it has attracted drug companies with potential therapies that had previously avoided ALS because it was considered such a high-risk area. It is not any less risky but now companies see it as an opportunity as opposed to a risk. We expect to have nine trials starting by the end of 2018, and we expect to have the second drug ever approved that slows the progression of ALS.
The motive behind the Global Centre of Excellence for ALS Research and Patient Care at The Neuro, is to get even more therapeutics going and even more opportunities so that we can change the course of the disease for patients. We want to ensure our patients get access as soon as everyone else does, and they do not have to wait or die waiting. Finding a treatment may change the course of this disease by possibly turning it into a chronic disease, which is much better than what we have now.
What would you say you have learned from patients with ALS over the years?
The first thing you learn is humility, as you watch these magnificent people die and you cannot stop it.
I have also learned that being hopeful has nothing to do with your health. What I mean is that a sense of hopefulness is critical to the wellbeing of ALS patients, even when their health is terrible. Even when they are physically unable to do anything. Feeling needed and wanted in your community, whatever that community may be, as a patient, is the difference between living longer and living less.
I have had several patients get married after they have had the diagnosis, and even get married after they are in wheelchairs. I have had patients go to work with a BiPAP machine and a feeding tube because the company wanted to support them as long as they wanted to work.
How do you think your family or your upbringing has helped you reach where you are today?
I grew up in Newfoundland in small coastal fishing villages. My grandfather, who was originally a lobster fisherman and born in the 20s, was a man before his time. He had a rule that his daughters needed to be as educated as his sons – which in those days was unheard of. In modern days, he would be called a feminist. A legacy of equality and education was inherent in my family. My father was a Minister and was the first to ordain women in the Anglican Church in Canada. My mother went back to work when I was young and went on to get a PhD in women in leadership in her late 50s. It was not part of a movement; it was just the way it was.
So perhaps, in many ways, the legacy of ingrained feminism in my family and their fight for equality – has allowed me to be in the position today where I am able to fight on behalf of others, for patients.
Watch the Neuro XXceptional feature on Angela Genge