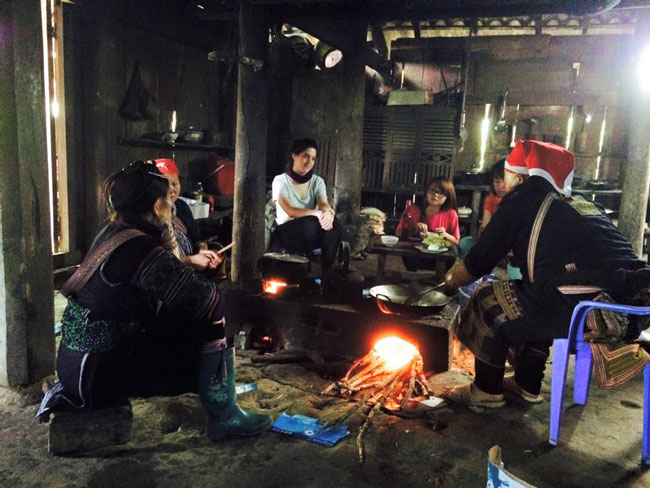 This past summer, over 200 Faculty of Arts students interned in Canada and around the globe, from Chennai to Cape Town, and from Paris to Panama City. Since 2002, the Faculty of Arts Internship Program has helped undergraduate students offset internship-related costs such as travel, accommodations, visas and other expenses thanks to the generous support of alumni and friends of the McGill.
On Thursday, Sept. 17, the most recent recipients of the Arts Internships will share the highlights and challenges of their internship experiences this summer, what they learned and how they plan to apply it to their field of study.
This is the story of one such student, Enrica Ferrarotti, and her internship with Sapa O'Chau in Vietnam.
Name and program of study
Enrica Ferrarotti, U3, Political Science
Where did you do your internship this summer?
Sapa O'Chau in Vietnam.
What is Sapa O'Chau's mandate?
Sapa O'Chau is a social enterprise founded by a Vietnamese black Hmong woman in 2007. A black Hmong woman named Shu Tan founded Sapa O'Chau in the town of Sapa, located in the Lao Cai province of Vietnam, a northern region close to the Chinese border.
The mission of the organization is to improve the livelihoods of the various minority groups in the area. The most common minority in Sapa are the black Hmong. To make a living, most resort to street selling, especially since in recent years, there has been tremendous growth in tourism in the area.
In effect, the mission of Sapa O'Chau is to reduce minority dependency on street selling and provide a better lifestyle for them through a better job and education.
The Sapa O'Chau model has four main components: a handicrafts business, a café, a trekking service, and a homestay service. The funds generated from all these four services are then used to sustain the fifth component of the structure: the on site accommodation and school supplies of the local minority high school students staying with the organization.
What was your motivation to intern there?
In my last three years of study, I have ventured different areas of the field, from European and Asian politics to more specific, theoretical type courses. Moreover, it was professor Philip Oxhorn's course, Democracy and the Market, which piqued my interest in civil societies and minority groups. The course examined the relationships of these societal groups vis-à-vis the state and the factors that affected the trajectories of such relationships.
Along with my new academic interest in this area of politics, I also began to volunteer for a non-profit organization aimed at strengthening rights of immigrant minorities in Montreal.
Thus given my work revolving around minority groups in and outside of school throughout the year, I looked for a summer internship that would compliment my work. I knew I had landed upon a new and exciting fit for me, when I fell upon, in the Arts Internship Office online database, Sapa O'Chau.
This organization in particular would allow me to challenge my skills and academic knowledge in a new environment and culture.
What were your responsibilities at Sapa O'Chau?
I held many responsibilities as a three-month intern at Sapa O'Chau. For my first month, I worked closely with the founder on business development. I conducted research for grant opportunities in order to aid her project of building a new accommodating facility and learning center for the minority youth.
As for my remaining two months, I focused on more office type, tangible tasks such as creating English email templates for her Vietnamese accountants.
I then alternated between both business development with Shu and teaching English. I was an English teacher for intermediate minority high school students. I taught part-time, created weekly lesson plans consistent with the curriculum in place, and did outside activities for the students such as Hip Hop classes and regular sports outings.
Overall, how do you view your experience this summer?
I must thank Mr. Lev Bukhman for financing my time in Vietnam. My internship in Vietnam was without a doubt a rewarding volunteer and personal experience. This internship very much opened doors to a potential career path for me. I am very fond of Vietnam and see myself in a development agency with the US or French government stationed in the country.
The Arts Internship Office needs people's support to ensure the survival of the Arts Internship Program. If you'd like to help, see their Seeds of Change page.
 Related stories
Student calls Cape Town internship "life changing"
Internship spurs professional, personal growth
Econ student combines interest in philanthropy and law during Kenyan internship
Putting a roof over people's heads
Developing youth programs in the Caribbean