By Chris Maskell
In the world of music, it's an unfortunate reality that brilliant artists can go overlooked. Luckily, these same musicians are often championed by those who love their work, and in the case of the late Romanian composer George Enescu, his voice in Montreal is McGill professor Ilya Poletaev. 
A huge promoter of Enescu's music, Poletaev has organized a four-concert celebration of his works that will span three different Montreal venues from Feb. 3-5. These performances will feature a host of Schulich School of Music faculty, students and alumni, as well as some special guests. To get a better understanding of the brilliant composer and the event itself, we spoke to Poletaev about Enescu's music, his legacy and the upcoming concerts.
Concert listings and other events can be found at the end of this article.
How were you introduced to Enescu's music and what inspired you to put together this mini-festival?
My interest and passion for Enescu's music began a long time ago, when I was still an undergraduate student. I first heard his name from my former teacher, Marietta Orlov, who is one of Canada's preeminent piano pedagogues and a professor of piano at the University of Toronto. She is Romanian and studied with Florica Musicescu, who was a close friend of Enescu and also the teacher of Dinu Lipatti, the great Romanian pianist. She is responsible not only for my interest in Enescu but also for most of my pianistic skill and musical understanding.
I then heard and played some of his music as a graduate student, and began to get more and more involved in it. In 2009, I organized for the first time an all-Enescu program at Yale and then took it on tour to Italy and Romania in 2011. Also in 2009, my colleague Axel Strauss (who was then teaching at San Francisco Conservatory, but has since come to Schulich) asked me to record Enescu's complete works for piano and violin.
Now, Enescu's music is a constant presence in my life – the more time I spend with it, the more I feel its irresistible pull, depth, its seductive, intoxicating appeal. I always feel the need to share it with others, especially since it's not at all as well known as it deserves to be.
Tell us more about Enescu and his music
Enescu had an unusual musical background, as he was born in Romania but trained in both Vienna and Paris. Accordingly, his music is a synthesis of three very different musical dialects. He played under the baton of Brahms, was a student of Gabriel Fauré, had Ravel as a classmate, played chamber music with Pablo Casals, was a friend of Béla Bartók and was a father figure to countless younger Romanian musicians, including Dinu Lipatti!
His music is very multifaceted and it had a long and complex evolution. A chasm separates his Romanian Rhapsodies from the profundity of his last works or from the drama of his only opera, Oedipe. Perhaps, if there is one continuous thread in it, it is the love and admiration for Bach as well as for his native Romanian folklore.
At McGill we have amazing faculty, students, and alumni. What better place could I find to have so many different musical personalities come together and give their talent and expertise to this project? I especially wanted to attract our graduate students and alumni who have moved on and forged successful careers elsewhere, as a collaborative effort involving older and younger colleagues is very much in the spirit of Enescu's own way of making music.
What impact has Enescu's music had on you as a musician?
Enescu's music is both enormously complex and enormously rewarding. In a sense, it has everything: tremendous emotional power, an incredible variety of sonorities and colours, and a stupendous sense of musical architecture. It is also meticulously notated, so if one does exactly what Enescu asks for on the page, they cannot help but become a better musician. He provides fingerings, bowings, pedaling for pianists, and countless minute indications of tempo changes. Yet, at the end, the music comes out sounding so spontaneous and natural.
Enescu was a truly universal musician – a composer, violinist, pianist, conductor and teacher. Despite this, he never sought easy success or acclaim; in fact, despite his fame and reputation, he died penniless. His music has something idealistic and pure about it. Through all the layers of complexity one senses an almost child-like wonder and a burning sense of being alive and true. Not a single note of Enescu's music is superfluous, as it always comes from an authentic inspiration. His life's work, his prodigious gifts, his endless dedication and his irreproachable ethics have all been a first-rate example to me.
Are you aware if any other of the other performers in the festival share a link to Enescu's teachings or music?
I must first mention my wonderful colleague, violinist Axel Strauss (currently the Chair of the String Area at Schulich), who approached me some years ago with a proposal to record the complete piano and violin music of Enescu. These records are out now on the Naxos label, and hopefully are doing their part to promote Enescu's extraordinary legacy.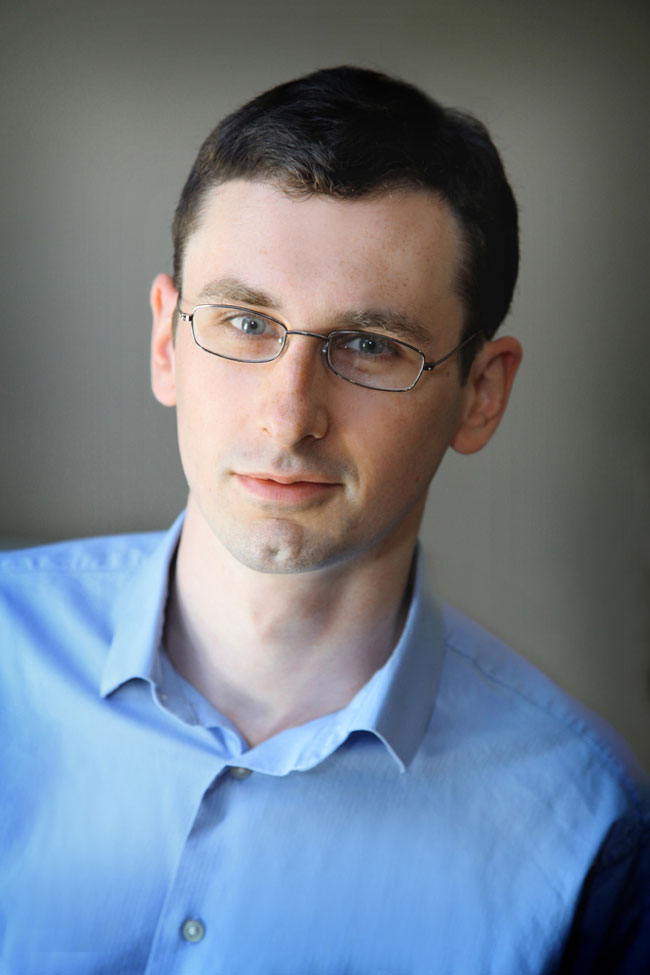 Axel's first teacher was also a Romanian, Petru Munteanu, and like me, Axel was a prizewinner at the George Enescu Competition in Bucharest. He has also met and played with many outstanding Romanian musicians, some of which knew Enescu personally, like Stefan and Valentin Gheorghiu.
Our special guest, Michael Djupstrom, is a fantastic composer who currently teaches at the Curtis Institute of Music in Philadelphia. His work has some visible connections to Enescu and he is a true connoisseur of Enescu's music, having spent a considerable amount of energy collecting a library of his works that includes many rarities. Also, Annamaria Popescu, a brilliant mezzo-soprano on faculty here at McGill, grew up speaking Romanian in Montreal and has an understandable affinity for the musical language of Enescu.
Last, but certainly not least, my wife and fellow pianist Ruxandra Oancea (M.Mus'11, Gr.Dip'13), is a native Romanian and completed her doctorate in Bucharest, where she studied with Dan Grigore – who is also a Musicescu pupil, like my own teacher. It helps when all your ethnomusicological questions can be answered at home.
I feel bad not to mention the many other wonderful musicians that are taking part in this project: cellists Yegor Dyachkov (who is a professor both at Schulich and the University of Montreal) and Jake Klingenborg (M.Mus '18); violist Steven Dann; violinists Mark Fewer and Andrew Wan; clarinetist Kenji Bellavigna (M.Mus '17); pianists Kyoko Hashimoto (the Chair of our Piano Area), Meagan Milatz (B.Mus'15), Karnsiri Laothamatas (B.Mus'16) and Zhenni Li (all graduate students who have won at least one of the school's concert and chamber music competitions); violist Victor Fournelle Blain (Art.Dip'15 and past winner of the Golden Violin competition); and violinist Byungchan Lee (B.Mus'15, Art.Dip'16 and past winner of the Golden Violin competition). They all must be thanked for giving their energy, time, and talent to this undertaking
Is there a performance or piece in the festival that you're particularly looking forward to hearing or playing?
I am in love with all the works, as each speaks to me in its own, unique language. How can I choose? Perhaps, I would like to draw the public's attention to the Piano Quintet, Op. 29, which concludes our festival. It's an exceedingly difficult and amazingly rich piece that's almost never played, so to hear and play it is an immense privilege. To me, it is one of the greatest works for this medium and I am grateful for the opportunity.
For those looking to discover some of Enescu's music before the festival, what selections would you recommend they start with? 
Enescu's music is very varied and hardly two pieces are ever alike. Unfortunately, most people only know the Romanian Rhapsodies, which are great pieces, but a work of a 19-year-old – they hardly give a sense of what Enescu was to become in his mature years!
I suggest listening to his Violin Sonata No. 3 (which we will perform at the festival), his Orchestral Suite No. 3, the Piano Sonata No. 3 (as performed by Dinu Lipatti), the suite Impressions d'Enfance (also to be played at the festival) and of course his masterpiece: the opera Oedipe, a work which took Enescu close to 30 years to complete!
The George Enescu, a Universal Musician Conference will feature the following events (click on the link for more details):