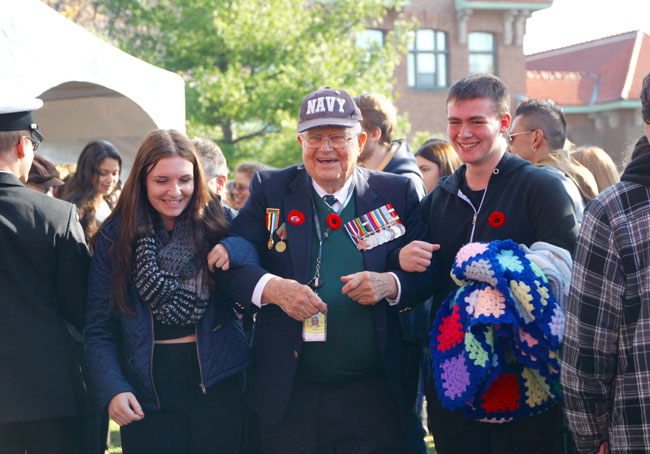 By Neale McDevitt
In lieu of dignitaries laying wreaths at the foot of a cenotaph, today's Remembrance Day Ceremony at Macdonald Campus ended with a solitary boy breaking ranks with his schoolmates and planting a small Canadian flag around the permanent War Memorial. He was followed by a pair of young girls who did the same thing, as did a very young boy holding hands with his mother. Soon the Memorial was all but blocked from view as dozens of people stepped forward to plant their flags in tribute to the men and women who have served our country.
As with every year, today's Mac ceremony saw a poignant mix of the young (elementary and high school students) with the old (mostly veterans and their spouses). And while it is easy to forget that these elderly veterans – many who now use canes, walkers and wheelchairs – were once capable of great acts of heroism, the speakers reminded the crowd that it is our duty never to forget.
"I grew up and went to school in Europe. Because World Wars I and II had taken place on our soil, these topics were covered in great length and detail in our curriculum. We were taught dates and places. We were taught names," said Anja Geitmann, Dean of the Faculty of Agricultural and Environmental Sciences. "But we were 10, 12, 14 years old. Like anything that had taken place before we were born, these wars were distant events."
Geitmann, who began her mandate as Dean in September, told the crowd that circled the War Memorial that she never really attached much importance to these dates and places until she went to the small town of Wageningen, in the Netherlands.
It was in Wageningen, on May 5, 1945, that the Canadian General Charles Foulkes and the German Commander-in-Chief Johannes Blaskowitz reached an agreement on the capitulation of German forces in the Netherlands. The event marked the end of the occupation by Nazi Germany. To commemorate this important date, every year on May 5, the Dutch celebrate Befrijdings Dag, or Liberation Day.
"It was when I saw Canadian veterans marching in the [Befrijdings Dag] parade that I realized the full gravity of this historic date – the gravity of the sacrifices that these people made, who in their advanced age still cross the Atlantic to come and commemorate their fallen comrades," continued Geitmann. "Meeting the people who lived war makes all the difference in my understanding.
"I therefore invite the youth present here – those of you who are 10, 12, 14 years old, and for whom history lessons are likely as abstract as they were for me when I was young – to speak to the veterans. Try and understand, what makes people risk their lives to defend one of the most important commodities of all, a commodity that we tend to take for granted – freedom."
It was hard not to be moved when veterans took the podium to read In Flanders Fields and Act of Remembrance in both official languages. Following the Last Post the crowd observed a minute of silence.
When the ceremony ended, a number of school children took Geitmann's advice and went over to speak with the veterans – many who had been brought in from Ste. Anne's Veterans' Hospital. And while the conversations were brief, the smiles were plentiful.
Soon the veterans were escorted back to their buses, arm in arm with students from nearby Macdonald High School. The military honour guards were dismissed, and marched smartly from the site. The students, several hundred strong just minutes ago wandered off to eat lunch before returning to their schools. Hopefully, when the students are back in their classes learning about Canadian courage on display in places like Vimy Ridge, Amiens, Assoro and Juno Beach so many years ago, they will remember shaking hands with heroes.
Related story
Montreal remembers on Lower Campus
To enlarge a picture, click on each thumbnail below. All photos by Neale McDevitt.