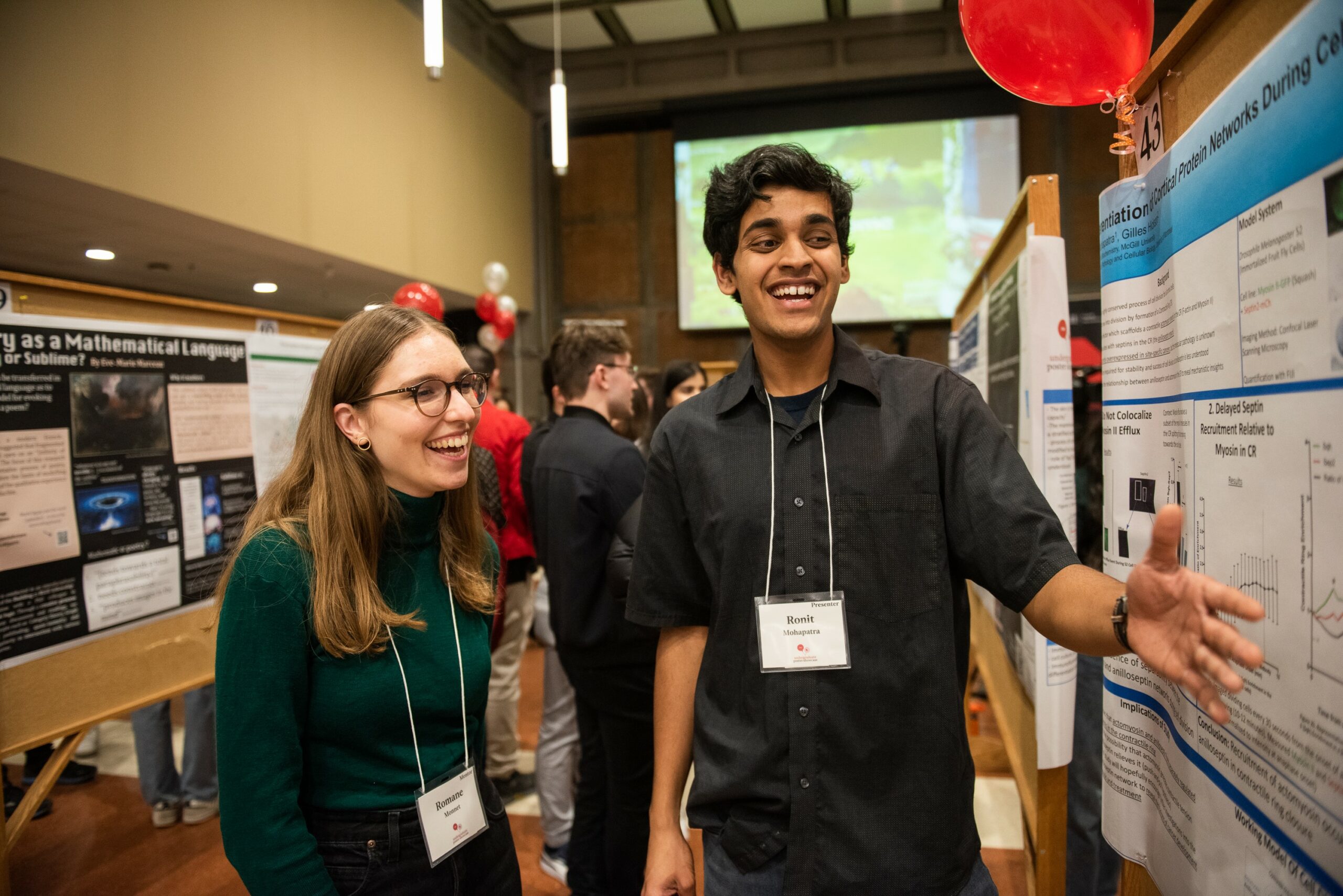 On March 15, over 100 undergraduate students at McGill and a large audience of alumni, faculty, staff, fellow students, and family crowded the University Centre Ballroom for the Undergraduate Poster Showcase. The fourth edition of the annual event, which is held every March, took place in person for the first time since 2020, with an online livestream available as an alternative.
The Showcase, organized by the Office of Science Education (OSE), celebrates the work of students by providing them with an opportunity to share their research, passion projects, in-class work, and more. Students from programs within the McGill Faculty of Science and beyond presented their posters, which were designed to communicate topics in science to a general audience. Colourful infographics rich with information, images, and creative interpretations of science decorated the room, as attendees wandered from one presenter to another over the course of two hours.
Propelling knowledge further
Created in 2018, OSE has established itself as a leader in research communication and knowledge sharing. In her opening remarks at the Showcase, OSE Director Marcy Slapcoff touched on the key principles that thread throughout OSE initiatives: fostering intellectual curiosity, hospitality, and joy. "Everything we do is grounded in the practice of asking questions and pushing further, creating a welcoming atmosphere and having fun while we do so," Slapcoff said. "In moments like these, we can enjoy the process of learning and being together as a community."
After a first performance by the McGill a cappella group Soulstice, Kira Smith, Student Engagement Officer at OSE, welcomed the almost 400 attendees to the Showcase, which allowed the community to "come together in celebration of different ways of knowing and expressing what we know with the understanding that we each hold uniquely valuable knowledge." Smith, along with Ezelbahar Metin, Student Engagement Administrator at OSE, spearheaded planning for the event.
OSE worked closely with University Advancement to pair each presenting student with a mentor – Faculty of Science alumni – and offered workshops to help students develop vital communication skills. What sets the Showcase apart is its non-competitive nature; all students are welcome as long as they are willing to participate in the preparatory activities.
A vital learning experience for undergrads 
The spotlight was on undergraduate students, who could be seen gleaming while sharing well-articulated insights with curious eventgoers.
"The Showcase is a fantastic learning experience because it forces you to articulate your research in a way that is understandable to those without a background in the field," said Ben Hepditch, U2 Computer Science and Geography student-presenter. "It was inspiring to see all the incredible work being done by other undergraduate students at McGill."
Hepditch and fellow student Aidan Jackson presented their project developing software for an Autonomous Underwater Vehicle (AUV) that can safely track scuba divers underwater for the Mobile Robotics Lab.
"While presenting our research, a young girl came up to the poster with a look of wonder. She immediately started asking me all kinds of questions about the AUV, and if we could use it to look at fish and make sure they are OK. The interaction made me remember my passion for science and youth education," Jackson, a U3 Software Engineering student, said.
Piotr Jakuc and Ben Coull-Neveu, U1 students in Physics, presented on astrophotography at the intersection of art and science, displaying historical photographs with explanations on the mediums used to create them. "Astrophotography data can be used for both scientific and artistic purposes, the latter of which is highly subjective since artistic liberties can be used with the goal of producing awe-inspiring images," the pair explained.
"We both learned how to prepare for a scientific presentation and the importance of effectively communicating with a broader audience," they continued. "We're happy to have shared our passion for astrophotography as well."
Pathways between disciplines
Showcase attendees were exposed to a rich variety of research topics with creative leading questions. Topics ranged from calculating the cost of academic air travel, artificial intelligence zombies, poetry as mathematical language, and more.
"The Showcase is a great opportunity for the McGill community to celebrate the heart of our mission—student learning. It was inspiring to see the students well-prepared to share their interests, research, and creative pursuits in a non-competitive atmosphere," said Slapcoff.
A few student presenters were involved with McGill's Building 21, an experimental research space open to all students at the university that prioritizes interdisciplinary research and the development of original scholars and scholarship. "A student will come in with curiosity and passion, and Building 21 helps them frame that into a research project," said Anita Parmar, Co-Director of Building 21, at the Showcase. "Sharing in the interdisciplinary community with one another frames a rich network of knowledge that propels students forward."
Bruce Lennox, Dean of Science, touched on the value of innovative research and open communication while addressing the presenters in the event's closing remarks. "You need to congratulate yourselves. Whatever you are doing, you will always be challenged on the integrity of your work. This is a beautiful example tonight of all of you seeing integrity in your own work and being proud of it."
Posters presented at the 2023 Showcase, as well as a livestream of the event, can be viewed on the OSE website.