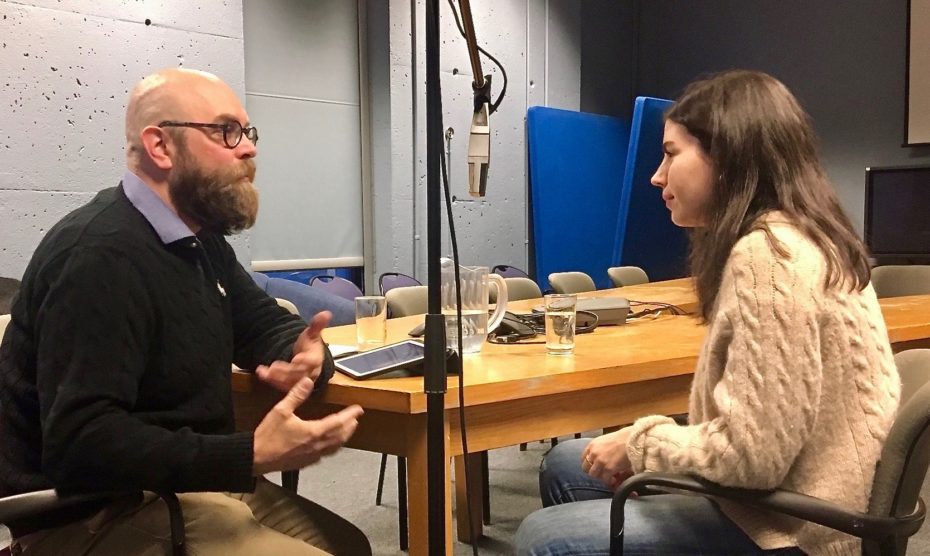 Since his arrival at McGill in 2002, Chris Buddle has fielded a lot of questions from students – first as a professor in the Department of Natural Resource Sciences, then as Associate Dean (Student Affairs) at Macdonald Campus, right through to his current role as McGill's Dean of Students, a position he's held since 2016.
However, in his newest role – as host of the recently launched #BuddleHuddle podcast – Buddle has turned the tables, and clearly he relishes being the one asking the questions.
"In each episode of the #BuddleHuddle, I interview members of the McGill community, focusing on students, but also including staff, faculty and administrators," he says. "The part I enjoy most – by far – is listening to how articulate and impressive our students are. I think a lot about the topics and how each subject should be framed, but in the end I'm just the facilitator. They are the ones telling their stories and the results are really impressive."
New lines of communication
The #BuddleHuddle was launched in January as a way to reach out to as many students as possible. "I'd been thinking about podcasts for about a year because I had done some reading that illustrated how popular podcasts are  as a main means of receiving information," says Buddle. "Podcasts are huge and all indicators suggest that they are just gaining in popularity."
A new episode is produced every 1–2 weeks, focussing on topics suggested by McGill students or that Buddle feels are of particular interest to them. Already this season, the podcast has explored everything from coping with failure to life in residence, and from sustainability to student mental health.
Not all the podcasts deal with weighty subjects, says Buddle, noting one episode focussed on finding a good espresso and looking at some of the best places to explore in Montreal.
"I also had a question show in which people could ask anything they wanted. I was expecting a lot of questions related to some of the main issues or controversies on campus," says Buddle. "But most of the questions were about the nuts and bolts of everyday student life, like parking on campus and how our class average is calculated."
Common concerns
The most recent episode, No.8 of 10 this semester, is about Imposter Syndrome, in which people are overwhelmed by feelings of self-doubt and worry that they are a fraud within the University. During the episode, Buddle discusses the issue with a host of accomplished members of the University community – from undergraduate students and PhD candidates, to a Physics professor and a Dean – only to find that Imposter Syndrome is quite common.
"I re-listened to the episode on the train the other day, and I said to myself 'Wow, this is really interesting,'" says Buddle. "Everyone was so frank and so unafraid to show vulnerability. It's not an easy topic to talk about for many people, and I hope this helped humanize it for listeners."
Each episode follows a similar template. Buddle begins by introducing the main topic and giving his own perspective. In the middle section, he interviews his guests on the subject, sometimes taking his microphone outside and talking to people on campus. The podcast usually ends on a light note, often with Buddle randomly dialing a McGill extension and talking to the person on the other end about their job.
"What I'm striving for is to be authentic and human. It's more a conversation than an interview," he says. "I think it resonates with students because our topics are student-driven and we include a lot of student voices. Even the name #BuddleHuddle was suggested by a student on Reddit."
Beyond the Roddick Gates
Buddle's instincts about the power of podcasts have been proven right. #BuddleHuddle is very popular, attracting hundreds of subscribers. "It has generated interest because it's a novel approach to reaching students about issues that are important to them," says Buddle. "I have colleagues in other parts of the world that are following along and saying this is relevant beyond McGill, which is very inspring. Most importantly, we getting really good feedback and input from students."
Next on tap for the #BuddleHuddle is an episode on students who have taken an unconventional path to get to McGill, be they mature students, students doing continuing studies; or students taking care of children or elderly parents.
Season 1 will close with a wrap-up episode before taking a hiatus in the summer.
Buddle says he has "a long list' of possible topics for the fall season – most of which have been suggested by students. Future episodes may include graduate students talking about their summer research and fieldwork; a spotlight on Macdonald Campus ("my old stomping grounds!"); volunteerism; and another, more in-depth, look at student mental health. "We have such a rich and diverse student body – there is no shortage of interesting material to cover," says Buddle with a laugh, noting that episodes have gone from 20 minutes at the beginning to a full hour or more. "The hard part is deciding what to leave out."
The #BuddleHuddle is free for subscribers. You can listen on Google Play, iTunes and Spotify. Visit the #BubbleHuddle homepage for more information and to listen to past episodes.